We continue on the search for the best sandwiches in this city. After I mentioned in my side-page for favorite sandwiches that I had yet to find a lamb sandwich of any sort here (other than shawarma or burger), I swiftly received two different recommendations – both in Villa Crespo and only a few short blocks from each other. Who says the internet is a waste of time?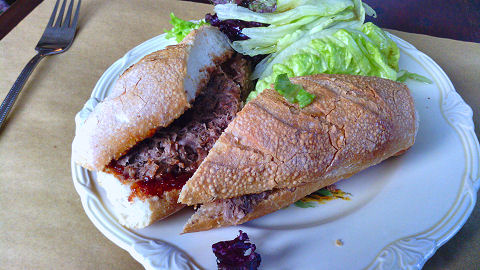 Hopping on the 110 from Recoleta deposited us in Villa Crespo a mere block from our first destination, Mill Café, Scalabrini Ortíz 801, corner of Castillo. I'd been pre-warned that although it has good food and a cute ambiance, that service sucked big time. GuiaOleo posts seemed to agree. It is a cute ambiance. We found the service to be warm and attentive, maybe it's just my personal charm. Our waitress was there within a minute or two to get the order (the menu is listed on a blackboard on the wall), and we ordered up the sureño ("the southerner"), described simply as "lamb with bbq sauce". A tasty sandwich roll, but a bit skimpy on the filling – very tender shreds of lamb doused in an overly sweet barbecue sauce, and just a thin, bare layer on the bread, the meat completely lost in there, all we could taste was the bread and sauce. Just to give it a little more filling we packed it with the side salad of lettuce lightly tossed in neutral oil, salt and pepper – it added some crunch at least. Overall disappointing. 39 pesos of disappointing.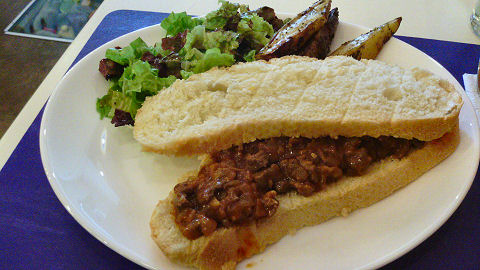 A short walk brought us to Marruca Coffee, Av. Warnes 376, just off the corner of Scalabrini Ortíz. Modern, sleek, narrow coffee shop with a small lounge area in the front. Friendly attentive service once again, more so than Mill, but then again, Mill had three dozen customers having lunch, Marruca had three people working on their laptops and two ladies having coffee. Once again a sureño sandwich was on the menu, and again, simply described as lamb in bbq sauce. But, what a difference. Two huge slices of pillow-soft white bread with a ladleful of what was basically lamb sloppy joe mixture – tender bits of lamb, onions, a touch of chili and tomato, tangy sweet vinegar sauce, all cooked together – really just pretty perfect, and the flavor of the lamb still shone through. If there's a criticism it's in the texture of the bread, which while probably a delight for toast in the morning simply collapsed under the liquid of the lamb mixture, requiring that the sandwich be eaten with knife and fork, there was no way to pick it up. Who cares. That's a great sandwich. And, including a nicely olive oil and balsamic dressed salad and a few herbed steak fries on the side (too soft, no crunch or browning), it came in at 34 pesos, 5 less than its nearby non-competitor. Oh, and great little pastries for dessert – the almond and orange tart with cinnamon cream was killer, as was their coffee.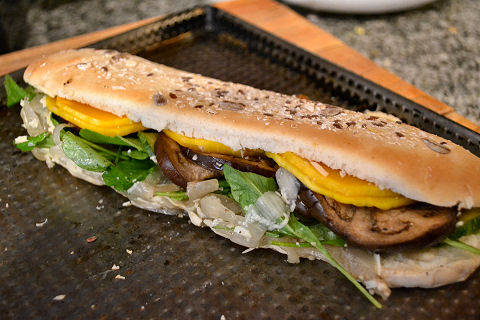 More sandwich recommendations have poured in from various quarters. Several people recommended two different spots in Centro, one for its vegetarian sandwiches, the other for its chicken special. We set off today planning to try them out, only to discover on arrival at the first that it's a takeout spot only. We figured on saving that for another time and headed to the other, only to find that it, too, had nowhere to sit and eat. So, we bought sandwiches there, headed back to the first (only a few blocks apart), bought sandwiches there as well, and headed here to Casa S where we heated them up and dissected them.
The first spot – Baking is at Suipacha 747. There's a refrigerated display of pre-made, plastic wrapped sandwiches and salads when you first come in from which you select your sandwiches, then you head to the cashier with your selections, they package them up to go, you pay, you leave. Now, the two people who'd recommended the vegetarian sandwiches hadn't specified that there were more than a single option – so I held up the veggie toastie (pictured) and the super veggie and asked, "which one is better?" Immediate response from one of the two behind the counter, the "toastie" because it's got great bread! She was right – it's got great bread. It's also got great flavors in its combination of zucchini, eggplant, squash, onion, argula, parmesan and dijon mayo. It was also supposed to have "tomato chutney", but none was in evidence on the sandwich when we opened it up – a shame because it would have added a really interesting note to it. In truth, great sandwich, the only fault being that the squash and eggplant slices were slightly undercooked, still having that sort of squeaky crunch to them. Wouldn't stop me from eating it again though – and I'd definitely grab one if I was over that way and headed home, and I'd truly love to try it with a bit of that tomato chutney in the mix.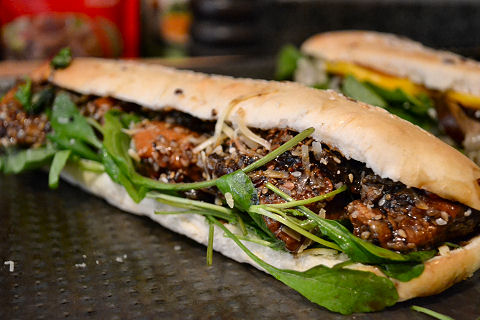 As long as there were several of us sampling, we decided to try another sandwich as well, so we once again held up the chicken sandwiches – a category I've found a lacking for decent ones so far – the choices here were barbecue or teriyaki – both once again labeled as "toasties" – which I must admit somehow grates on my ears. It's the sort of term for a sandwich that sounds as if it will be followed by a gushing, high-pitched review of the latest Justin Bieber single, punctuated by the word "like" approximately every 2-3 seconds. Teriyaki was the counter choice – and, again, good flavors. Two of us found it a little too sweet, though it didn't seem to slow us down, one found it too salty from the soy and gave it up as a non-starter. Either way, the sauce is pungent enough that whether it was chicken or some other meat was indefinable – I'd eat it again, but it's not going to make it into my pantheon of heavenly sandwiches here.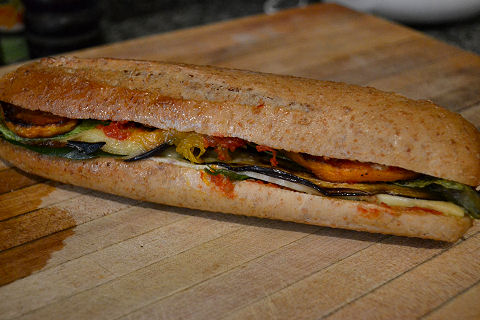 Just a few short blocks away at Suipacha 1161 is Hendrick's. Here, an interesting story – apparently born of a late night emergency room discussion between two local surgeons who had a passion for food and love sandwiches and pastries. Despite the strangeness of its origin, the idea came to fruition and, like Baking, has been serving sandwiches to the 'hood for the last couple of years. While we were there for a much recommended chicken sandwich, we decided to start with a comparison tasting of their Veggie offering. Virtually identical ingredients fill the sandwich, though instead of onions there are slices of fresh tomato, and the vegetables are grilled rather than baked. The condiments were a sun-dried tomato puree, olive oil and touch of mustard. It could have used a slightly more interesting bread, but the whole wheat sub it was on wasn't bad. The drawback to the sandwich was that it had been made a day earlier (the sandwiches turned out to have dates on the wrapping, we discovered when we got it home), and the veggies had gone a bit too soft, particularly the arugula having been dressed in olive oil, and one can tell the difference between fresh bread and 1-2 day old bread.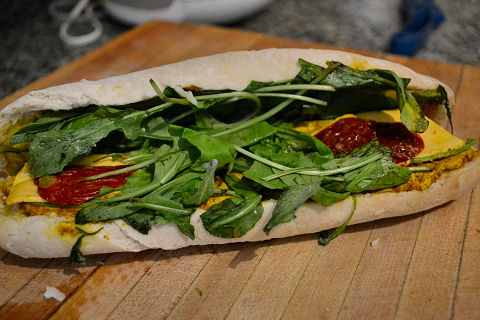 The sandwich we were there to try – the Chicken Curry Baguette. Now we're talking. While again suffering a little from being a day old, the arugula hadn't been dressed in olive oil and had held up. The curried chicken had a really nice flavor to it, you could tell it was chicken and you could taste the curry spice. It's a mild curry, even a slightly sweet one, but something so different from the norm here that it stands out. The chicken is topped with a generous helping of sun-dried tomatoes, the aforementioned arugula, and a good amount of melted cheddar. Now, I have to admit that cheddar and curry are not a combination I would have thought would work, and it's a slightly surprising combination when you first bite into it, but it strangely works, and works quite well. I think I'd still want the sandwich made fresh that day, but this one is a winner.
All four of these last sandwiches run between 25 and 28 pesos and are plenty of food for one person for lunch.