Certain restaurants and bars in town, probably as in any major city, become expat hangouts. As to why? Often because they offer food or drink that reminds some faction of the expat community of "back home", often because they actively encourage the community to come spend time and lucre. I try to include them here and there in my rotation of dining simply as an alternative to what else is out there. Here are a couple of brief looks at two that have been on the radar for awhile.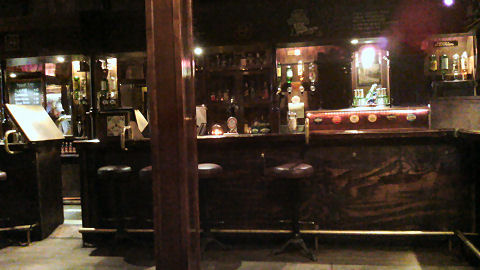 First up, a mainstay of the British expat community – Gibraltar, or, as the sign on the door says,
The Gibraltar & Co.
, Perú 895, San Telmo. We've passed by it many a time in the evening and it's always been packed with what looked like a pretty hard drinking crowd. That's also what I've heard about it from British friends here. I'd also heard they put out a great fish and chips and some decent curries. What I didn't know was that they're open for lunch,
sans
the pint-lifting swells, and so a week or so ago I popped in their with a friend who lives in the 'hood. It's an old-fashioned pub style place, lots of dark wood and all that. Not a whole lot of seating, but plenty for the two of us as the only customers of the lunch hour. There's not really waiter service – we picked up our menus at the bar from the bartender and then returned to him to place our order and pay upfront – tip jar prominent. He handed us our drinks and then brought our food in about 10 minutes.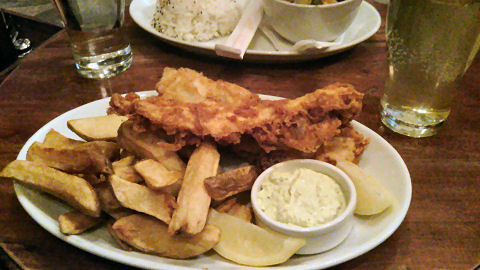 Fish and chips isn't one of my favorite dishes, just a bit too much fried going on, but in the interests of checking it out and all that…. It turns out to be quite a good dish, thick fillets of juicy fish, crunch batter, not at all oily, well seasoned. Nicely made chips – not as crispy as I like them, but tasty. Good tartare sauce on the side, perhaps to be truly "authentic" there should have been a cruet of malt vinegar around. And, abundant – the two fillets were more than I cared to try to take on, especially with the mound of french fries and I barely made it through a little over half the plate. And abundance is a good thing, because Gibraltar apparently just raised its prices by 50% across the board, taking this plate from a bargain price of 40 pesos to less of a bargain, though still, for the quantity, a fair price, of 60. Nicely washed down with a pint of hard cider.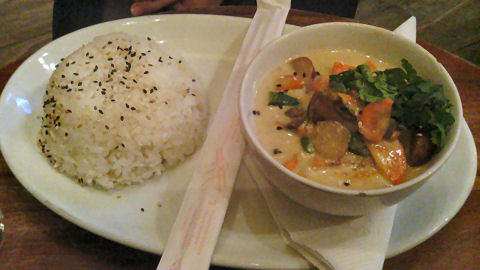 My lunch companion went with a green Thai curry, but asked if they could make it vegetarian, which they happily did, stocking it with potatoes and mushrooms in lieu of the chicken it normally contains. Spot-on as one might say, delicious curry, nice and fiery (and they have a couple of hotter curries on the menu, including a Vietnamese red curry with pork and tamarind that sounds like a winner). Likewise, the same price increase, and again, plenty of food for it. I should note that my friend is a regular there and we got a very nice little "house discount" of 20% on the tab.
Overall, liked the place, and I'd go back for one of the curries anytime.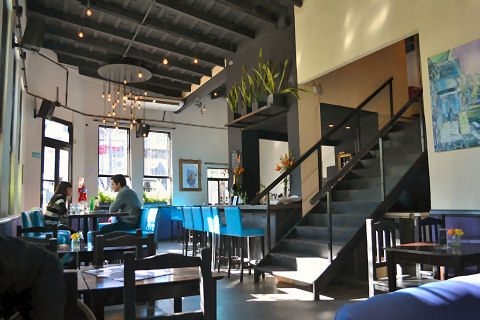 Across town is a spot I've been hearing about for a couple of years now, where I'd been informed on more than one occasion that a great brunch was to be had. You'd have thought I'd have headed right over to
Magdalena's Party
, Thames 1795 in Palermo to check that out, no? And, in fact, several times I planned to, calling ahead for reservations for a few of us, each time to be told that they were fully booked. Initially that may intrigue me, but eventually I just move on elsewhere. The place came to mind again after the chef of the place won the
BA Chili Cookoff
a couple of weekends ago. So this last Sunday I met up with a friend who'd given it a big thumb's up awhile back to sample a bit of that brunch. It's a bright, airy space, very comfortable – she'd asserted we could just show up, so we did – and, there were a whopping six people in the place – a family of four Argentines and a couple from the U.S. who'd been to dinner at Casa SaltShaker recently – I chatted with them while waiting for my brunch date, they told me that brunch had been "okay, nothing special". Only two other people came in during the next two hours that we were there. Hmmm… 
[Closed in late 2016, taken over by Chicken Bros.]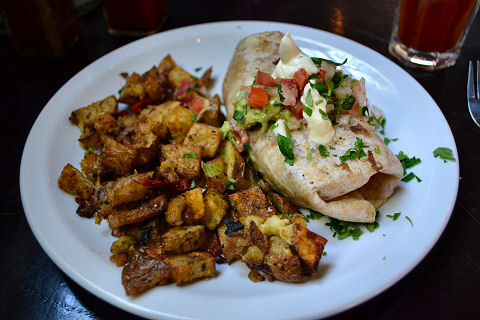 I've got to say that service was a bit poor. Our waitress seemed a trifle clueless, asking us to repeat things over and over again as she struggled to write them down. And, we ordered up a batch of the jalapeño poppers on the appetizer menu to share as a starter – a solid 10 minutes went by before a different waitress came out of the back to tell us that we couldn't have them. Not because, you understand, there weren't any, but because it was brunch time and those were part of the lunch and dinner menu, so the cooks wouldn't cook them. Okay…. Since there aren't any appetizers on the brunch menu at all, they're all on the "other side", that means no option for anything instead – fine, we'll go with just our main course dishes. Ordered coffee and a bloody mary – the latter strangely sweet and a bit thick and just a bare minimum of spice – I'd venture to say that in place of tomato juice someone mixed it up with tomato sauce.
At least half an hour more went by, probably more like 40 minutes – despite us being the only ones in the place waiting for food – we finished off the coffee and most of my bloody mary – nothing else was ever offered. I'd ordered up the breakfast burrito – which second waitress made sure I understood was different from the lunch burrito, in case I'd had any thoughts of having that one instead. It was… well… acceptable. The flour tortilla a bit doughy – slightly under-cooked in spots. The filling, which was to have been "eggs, black beans, bacon and cheese, and topped with pico de gallo, avocado and sour cream" – turned out to be a stuffing of diced potatoes – the same ones that were on the side of the dish as home fries – mixed with a bit of egg and a little cheese. There was no bacon, there were no black beans, and the potatoes weren't listed as part of the filling to begin with – the ones on the side, delicious as they were (and the best part of the meal), were more than enough. Great hot sauce available on the side. Still, a disappointment.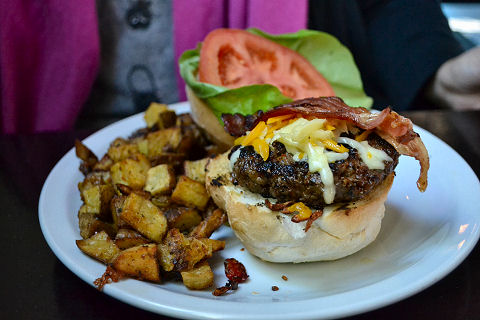 Apparently, despite the fact that "Magdalena's Famous Burger" was listed on the lunch menu, not the brunch menu, it didn't phase anyone in the kitchen the way the jalapeño poppers did. It comes either plain, or with cheese, grilled onions and mushrooms, or "Hawaiian style" with cheese, avocado and pineapple, or, BBQ style with BBQ sauce and fried jalapeños (which, apparently, can be fried to put on the burger, just not to put on a plate as an appetizer). My brunch companion ordered it with the cheese, grilled onions and mushrooms and "very rare" (keep in mind that we'd repeated it several times to the original waitress so that she could get it right – at her request – and, repeated it to the second waitress who'd come out to go over the order all over again) – it arrived with two kinds of cheese, crispy bacon, lettuce and tomato, and cooked fully into the well done range, nearly dried out. Nice bun, nice accompaniments, if not what she'd ordered. Another disappointment.
So, I really want to like the place – I like the ambiance. I loved the chef's chili (which unfortunately isn't on the menu). But service is so inept, and whomever is cooking in the kitchen isn't far behind (it wasn't the chef, who came in about midway through our brunch and sat at the bar with a cup of coffee and chatting with the bartender), and the food so mediocre that I'm not sure I'd go back. I do really want to try those jalapeño poppers, so maybe I'll pop in one day at lunch just to try them. But beyond that, nothing to see here, sorry.