Okay, I'm spending too much time in front of the computer – I think I'll have to limit my new little "Game On" posts to one or two a week instead of a daily entry. To be saved for "slow news" days. On to the food stuffs of the day, a look at the first run through we've had of our Veneto regional lunch class – the cooking of the land of Venice, Verona and Treviso….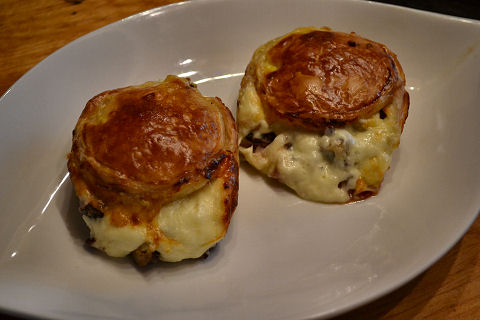 A couple of fagottini di radicchio – the first word not being at all homophobic, but meaning "bundle" (much as the English version of the word also originally meant). We clearly didn't seal them well enough and one edge of each burst open allowing the cheese to flow out like molten lava.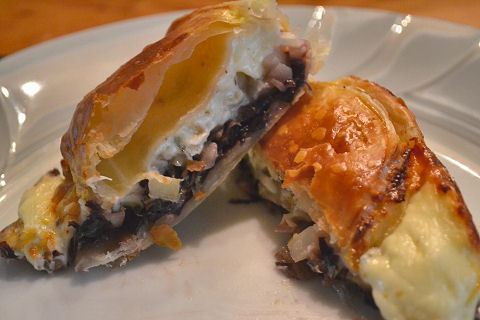 Inside you can see the layers of radicchio, pears, hazelnuts and cuartirolo cheese. Details on how to make these coming up in next weekend's BA Herald article.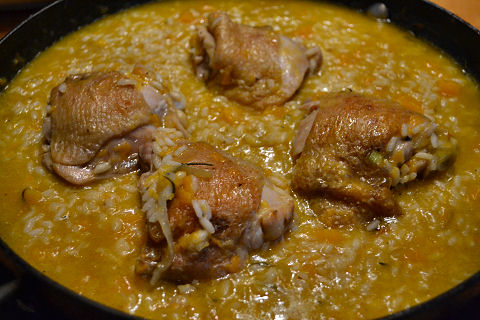 Risotto di pollo, zucca e rosmarino – a delicious risotto of chicken, squash and rosemary.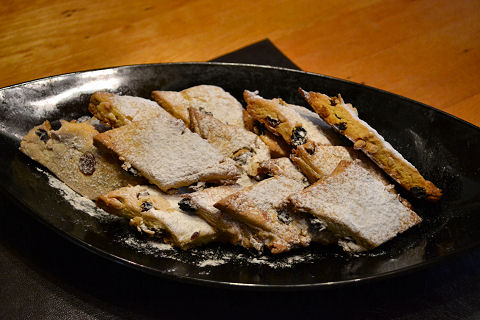 And, to go with our after-lunch coffee, little Gialetti – cornmeal, sultana and pine nut cookies.
This evening's one-off class (still space available) heads to the Greek Isles and we'll be making stuffed grape leaves, a prawn and feta main course, and loukomadies, delicious little Greek doughnuts, for dessert. Next week's Italian lunch class takes us to Emilia-Romagna where we'll be making Spuma di Mortadella, Tagliatelle Bolognesi, Lombatine alla Parmigiana, and Tortino di Zucchine – come find out just what those are, there's still space available!