Picking up on the search for great sandwiches here in BA that I started off on just a couple of weeks ago, another five sandwiches have been sought out, ordered, inspected, ingested, digested, and we'll stop the train of thought right there. I'm going to start off with a trio of lomitos, the classic steak sandwich of Buenos Aires, and a long-standing feud here in Recoleta.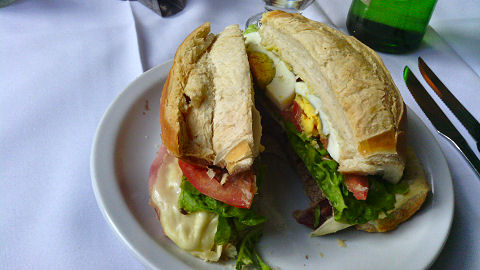 I'll start with
Rodi Bar
, Vicente López 1900, corner of Ayacucho, where I've long sent people looking for a great steak sandwich. And it's a justifiable claim to deliciousness, with a roughly 6 ounce piece of tender sirloin, cooked medium, nicely seasoned and served up on a piece of the ubiquitous local white sandwich baguettes – not my favorite bread. There are a trio of options offered on the menu, and I'm sure one could come up with their own combinations – but either plain, with lettuce and tomato, or with the works, which add in ham, melted cheese and a hard-boiled egg. I'd prefer something like a fried or scrambled egg as the hard-boiled just gives the sandwich an odd texture, but it's still a winning sandwich, and not a bad deal in Recoleta at 42 pesos. But, is it the winner of this little competition?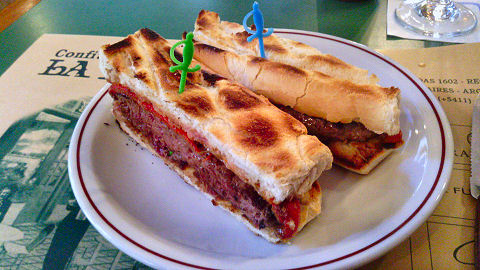 The long-standing neighborhood competition is from
La Rambla
, Posadas 1602, also corner of Ayacucho, just a couple of blocks away. From what I understand, it's a near Boca-River controversy – one either goes to Rodi or to Rambla, never both. And the
lomito
is, it seems, a major part of the controversy. Now, the steak itself is lovely – tender, cooked medium rare. But for me, that's about where it stops. It's served up completely unseasoned – in fact my waiter served it with saltshaker and pepper-grinder on the side saying, "you'll need these", and it's on a sort of strange, thin, pressed panini-like bread that falls apart within seconds. It's offered up in three versions as well – plain, lettuce and tomato, or "con ajies", which I'd read as "with chilies" – and while I was figuring on the mild Italian frying peppers, I wasn't figuring on it just being a slice of roasted red bell pepper. It's kind of skimpy overall – the steak is probably no more than about 3, possibly 4 ounces maximum, and even for Recoleta the 58 peso price-tag on that is a bit outrageous. For me, it loses out to Rodi Bar without another moment's consideration.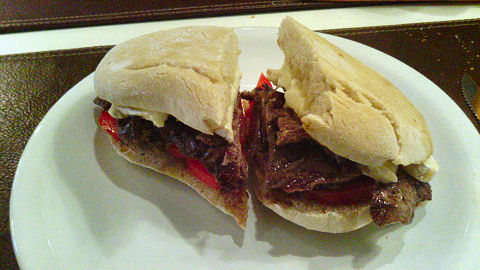 While not part of the long-running Hatfield and McCoy scene, the upstart in the 'hood when it comes to proponents for best steak sandwich is
Sirop
, Vicente López 1661, which I've reviewed before for its great brunch. Here, in a quaint little tea shop setting, the
lomito
comes as a stack of thin sliced, juicy steak running about 4-5 ounces, which amazingly enough given the slicing is cooked to just medium rare. It's seasoned well, dripping with cooking juices, served up on a great ciabatta bread, and topped with slices of fresh tomato and gooey melted brie. It comes in at 54 pesos, with an option for a few more to get a side salad, and as far as I'm concerned, while not a classic styled steak sandwich, is so delicious in contrast to the other two that it wins hands down. 
[Closed.]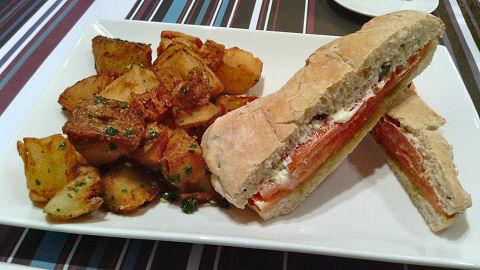 I've been hearing rumors of a great smoked salmon sandwich, but I've been so disappointed so many times before by what passes for such a thing here that I've not up and get myself moving for it. The usual culprit consists of a fake bagel (a bread roll with a hole poked through the middle), a mere wisp of mediocre cream cheese, a single slice of smoked salmon, and maybe a piece of tomato, usually all charged at a ridiculously high price because, after all, it's a specialty seafood item. Enter
Food Factory Downtown
, Talcahuano 437 in Centro (and another branch in Palermo at Nicaragua 6055). I nearly had tears in my eyes when this sandwich arrived – beautiful black olive bread, a layer of fresh, vibrant guacamole, five, count them, five nice slices of stacked, smoked salmon, a layer of oven-confited tomatoes, and another of tasty dill-flecked cream cheese. Add to that that it's accompanied by a mound of amazing, crunch outside, creamy inside "crushed potatoes" that rival my favorite brunch ones from Sirop, above, and, a price tag that's an easy to pay 50 pesos for a sandwich of this quality makes this an easy winner for best smoked salmon sandwich I've had in town.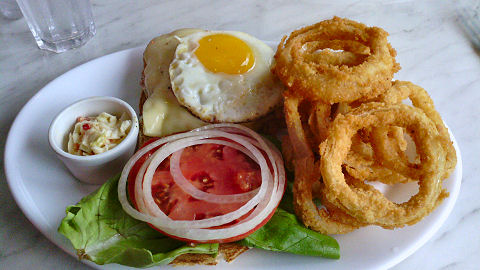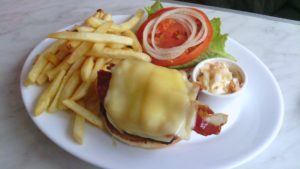 And finally for this round, I've been lamenting the lack of a decent chicken sandwich of any sort. I can lessen the lament, though not discard it, as there's at least an acceptable one that I just tasted at Trixie, Gorriti 5567 in Palermo. There are four options, but the house special, the Trixie Chicken, comes with a nicely cooked, if unseasoned, chicken breast topped with melted cheese, tomato, lettuce, onion, fried egg, all on a grocery store quality hamburger bun. It's not a particularly good sandwich, the biggest problem being that not one element on the plate has any seasoning whatsoever – and that includes the coleslaw and french fries for 48 pesos or 52 with decent if not great onion rings – and the same was true of my lunch companion's barbecued smokehouse burger – how one manages flavorless bbq sauce is beyond me. On top of all that, service is so lackadaisical and uninterested that we'd have been better off at an automat. So I'm not putting this one in the winners' circle, though at least it's not the oft-time dried out and inedible chicken sandwich that I generally encounter here. I have another four chicken sandwiches on my list to check out that one or another person has touted to me as "great" – so the category remains open – to be addressed in the next round.