Private party on Thursday for a family from Brazil – a parade of some recent dishes…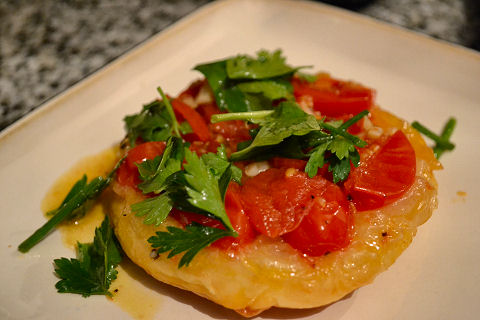 Cherry tomato tarte tatin with a little mixed herb salad dressed in a vinaigrette made with our new tomato-vinegar.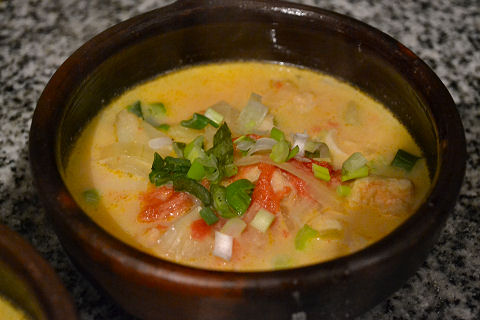 A caldillo, a chowder like stew from Chile, made with salmón blanco, sans shrimp due to a family allergy.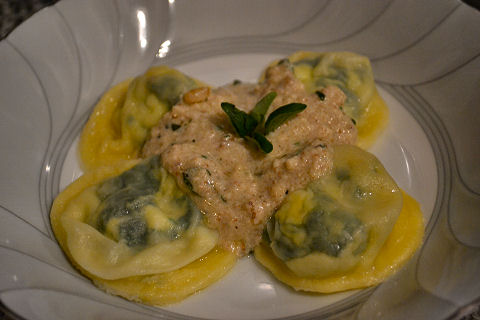 From our lunch class earlier last week, the spinach, egg and parmesan stuffed pansôti with walnut pesto – as promised, details in my latest article (July 1, 2012) from the BA Herald.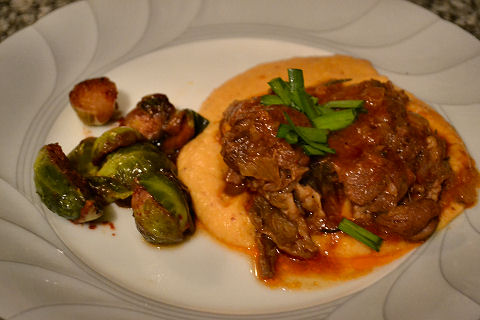 A return of our slow braised lamb over a rustic cauliflower puree, with some caramelized brussels sprouts.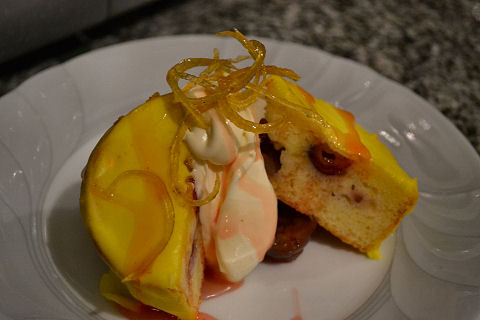 And, a the lemon and grape cake from the same class earlier this week, reworked as individual cakes, iced with a lemon royal icing, served over strawberries and grapes in syrup and topped with whipped cream and candied lemon zest.
Friday and Saturday full nights with groups mostly from the U.S. – an interesting bunch of folk both nights. (Sunday we were closed so that I could go play at the Chili Cook-off that I wrote up yesterday.)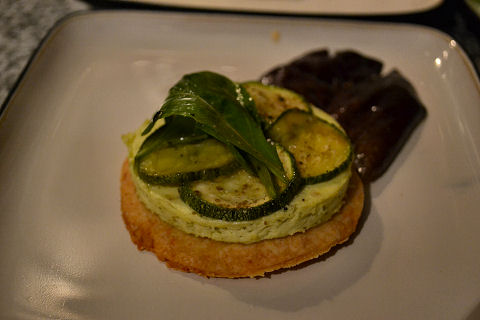 Savory cheesecake – polenta parmesan crust, topped with a round of baked cheesecake made from our homemade cream cheese, cilantro and lemon and topped with broiled zucchini dusted with pepper and coriander, and a little salad of red oak leaf lettuce and arugula in the tomato vinegar vinaigrette.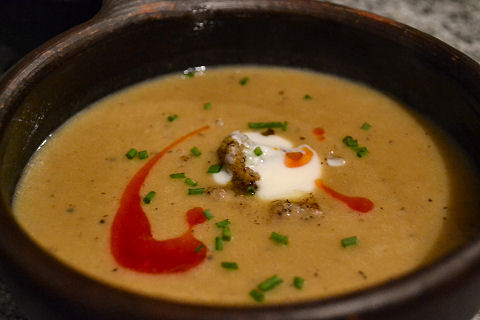 Our fave hummus soup with sumac/za'atar caramelized cauliflower.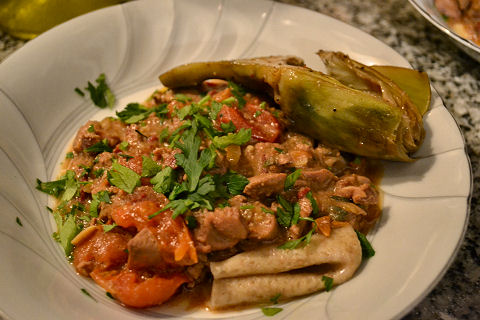 Rye langanelli topped with cibreo and a roasted artichoke half. Love the flavor of the rye pasta with this sauce – brings a whole new dimension to it.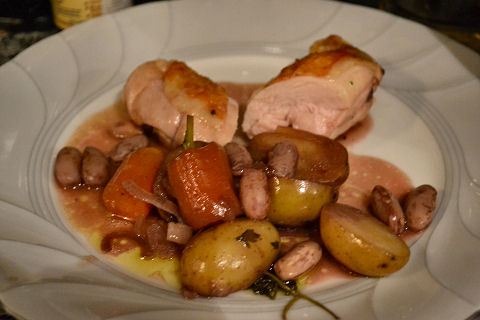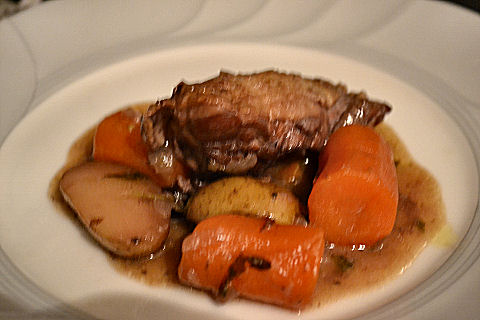 A couple of weeks ago we made that lovely little braised chicken thigh in red wine and juniper sauce for our Trentino-Alto Adige class. I wanted to fancy it up a bit, and didn't quite get what I was trying for. The first night I boned and rolled the thighs seasoned with salt, pepper and gin, rolled them in cling film and poached them sous vide style until they were cooked through, then browned them in oil, while meanwhile cooking the fresh pinto beans, potatoes and carrots in the sauce. Problem is, the chicken doesn't absorb all those wonderful flavors of the sauce and the whole thing felt slightly like two dishes on the same plate – plus, some of the diners, I think, found the texture of the sous vide chicken to be odd – it's so soft and almost creamy, and stays a bit pink. Second night I just rolled and tied the boned thighs and cooked it the way I traditionally would, but it all sort of falls apart without the bone, even though the flavor is all there – also left out the fresh pinto beans as they seemed like just a starch too far. I think a future iteration would be to do the sous vide technique, brown them, and then simmer them in the sauce for maybe the last 10-15 minutes so they pick up some of that flavor – maybe even put some of the sauce into the plastic wrap with them while they poach. To be returned to….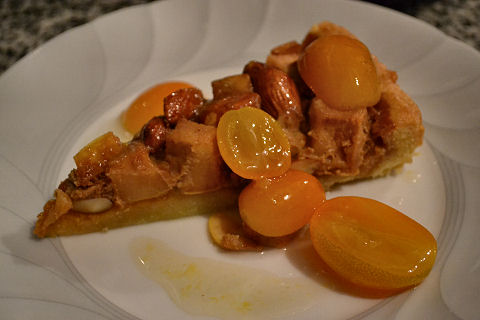 Quince and almond tart flavored with cinnamon, topped with kumquats slowly cooked in sugar syrup flavored with more cinnamon and some bay leaf.