In your weekly Italian classroom update I bring you the last of our five-session northwest lunches, Liguria. The crescent shaped state, most of it perched high atop a windswept cliff, is probably best known for Cinque Terre, the "five lands", a group of five villages that dot the arc, and la Superba – Genoa – which in foodie terms is probably best known for pesto Genovese (of course, there, just called "pesto"). What is probably less well known is one of the region's most famous soups, ciuppin, which, in modified form has found its way to San Francisco as cioppino. In Argentina it should be known for its farinata, a flat chickpea bread that in Genovese dialect is called fainâ, or, as spelled here, fainá.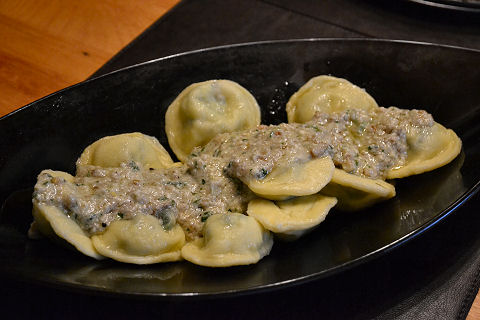 Since our series of classes includes having made a classic Genoa pesto in earlier sessions, I chose a different local pasta dish for this class. Pansôti di Rapallo – plump, round ravioli filled with a mix of chopped hard-boiled egg, spinach, and grated cheese, classically served with a very different style pesto, locally referred to as salsa di noci, or walnut sauce – it's a creamy blend of pounded together walnuts, pinenuts, garlic, oregano and parsley, which is then whisked with a small amount of ricotta cheese and olive oil to achieve a consistency similar to mayonnaise. (Detailed recipe for both pestos coming out in tomorrow's BA Herald article.) One of my favorite sauces to put on pasta. Then again, most pasta sauces are among my favorites….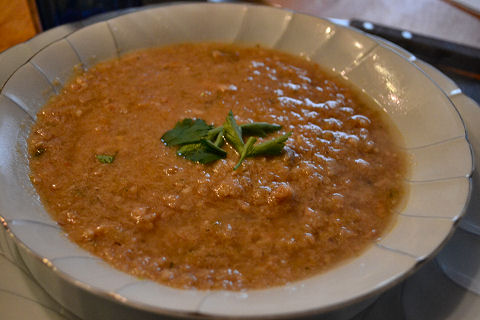 I do wish ciuppin was a prettier dish, and I've seen versions that are. But, the way I learned to make it involves cooking the fish and shellfish down to the point they are falling apart and then smashing it all to bits – these days I usually just stick a hand-blender into the pot and pulse it a few times. Either way, it's delicious – classically it's served ladled almost like a sauce over a thick slice of grilled bread, though we decided against that on a purely caloric basis for the day. The soup is one of the ancestors of San Francisco's famed cioppino, though that's a much modified dish that has influences from the Bay area's Portuguese population as well, and the fish and shellfish are left in larger pieces, plus the dish has far more tomato in it.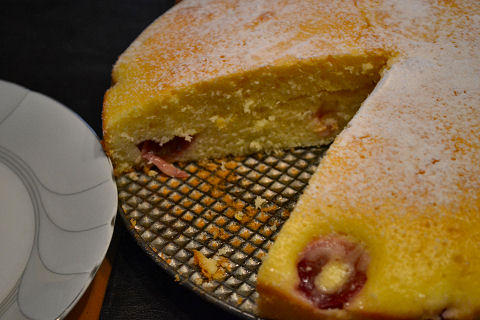 I often wonder how a beautifully fragrant lemon cake became a tradition in the area, and I suppose it is because Genoa is a major trading port, and probably received a bounty of lemons from the southern climes of Sicily and Sardinia. The batter is layered, classically, with fresh berries or other fruits, and dusted with powdered sugar. Given the season here, we used red grapes, cutting them in half and seeding them.
Next week we venture to the eastern seaboard, staying in the north and central part of Italy, and begin another series of five classes – Friuli, Veneto, Emilia-Romagna, Marches, and Molise. There's still time and space to sign up for the series, or any of the individual classes.