In the north central part of Italy is the Trentino-Alto Adige, oft-times referred to as the Sudtiröl – the southern Tirol, much of it being located in the southern slopes of the mountains. Here, the cuisine is heavily influenced by its Swiss neighbors to the north, and here, we headed for lunch in today's class. I know, I know, you're all just getting your gratuitous food porn and don't really want to learn how to cook, right?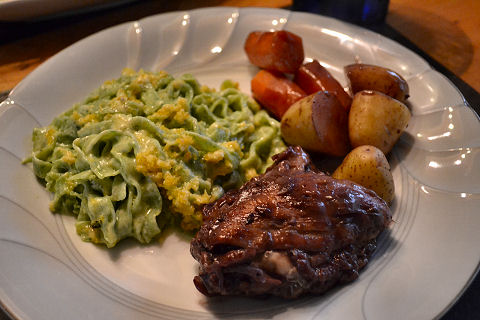 So first, just imagine had you sat down to a lovely little winter lunch like this today…. Go ahead, I'll wait.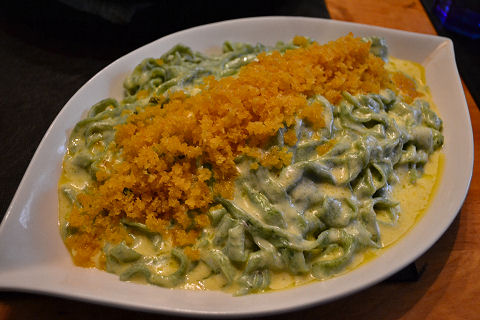 Let's focus in, shall we? Freshly made tagliatelle verde – spinach-black pepper noodles, "con mascarpone e pangrattato" – tossed with a whisked mascarpone, egg yolk, olive oil, garlic and parmesan sauce and topped with breadcrumbs toasted in herb and garlic olive oil.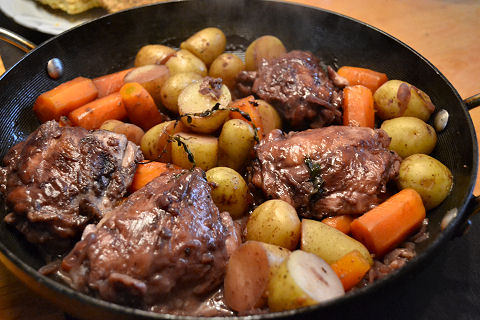 But you know, that's clearly not enough to entice you, right? So perhaps some red wine, herb and juniper braised chicken – Pollo Brasato en Ginepro con Patate – with small potatoes and carrots.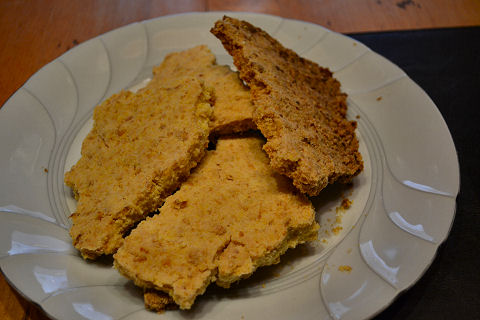 Not so pretty, but just a classic from the region – torta fregolotta – essentially a thick, crumbled shortbread – served up with coffee, and perhaps some whipped cream, or maybe borrowing the crema di mascarpone from last week's Lombardia class.
Stop begging for more, really, it's unbecoming a reader of your caliber. Just show up for next week's last session in this series, Liguria when we'll be making Ciuppin, Pansôti di Rapallo con Salsa di Noci, and Lemon Raspberry Cake. And think seriously about joining us starting the following week as we continue on to explore the rest of Italy's north over another five-session series covering Friuli on July 3; Veneto on July 10; Emilia-Romagna on July 17; Marches on July 24; and Tuscany on July 31. Okay, go ahead and beg. It's sooooo cute.