It's always nice to just have a day where you enjoy everything you eat and none of it is so fussy that you feel like you have to sit and think about it. Just plain good eats.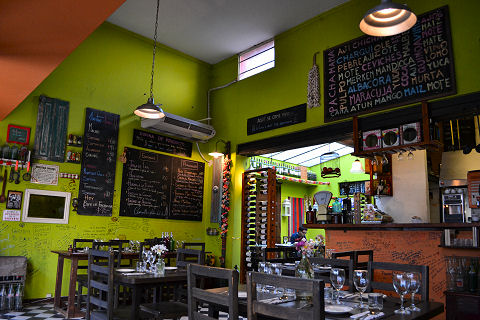 For the last couple of years when I've headed into San Telmo I've often passed by this little place on Defensa that had white tablecloths and looked all gussied up. It was in the back of my mind to check it out one day. According to the sign in the window it was called "Defensa al Sur – Restaurante de cocineros". And then suddenly it was closed, gone, and then just as suddenly, recently, the space re-opened with brightly colored walls, graffiti scribbled all over the surfaces, plain wooden tables, and the sign says De Lira – Abre tus sentidos. The address is the same, Defensa 1336, they use a cellphone for their number (so do we) 15-6717-2595. According to our waiter however, it's the same place "and no, we didn't change our name, just remodeled to be casual instead of formal". Hmmm, I think you did change the name – even on local guide Guia Oleo it shows the former name as a "closed restaurant" and the new one as, well, new. Met up with a friend who lives in the zone to check it out for lunch yesterday. [Unfortunately, this place closed up at the beginning of 2013.]
Like the space, just fun and casual. Service was friendly and attentive (and cute waiter for those who pay attention to such things). Chef/owner is Chilean and cooks with a bit of flavoring from our neighbor to the west, though it certainly isn't what I'd call Chilean cuisine. There are two menu options at lunch, the first, "el menú", the daily lunch specials – a three course option for 35 pesos with choices only on the main course; the second, an a la carte menu of appetizers, mains and desserts that looks like it probably doubles as lunch and dinner menu. We split it up, my friend ordering the former, me, the latter.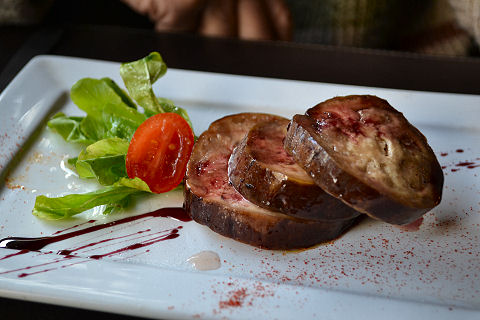 The lunch menu started with berenjena escabeche, pickled eggplant – good, vibrant flavors, though we both found the slices of eggplant to be a bit thick and a shade undercooked.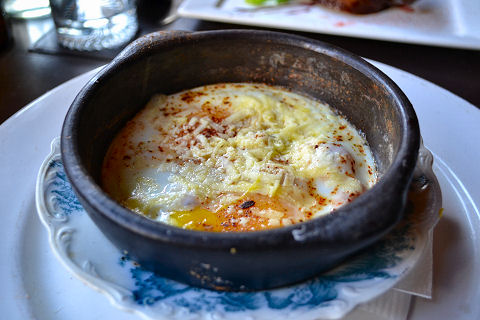 The a la carte menu offers up a half dozen each of appetizers and main courses and a trio of desserts. I'm a fan of interesting egg dishes and the huevos al diablo, described as a dish of baked eggs in a merkén (a smoked Chilean pepper that I really like – anyone coming from Santiago please feel free to pick me some up, I'm almost out, I'll pay you back) and tomato sauce and topped with melted cheese. If there's any criticism of the dish it's just the menu listing, it should be "huevo", since there's only one, but that's plenty for an appetizer, the dish was delicious. It reminds me a lot of the Mexican dish I like to make, huevos en rabo de mestiza (hmm, come to think of it, that dish is always pluralized too, but only has one egg), just milder since the merkén is significantly less spicy than the Mexican chilies I use.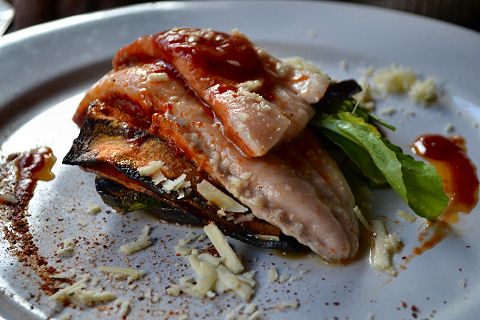 For the main course on the daily menu there were four options – fettucine with tomato sauce, chicken breast with potatoes, something that I've momentarily forgotten, and "tuna and rice". Now, the "tuna" is what here is called atún del mar del plata, or tuna from Mar del Plata. It's not tuna. It's the Atlantic Pomfret. But here they call it a tuna – it's a bycatch of the hake fishing industry. Then again, in the north we often sell it as a type of angelfish, which it's not either. And, when it comes down to it, it's delicious, one of my favorite local fish – though a strongly flavored one, so it's not one I often serve to guests. My friend asked for a substitution for the rice and the chef offered back a lovely heap of grilled vegetables. Wonderful dish and a decent portion – the two fillets off of one side of an entire fish.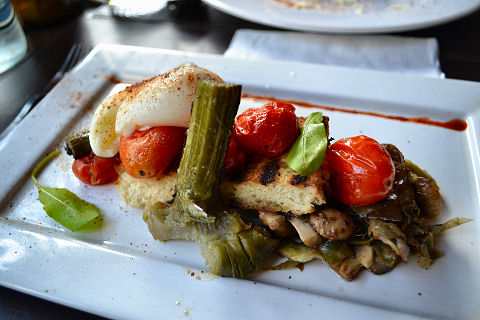 My first artichokes of the season, I couldn't resist the salteado de alcauciles, which turned out to be a great little tangle of fresh artichoke, mushrooms, cherry tomatoes, and, another poached egg (had I known I might not have ordered the dish, but so be it, I do like eggs). Completely a winning dish, beautifully flavored, even a touch spicy. Maybe a little light on quantity given its 54 peso price tag, especially compared to some of the meat dishes at roughly the same price going out to other tables, but, so good that I can't really complain more than a whimper.
The three course menu came with a dessert, which neither of us wanted so he opted for a coffee in place of it and I just ordered one. The one disappointment of the meal – the coffee was really watery, their machine needs some serious adjustment. Neither of us drank it after tasting it, and the one service faux pas is that the waiter didn't notice or just didn't ask, he simply cleared away the still full cups when we pushed them away. Overall, high marks for food, fun ambiance, generally very good service. The lunch menu is a steal at 35 pesos, though be forewarned it doesn't include a beverage, and the water is, at least for the style of place, a little steep at 12 pesos for a bottle that probably costs them 1. The a la carte menu, appetizers run in the 20-25 peso range and main courses, with the exception of one daily special that was higher, run from 50-60. Not bad at all. Definitely Recommended.
For dinner, Henry and I headed out to the latest offering from NOLAchef, our friend Liza Puglia, who you may remember was serving up alternating meals of New Orleans and Mexican cooking on Thursday eves at The Office when it was open. When that spot closed abruptly (it seemed to open and close several times, and after the last time, I gather, is to be no more), she was casting about for a new place to host her dinners and she's settled on, for the moment, a trendy little "pre-dance bar and lounge" called Tout de Monde, Gurruchaga 1417 in Palermo, still on Thursday nights. For the rest of this month at least she's offering up Mexican snacks from 3 p.m. until midnight. [Liza closed this to open an in-home supper club in 2013.]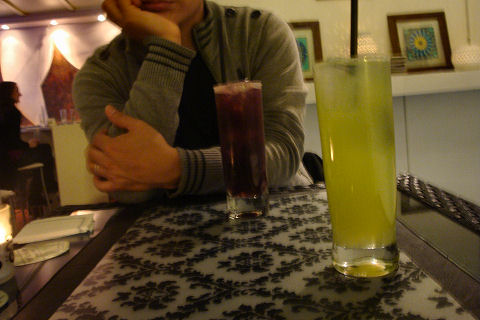 It's a strange little spot, though I can see that it would work well as a bar and lounge. For dining it's odd, but so be it, it's not fancy dinner. Waiter who greeted us was a bit scattered, first asking if we had a reservation, then telling us to sit where we wanted, after taking us on a tour of the place's four different "salons", each decorated in a completely different style (tout de monde after all). We settled in at a high table (all except the front lounge area are high tables with bar stools) and ordered a couple of cocktails, a blueberry margarita and a jalapeño one. The former too sweet, though corrected with a squeeze or two of lime, the latter, delicious – very smart idea and works well with the theme of the evening.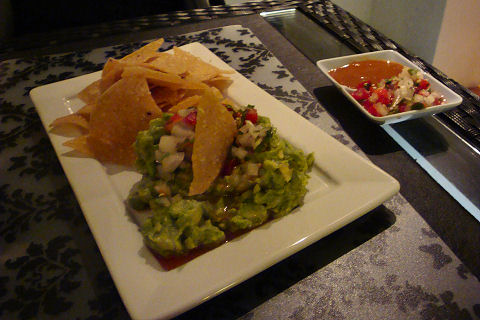 There are six menu items on offer, we tried five of them, skipping only the "Mexican salad". Started off with freshly fried chips and a really good guacamole that we dug into and finished off in mere moments.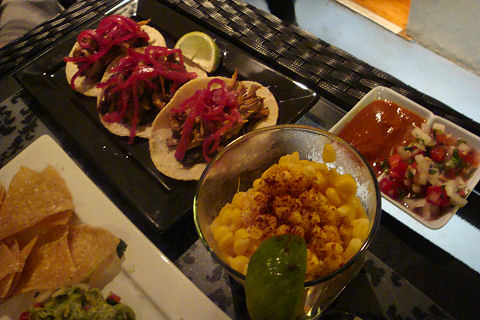 We moved on to the tacos al pastor, easily the best I've had here in BA – great flavors of the beautifully marinated pork, and just the right contrast with the pickled red onions on top. A trio of mini-tacos that in volume were about the same as one large sized taco – so I would have to say that at 40 pesos for the plate, that was a bit pricey. The esquites were nice and vibrant with salt and lime, I tend to like mine made with corn that's slow-roasted or even pan cooked until it lightly caramelizes, but that's just personal preference and these were good, though again, 18 pesos for a cup of corn seemed a bit stiff.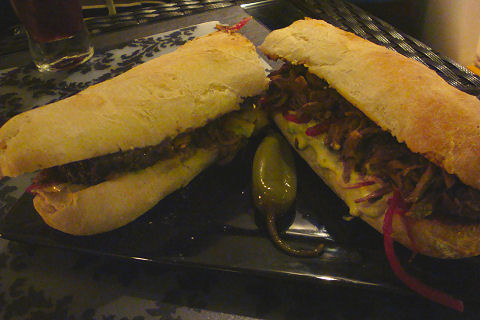 We really loved the torta de res – a complete pleasure to eat, the beef falling apart tender, more of the pickled onions, a nice spicy chili to accompany it (more please!). We both added some of the accompanying homemade hot sauce (fairly mild, but nicely flavored) and pico de gallo to both the torta and the tacos – we actually went through two dishes of them. Same price as the tacos, but far more substantial.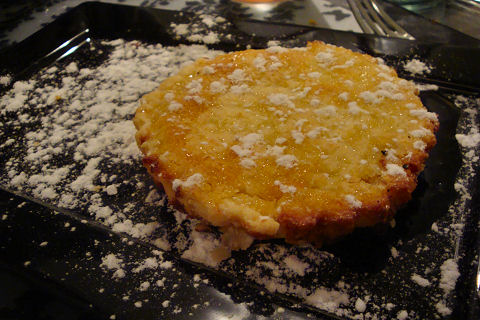 And, we finished off with a lime tartlet (28 pesos). Henry loved it. For me it was a little too sugary, but had a nice lime flavor to it. I let him finish it off.
So, overall, cute if strange space, and I don't know what Liza's intentions are after this month, so "Like" the NOLAchef facebook page or watch her blog to be kept up on future events. Service a bit scattered (our waiter actually forgot to write down the torta even though repeated it back to us), and was a bit hard to flag down anyone as they seemed to be running around all the time, avoiding tables and customers at all costs. Food, absolutely delicious. A bit pricey – for five plates that are more or less snack food, good as it is, and two cocktails, with a tip this outing came in at 250 pesos. Still, there's no one offering better tacos, nor even offering a torta de res, in BA, so it's worth it as an occasional splurge. Recommended that you check it out before the end of June if you're missing some of those flavors!