I know I should have asked. Just exactly who is Leopoldo? After all, if you're going to name a restaurant with a person's name, one might reasonably jump to the far-fetched conclusion that there would be someone of that name involved with the restaurant. Or perhaps someone famous who inspired it. But there seems to be no Leopoldo connected to make the restaurant, Leopoldo, Cerviño 3732 in Palermo Chico, 4805-5576, eponymous. There are several famed Argentine Leopoldo's, Lugones, Torre Nilsson, Marechal, respectively journalist, film director, and author. Perhaps an inspiration from one of them? [Restaurant closed in mid-2014.]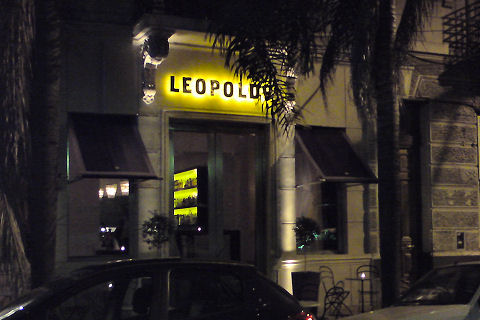 The place came highly recommended by a couple of local friends and it's been on my list to give a shot – Henry had a group of amigos over on Monday to chat long into the night, so I thought it would be a nice opportunity to go indulge myself a bit. A short walk from home and I ensconced myself in at a table where I could eat, read, and just relax. The hostess had pimped for me sitting at the bar to eat, where "most of our single diners sit", but sometimes I like a table, and there were only six other people in the dining room – even by the time I left there were only a dozen. Overall it's an inviting place, warm and friendly feeling. Quite big actually – long and narrow – but quite comfortable as well. Waiter was a bit quick on the draw, at the table within seconds asking if I'd decided on a cocktail. I hadn't actually even gotten seated yet, I was still standing. And then a short time later after I had ordered the cocktail, but before he'd delivered it, he was back to find out if I'd decided yet on my food. I noticed he did the same at the other tables he got during the evening. Chill out, you know?
I knew it was going to be a bit pricey, but there was some sticker shock looking at appetizers running around 90 pesos apiece and main courses around 125… then again, similar experiences at recent visits to other high end spots like Tarquino and Chila, and not out of line with them. I'm not overly thrilled with the 21 peso cubierto charge (then again, I'm not overly thrilled with cubierto charges at all – it just seems a bit insulting to charge people for simply sitting at a table in a restaurant – build it into your prices and while it will cost me the same thing, it won't feel like a slap in the face).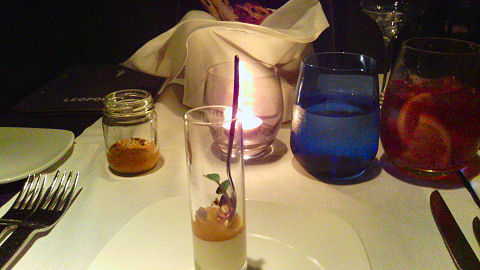 At the same time as my cocktail, a negroni (and well made too) arrived, so did a small amuse bouche – a thin tube of a glass with some whipped goat cheese at the bottom and a mango puree on top. Good, a nice little touch, a little difficult to eat in the tube, pretty as it was. Nice selection of fresh breads, I found the carrot puree to accompany them to be overly sweet, and so runny it was near impossible to get out of its glass it was in with a knife – so I kept the little spoon from the amuse – recommendation: serve it with one.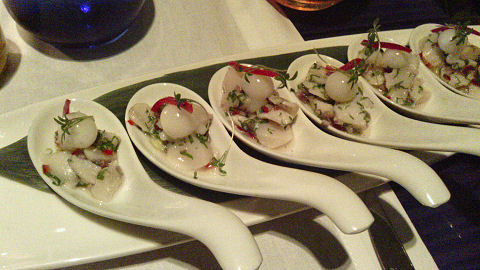 Within 2-3 minutes my waiter returned, whisked away the little tube glass and deposited my first course, a scallop ceviche. Now, first off, I'd just gotten my cocktail five minutes earlier and had barely made a dent in it, and second, I specifically told him I was not in a hurry and to take his time on the food. I pushed the plate away and returned to my cocktail and bread – he clearly noticed, but didn't do anything about it or ask. Fifteen minutes or so later I turned to the food. Now, obviously a pretty presentation. And nice, fresh bay scallops, good zingy lemon marinade dosed with a good amount of salt. Underneath the scallops was a faint smear of "avocado mousselline" – looking more or less brushed on the bottom of the spoons. Each spoon also topped with a little sphere of coconut milk. What appear to be slivers and fine dice of chili turn out to be red bell pepper, and some thyme leaves. No spice to this dish. It was good, but missing all those wonderful ceviche flavors of chili, garlic, ginger, pepper, and cilantro. Interesting. Good. Not exciting.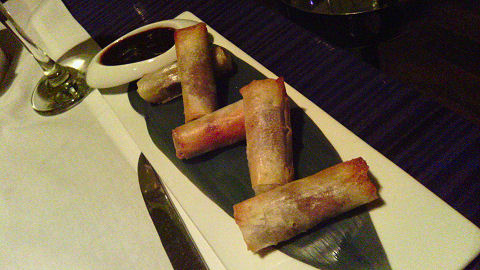 Next up, a mid-course of duck springrolls. Now, there should be six on the plate, but in his rush to get it on the table (though he did figure out to at least slow down and not bring it for about fifteen minutes after I finished the ceviche, perfect timing), the end one went shooting right off onto the floor. He swooped and picked it up, said he'd be back shortly with another one as it would take 5-6 minutes to cook another one. He was back in under a minute, so either they just happened to have an extra one sitting around, or he simply deposited the one from the floor onto a small plate and returned with it. I'd like to think the former…. Nice and crispy springrolls, filled with shredded duck, possibly confit given the texture, though, not in duck fat or olive oil, in something completely neutral, and, the filling had no flavor other than duck and a hint of salt. The hoisin sauce, which is typically a sweetened vinegar, soybean, garlic and chili pepper sauce thickened with sweet potato or rice starch. This was just sweet – no noticeable from vinegar nor spice from other ingredients.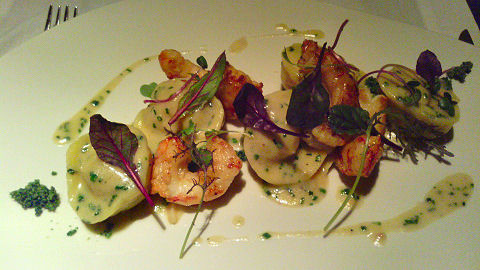 An interesting take on a sort of surf and turf – rabbit tortelloni with prawns, almond coulis, and broccoli cous-cous…. or so said the menu. The tortelloni delicate and perfectly cooked, the rabbit filling unfortunately using ground rabbit, unseasoned, and with a dried out texture – they needed both seasoning and some kind of fat on the inside. The prawns, perfect. The almond coulis, a lovely touch. The broccoli cous-cous? I'm guessing that that's what that little pile of green to the left was – not actually cous-cous, which I expected, but I think it was just the little tips of the florets snipped off so that they're the size of cous-cous grains. No noticeable broccoli flavor. It's also a pretty skimpy dish of five prawns and five tortelloni, especially as a main course that comes in at 102 pesos!
So here's the thing. Love the room and the attention to detail. Once my waiter calmed down, completely professional and very nice, friendly service. The food – creative in ideation, but just falling short for me in the execution. It's beautifully presented, perfectly cooked, but three courses in a row were lacking in any seasoning other than salt – typical at an average neighborhood place here in BA, but for a fancy place like this with a chef who has international accolades for his cooking, not only a surprise, but a disappointment. Nothing was bad, it was all intriguing, just nothing impressed me. I know that the local palate calls for muted flavors, but this was muzzled.
And the bizarre thing is, I still left having enjoyed my evening and dinner, I just wasn't excited enough to want to rush back and try more. That's further reinforced by the pricing – those three courses by themselves added up to 287 pesos, about $64; and if you add in the 21 peso table charge, 16 for a bottle of water, 57 for a cocktail, and 38 for a glass of La Flor Sauvignon Blanc (that retails for around 45-50 per bottle) that was served in such a small glass that it couldn't have been more than 1/6 of the bottle and was probably less than that (standard fine dining pours for wine by the glass should be 1/4 of a bottle) – all totaling up to a whopping 419 pesos, or $93… before a 40 peso tip – call it $102.
I find myself unsure how to class it. I guess I'll call it Recommended and let you use your own judgment. I certainly enjoyed both of the above mentioned high end spots more.