Continuing our series of northwestern Italian lunch classes (in which virtually none of you are enrolled, more's the pity)… Lombardia. Milano. While this would seem to be "the" class to make a risotto, especially a classic Milanese risotto with saffron, kind of the signature of the whole area, this series follows on our basic Italian cooking classes during which we make risotto a couple of times in different versions. So, some other classic dishes of the region.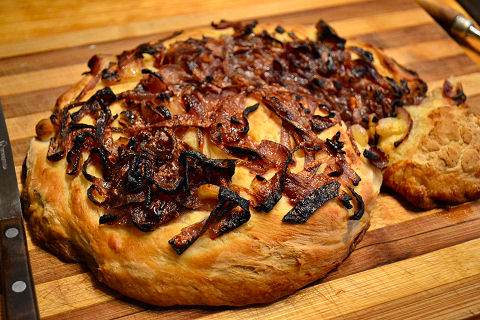 Fitascetta – a simple coiled bread topped with caramelized red onions.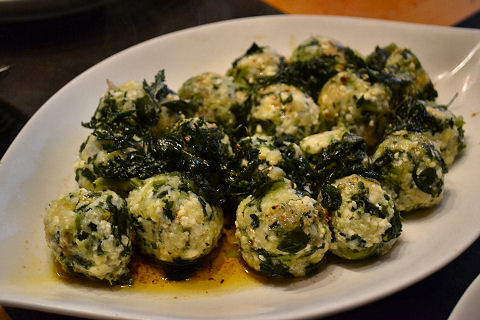 Malfatti, Gnudi, Cnel, depending on what part of Italy you're from – dumplings of ricotta and chard drizzled with a mixed herb browned butter. Oh, and we made the ricotta in class.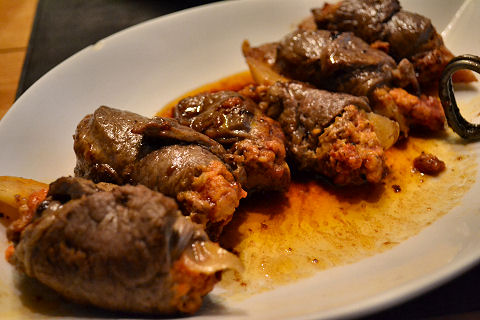 Involtini – thin slices of veal rolled around sausage meat, cheese, and…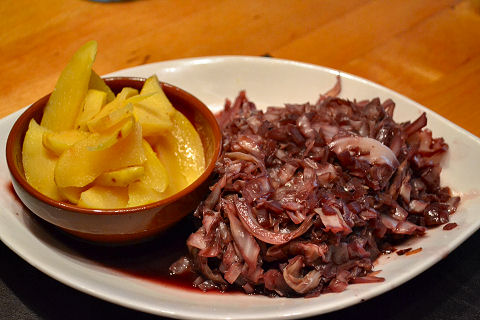 Mostarda – a quick version of the classic mustard and sugar syrup glazed fruits of the region, here made with fresh quince slices; and, Verze Masarde – red wine braised cabbage and onions.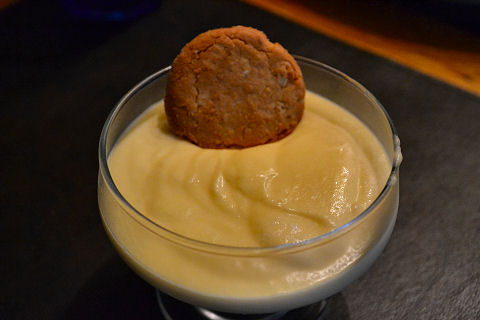 Crema di Mascarpone – a rich, mousse-like pudding of mascarpone, eggs and rum. The cookie is just added for texture and visual presentation, we didn't make those in class.
Now, I already know that come two weeks from now when this series finishes up and we launch into a different series, I'll get three or four e-mails from local readers saying, "You know, I really wanted to take a couple of those, but just didn't get myself organized. When are you going to do them again?" Well, it'll be a bit, we have the rest of Italy to work our way through, and likely some of our other Mediterranean classes, and most probably repeating our ten-session Intro to Italian Cooking series before we get back around to these again. Trentino-Alto Adige and Liguria remain on the upcoming two Tuesday mornings. If you're one of those three or four e-mailers, now's the time to get yourself here for lunch! And, of course, anyone else interested as well.