A day and a half back in town and it was time to get back to work – have to pay for these jaunts to New York and other places somehow, no? Four dinners this weekend, and, I think, three dozen new happy diners. Working in a little inspiration from the trip – over the next few weeks, as I have time to experiment pre-dinner, there should be more coming up.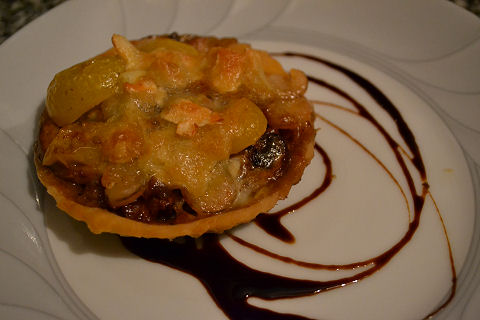 Remember that amazing little flatbread/pizza from Carmen in the North End of Boston? A smoky, crispy pizzetta topped with robiola cheese, caramelized onions, mushrooms, grapes, walnuts, and just a faint hint of truffle oil? A bit of a reworking of it – using a smoked paprika crust I made little tart shells, then filled them with sauteed mushrooms and walnuts with a touch of chili, caramelized red onions, roasted yellow cherry tomatoes (taking the place of the grapes), baby shrimp (because I wanted to), and a mashup of goats milk camembert cheese (there's no robiola available here) with a little bit of truffle and parmesan cream that I picked up while in New York – I particularly like that it's actually bits of truffle rather than truffle oil. Stuck the whole thing under the broiler to brown and then served them up with a little balsamic vinegar reduction.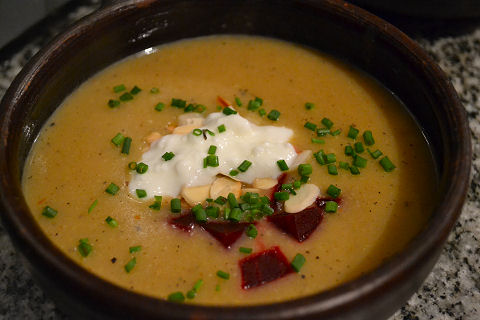 Course two was a minor reworking of our hit hummus soup – instead of charred cauliflower I thought I'd try it out with the bit of acidity and sweetness from roasted beets, along with the toasted almonds, lemon yogurt and chives. Definitely works, and as you eat it the beets sort of bleed into the soup, which gives lovely little color swirls. I like both versions, so we'll see – much may just depend on what's in season that works with the flavors of hummus.
On to course three, a reprise, with no changes, of our semolina manicotti.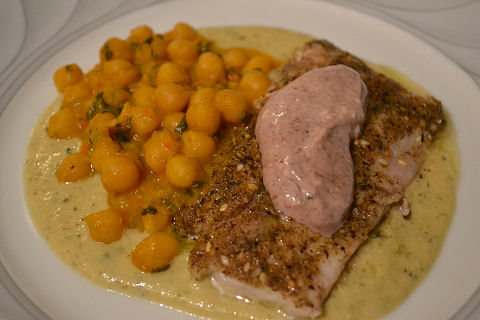 And, a reworking of one of my favorite fish dishes, replacing the hake with sea bass, and crusting it in za'atar, a middle eastern spice blend based on sesame seeds and sumac, then a quick pan sear rather than baking it. Served over the same zucchini puree, which I really like, and with the chickpea stew, likewise, though taking out the cous-cous which I think was unnecessary in retrospect, and topping the whole thing with a black olive yogurt. I loved the changes – I'm thinking maybe a slightly meatier fish, like grouper – or at least thicker fillets. And a little playing with the plating to be done. It's pretty enough, but, could be "cleaned up" to look a little more elegant.
And, while persimmons are still in season, I brought back the persimmon, hazelnut, ginger and caramel tart that was a winner a few weeks back. Instead of the caramel syrup I put a scoop of brandy hard sauce on top of each piece.
Voila! Dinner is served. Now, what inspirations to work on from the trip for this coming weekend? Hmmm….