Back in BA and going to finish up the last two and a half days of New York in a short post, as most of it was not all that interesting on the food front. Spent the day on Saturday at the dojo – we were testing a group of students for their next level promotions, and I got the evil job of running them through two hours of exercises, conditioning and basic movement drills. That was after their one hour run and before their three hours of demonstrating techniques, katas, and knowledge of the art and its history.
Needless to say, by the end of six hours, I was hungry, and grabbed a quick vegetable slice at East 9th Street Pizzeria – it was always my late night go to for a cheap and quick slice – they stay open until 5 a.m. daily. [Closed, replaced by another pizzeria & kebab shop] This was only 3 p.m. Then back to the apartment, changed, and headed out to meet my cousin and his boyfriend/fiance (they just got engaged, I guess I won't be the first gay marriage in the family). I was figuring on a bit of wandering and hanging out and eating a bit later in the evening, but, they like to eat early and by 6:30 or so we were seated at Mancora, 99 1st Ave. – a neighborhood Peruvian restaurant (I went all the way to NYC to eat Peruvian? Ah well, it's what they wanted.) It was actually, in a way, nice to try it again, because I haven't been since being here and gaining an appreciation for more authentic Peruvian. They're actually pretty good at it, though they definitely dumb down the spicing – I was surprised – New Yorkers aren't known for being spice-averse, but this was really quite mild.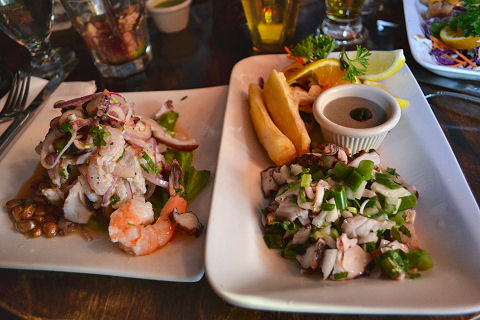 While my cousin went with empanadas (do I tell him it's not empañadas, just an "n", not an "n-ye"?), about as non-Peruvian as they had on the menu, and his other half had a big bowl of seafood soup, I went with two small appetizers (even after that slice I was hungry), a daily special of a rocoto-based ceviche of unidentified whitefish, shrimp and calamari, and a dish of octopus with a black olive sauce. The former was the only thing we had with any real spice to it and was actually quite good, the latter was something I've never seen on a Peruvian menu, but it sounded intriguing and it was absolutely delicious. Quick online research shows numerous Peruvian recipes for
pulpo al olivo
– who knew? I'll have some fun with that down the line.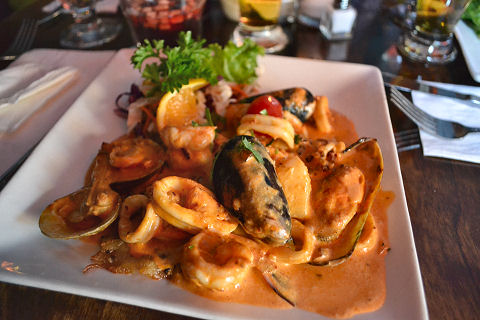 One of my favorite seafood dishes in the Peruvian canon, though this one quite different from versions I've had here and in Peru – a
pargo a lo macho
– pargo is red snapper, a lo macho is a seafood sauce, usually pretty light, and just a bit of seafood over the fish, which should be the star – in this case it was a heavy cream sauce with lots of mixed seafood and just a little bitty piece of fish underneath. A bit too rich and the sauce kind of covers up the flavor of all the seafood. Not my favorite by a long shot. My cousin went for an
ají de gallina
, our favorite yellow-pepper chicken, and the other plate on the table was a steak
encebollada
, or, smothered in onions. Nothing all that interesting there, but it was eaten. Overall, okay – seven years ago I would have thought it was amazingly exotic and fascinating food – now I know that it's a pretty basic, uninspiring Peruvian restaurant that costs about ten times what the same food, and better, would have cost here.
The boys wanted dessert, so we first wandered into Veneiro's, talking Italian pastries, but then they spotted gelato and wanted that – I persuaded them to exit and head down to Houston Street to Il Laboratorio del Gelato, at the corner of Ludlow Street. We lined up with the other aficionados and soon had lovely little cups of three flavors each – I went with chestnut honey, tarragon-pink peppercorn, and olive oil. Sublime!
On to the next day where I met up with my friend Tommy and after a nibbled breakfast of some things he brought back from visiting his folks in Pennsylvania, some shoe-fly pie and some fresh made cheese, washed down with coconut milk (hey, it was in his refrigerator), we headed to Koreatown for lunch. We met up with a friend of his, an older Korean gentleman, who we left all decisions to, figuring we might get to try some interesting new stuff, rather than the usual assortment of dumplings and seafood pancakes and such that we always order. We grabbed a table at Miss Korea Barbecue, 10 West 32nd Street, where he asserted was, as they claim, the best Korean BBQ. Only then we didn't have any, as he ordered several other dishes. Hmmm…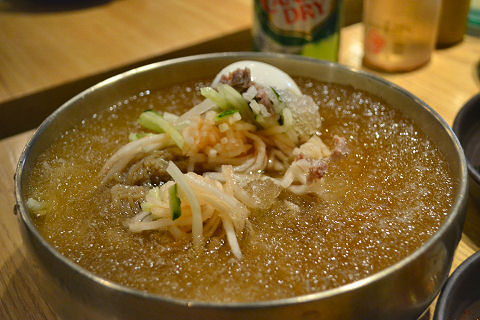 All the usual
ban chan
, none of it, however, spicy, not even the kimchi. Very odd. But, then absolutely nothing we had ended up being spicy, and I got the feeling that he didn't think we could handle it and had ordered it "white boy mild" or something. We received a couple of large bowls of "cold noodle soup" – very chewy noodles in a chilled and slightly jelled broth of "ox knee", along with a cold poached egg and some cucumber shreds. The broth was great, the rest of the dish, I wasn't enamored of, though both of my lunch companions went through it quickly. Interesting to try, wish he'd only ordered one bowl and ordered another plate of something else though.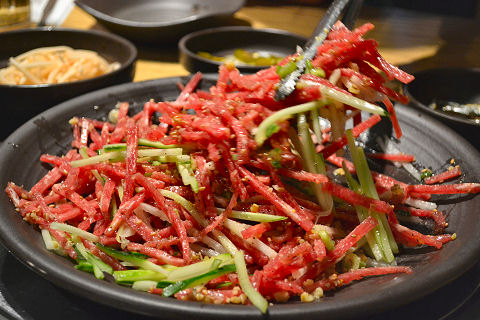 He asked us if we'd like to try the raw beef salad. Both of us have had it many times before and demurred, but he ordered it anyway, insisting that it was like no other we'd ever had. It was. Like all the others we've ever had. It's fine, not one of my favorite dishes though.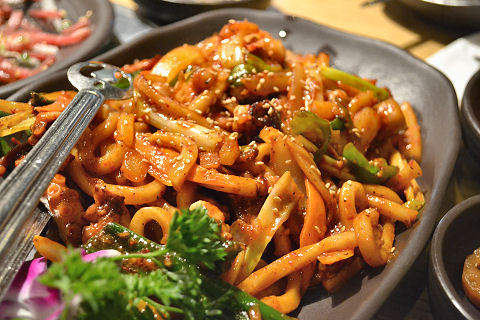 He asked if I had any favorites, and I said I really like the spicy octopus stir-fry. He said they had an excellent one. It was good – actually quite flavorful, but absolutely no heat to it. He later said he'd ordered it mild for us.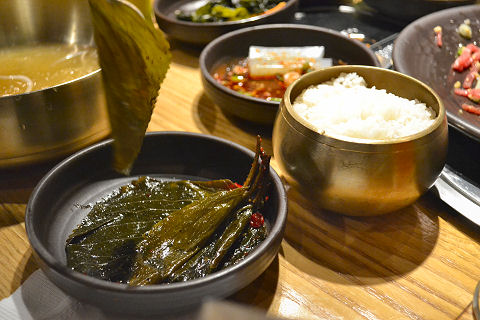 This little dish, strangely, was the winner of the day from my perspective. One of the waitresses brought it over, saying it was something special that she wanted us to try (she might have been a manager, it was hard to say). Pickled sesame leaves and plain white rice and amazing flavor. Korean stuffed grape leaves, only sesame ones. Our "guide" declined to eat any of it, saying it wasn't something that he usually liked to eat, just now and then. Made me wonder if he knew something we didn't, but, hey, it was my favorite. I don't know that I'd go back to the place, though I suppose to try the much touted barbecue… that we didn't have.
The rest of the day wandering about the city, got a massage, and met up later again with my friend John for a return to Resto where four years ago we had a delightful meal. I didn't take the camera along, having already reviewed it. In a way a shame, because much of the menu has changed, it's less pork-oriented and has several lighter dishes on it now. And what they've done is opened up a second space next door called Cannibal, where they serve and sell retail only red meat dishes and beer. Now, the two spaces are open to each other inside. They share a common owner and chef. They share some of the cooking facilities. They share the beer list. And, they won't take orders between the two menus – if you're sitting on one side, you can't order from the other. That's just plain stupidity. I even understand the "we have separate point of sale systems" argument – okay, give us two separate checks. But no. However, we were allowed to go into Cannibal, order at the takeout counter, pay for it, and then one of the waiters from over there brought it over to us (initially he wanted us to come get it when it was ready, but decided he could walk the ten feet to our table and bring the dishes). Really silly planning – it's not like one couldn't easily foresee that this would be a common request. So we had a night of mixed food from the two sides, all of it good.
Next day was my last, and only a half day, and it was pouring rain, so all I ended up doing was having a late breakfast of a last bagel with lox spread, some juice and a coffee, from Bricktown Bagel & Cafe, about a block from where I was staying. Then, it was off to the airport and back home yesterday where, yes, we have more rain and drizzle. Really, just a little more sun over the last couple of weeks would have been nice. You know?