Some of you know that I have a page dedicated to my namesakes – there are a lot of Dan Perlmans out there you know. With one of them I've corresponded regularly over the last few years as he has an e-mail address that's almost the same as one of my old ones that I just never got rid of. So, a few times a week, an e-mail shows up in that box from one of his clients who gets it wrong…. This trip, we decided to meetup….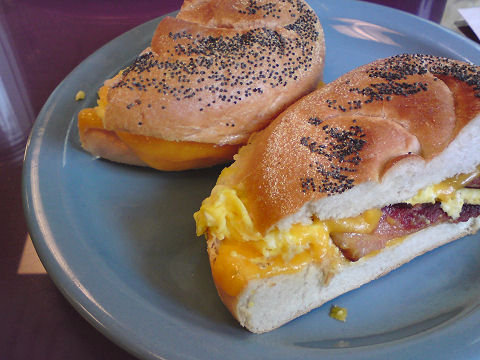 So, yesterday morning started bright and early at
George's
, 89 Greenwich Street, a classic old diner downtown. I've been saying that I miss the occasional "egg sandwich" of New York – egg, cheese, bacon on a roll – and this place has a "selection". I went classic and simple, and downed it with some decent coffee, grapefruit juice, and, a fun conversation with the first "other DP" that I've met. Should have gotten a pic of the two of us together, don't know why I didn't think of that.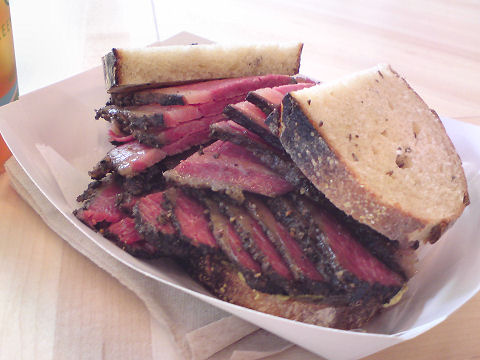 Later that morning was wandering the East Village and happened across
Mile End Sandwich
, 53 Bond Street – the new Manhattan branch of the much touted Brooklyn deli. How could I resist? Their classic sandwich is the "smoked meat" – a brisket that's both cured and smoked – it's hand sliced, piled high on really good rye bread with spicy yellow mustard. Given the $12 price tag it's not really that big of a sandwich, especially in comparison to your typical deli out there, but it is pretty darned good brisket – but in diameter, it's probably only about 4-5″ across, a small loaf of rye sliced up. And yes, as many have complained, there's no seating, it's just an order counter and then a high table that you can lean against and eat, or you can take it out. But you know what, it really is just a sandwich and it's not hard to eat standing up. Some barstools might be nice.
More running around – looking for a new computer. Then an hour at the dojo. Then met up with some friends at Caravan of Dreams, a great little vegan spot in the East Village, where I just had a salad…. Then back to shopping. Isn't life just exciting when you know all the details? Back here for a bit of writing. And then out for dinner, solo, at SD-26, 19 E. 26th St, where my friend John is the new managing partner. He joined me on and off over the evening, and I tasted through a nice selection of small plates. [SD-26 is Closed]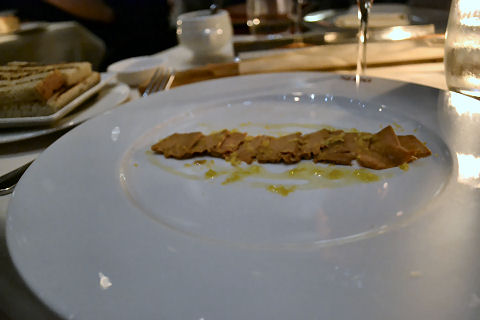 It's almost a shame to report on this one, because I would have thought it very cool if the chef cured his own
bottarga
, a salted and pressed tuna or mullet roe – in this case from bluefin tuna. Here, it's just simple presentation and respect for a high quality ingredient, imported from Italy, sliced thin and served with lemon zest and olive oil to balance the salt, and really excellent fresh bread grilled with olive oil. Accompanied it and conversation with a house cocktail made with
Aperol
, a "spritzer".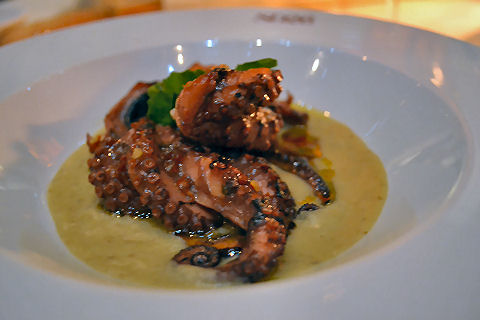 A small octopus, grilled, sectioned, and served over a wild chickpea puree with a sun-dried tomato and rosemary gremolata (traditional gremolata from Milan is a finely chopped mix of lemon peel, garlic, and parsley). Somewhere around here, rather than a glass of white wine I asked about, a bottle of Bonci Verdicchio dei Castelli di Jesi was popped open "for an opinion", by SD-26's truly fine wine director, Michael. Was a great choice throughout the meal. My one negative of the entire experience at SD-26, however, they offer up the wine list on an iPad – it's a pet peeve, but I absolutely loathe wine lists and menus on iPads (or any other tablet) – you can't flip back and forth easily between pages, compare things easily – for me, narrowing down a wine on a tablet is akin to working my way through a credit card company's hold menu to get to a human being.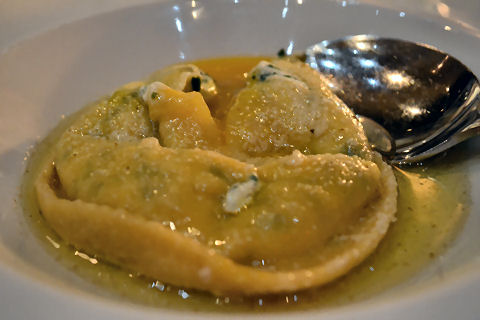 Over the years I've tried "classic" egg yolk ravioli at various restaurants. It's a dish that was unknown in the U.S. until San Domenico's original chef unleashed it on New York around twenty years ago, at which point
New York Times
critic Bill Grimes gushed over it, and he didn't gush easily. I've even made my own version of the dish,
sans
the truffles. I wanted to try "the original" (at least in terms of the U.S. – San Domenico didn't invent the dish, but, one could say they perfected it). And, I'll tell you, it was good. It may be because it's not truffle season and the truffle butter it's served in has been frozen from the last season (something SD26 does en masse so they have enough of it to last year 'round), or it may be the over-generous sprinkling of salt crystals atop, but for me, it was a little unbalanced – good, but not the stunner I was looking for. I think I'd re-try it during truffle season and spring for the shavings of white truffle over it to really see the dish in its glory.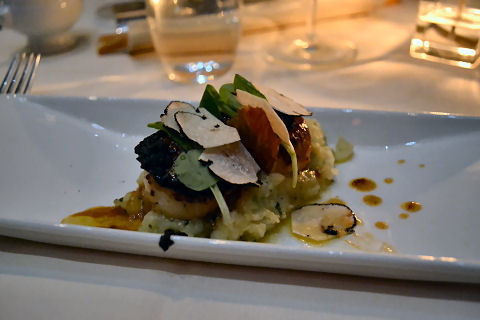 The most "composed" plate of the evening, a half portion (2 rather than 4) of plump, juicy sea scallops, grilled perfectly and served over olive oil laced crushed potatoes, bits of crispy prosciutto, and shavings of "summer truffle". Hmm, like the frozen truffle butter, summer truffles just don't do it – they have little flavor and while it might not have the cache, I'd have much preferred a more flavorful mushroom to be used – it's spring, maybe some sliced morels. But, the dish itself was absolutely delicious.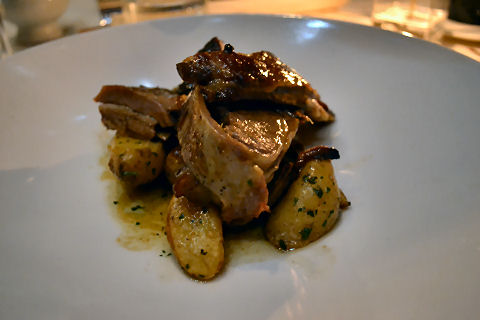 And, what was supposed to be a half portion of the braised baby goat "alla bresciana" (classically slow cooked in butter, red Bardolino wine, garlic and onion – not sure if that's how this was prepared, but could very well have been) – tender and falling apart, just delicious – and given that they sent a full portion, I couldn't eat it all. Accompanying the goat were artichokes and fingerling potatoes that had been braised as well. All around great dish.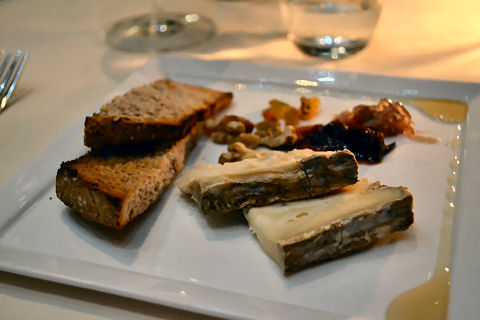 A simple cheese plate to end, a couple of slices of
strachet
served with some walnut pieces, a lovely tart jam touched with cinnamon I think, and some bread. I hadn't planned on either cheese or dessert, this arrived bidden by John, and then a
panna cotta
, creamy rich but I just couldn't eat it, arrived courtesy of the chef – missed taking a photo of it. A tour of the innards of the restaurant followed, and then sated and perhaps a bit over-stuffed, I headed back for a good night's sleep.