A family visiting break on Sunday, my aunt and uncle in Connecticutt – both a nice visit and some downtime – and definitely a nice break on stuffing myself with multiple plates of the latest trend or largest portion of food coming out of a kitchen. Breakfast was just coffee before heading to the Amtrak, lunch in CT was a simple green salad, and for dinner, my uncle prepared a delicious eggplant and tomato curry and a creamy, tasty lamb biryani (he's on a kick of experimenting with Indian food right now). Nice, normal portions, and three of us sharing just a part of a bottle of Chamisal Syrah 2009, a nice little discovery from a vineyard that's owned by friends of one of their sons.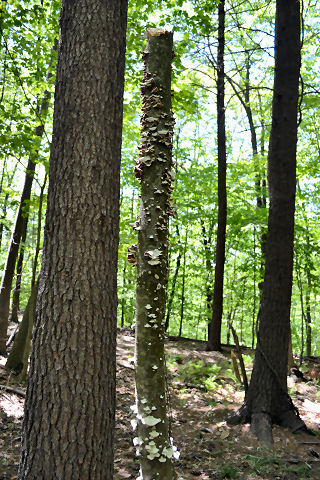 My aunt and I even got in some exercise with a three mile hike through the nearby woods.
Stayed the night, and back on the train next morning and into New York where I'm staying in the apartment of a friend of a friend of a friend who's away in Seattle for the week. Lovely river view from Hunter's Point, just a subway stop from Grand Central.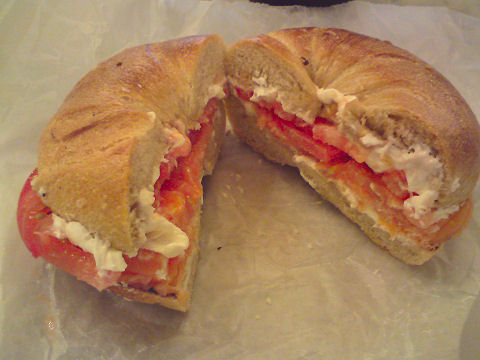 And a late breakfast of iced coffee and a nova, tomato and cream cheese on a toasted salt bagel at Ess-a-Bagel, one of the old time classics. Life is good. By the way, for those who don't know the difference between lox and nova – the former is salt cured until relatively firm, the latter is very lightly salt cured and then cold-smoked – it's usually a little softer, and also obviously has the smoky flavor to it.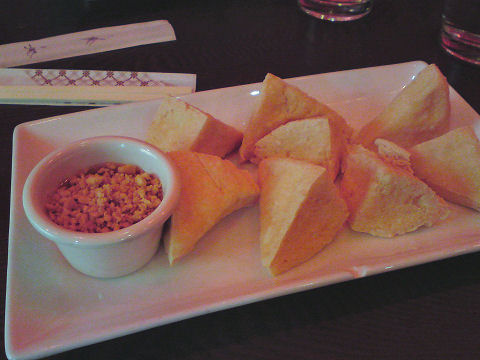 And met up with a friend for lunch in midtown at
Little Thai Kitchen
, 231 E. 53rd St., a pretty barebones operation with just kind of average food. Fried tofu with a peanut and tamarind sauce was fine if a bit dry and not all that exciting.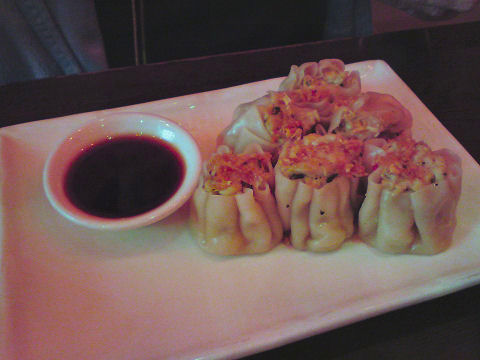 Vegetable dumplings were probably the best thing we had, and had a nice kick to them.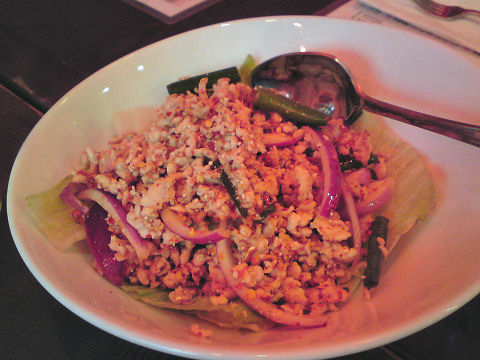 My litmus test of Thai restaurants, a
larb
– this one sort of overwhelmed by toasted notes and raw red onion – the other flavors barely made it through – it's probably the first time I've left more than half a salad like that. Actually, we left about half our food in total.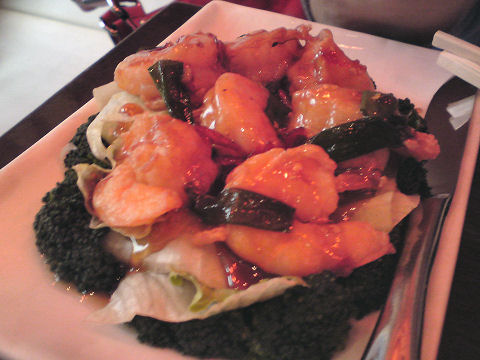 And, although my lunch companion seemed to enjoy the tamarind shrimp I found them to be sickly sweet and gloppy. Overall, not a winning lunch food-wise, thankfully a great one company and conversation-wise.
An afternoon running errands and trying to vaguely stay dry, then off to the dojo for a couple of hours, and then back into the streets to meet a restaurant biz friend at the new NoMad, 1170 Broadway, a hotel restaurant under the supervision of the dream team from Eleven Madison. A bit more upscale than I was expecting – a beautiful series of rooms with a touch of stuffiness – but thankfully the staff bring an element of more casual airs to it that makes it feel relaxed. Overall enjoyed the experience – the pricing is a bit steep, no, very steep – if there's any real criticism it's the lighting which is a very strange yellow-orange that makes everyone look just a tad under the weather. Forget any photos unless you want to use a flash, which I didn't. [Closed, I think]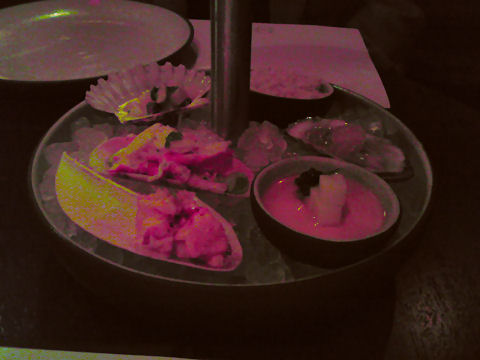 Couldn't really tell you what was on the
frutos de mer
platter – at $24/person with six bites each – but each was really an excellent and intriguing combination of flavors. Lobster, crab with avocado and lime, sea urchin panna cotto with apple gelee, scallop with yuzu and pistachio, oyster, and, I think, prawn with horseradish – really delightful if skimpy, then again, on a per bite basis it probably was no more expensive, yet more elaborate, than the fusion sushi two nights before up in Boston…. Hmmm.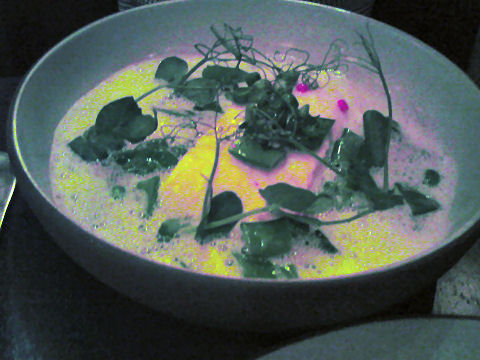 Slow cooked halibut (sous vide?) to the point of an amazing creamy texture, with spring peas, lemon-thyme, and saffron. It really wasn't glowing with yellow spots, it was just the lighting.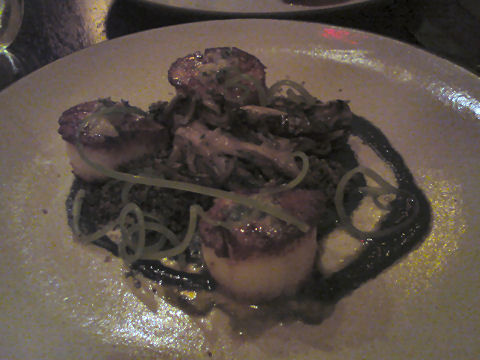 Perfectly seared scallops served with maitake mushrooms, sorrel puree and Meyer lemon. Delicious.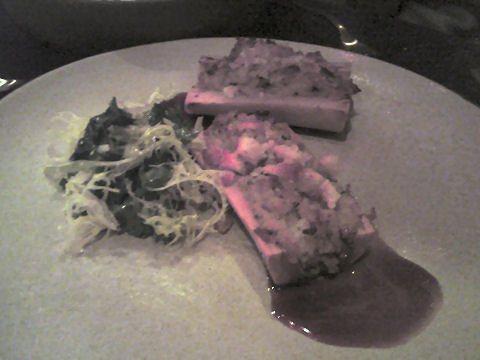 And we split an order of the roasted bone marrow gratineed with breadcrumbs, parsley, shallots and anchovy. Wonderful combination.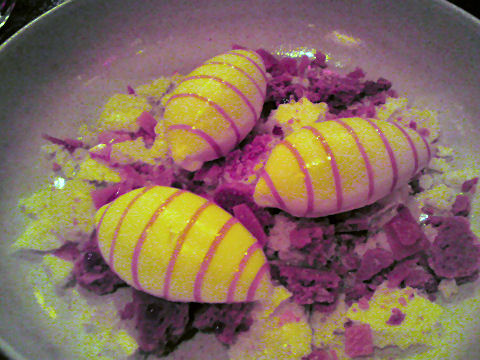 I let myself be talked into dessert – the "milk and honey" came highly recommended by my dining companion – I'm afraid he liked it a lot more than I did. Not bad, just to me seemed like a bag of tricks – some dehydrated milk foam as a brittle, honey brittle, and an ice cream of a kind of indistinguishable flavor, apparently supposed to be "milk flavor" – to me the whole thing tasted like reconstructed Captain Crunch cereal.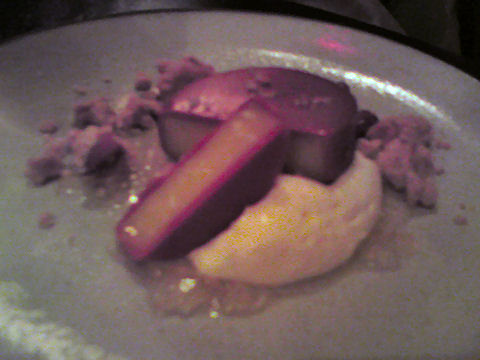 Much more interesting to my palate the lemon custard with shortbread and ricotta. Then again, I tend to love both lemon and cheese based desserts.
Service, as noted, friendly. Not overly efficient. Pre-dinner cocktails didn't arrive until after our appetizers were on the table, despite having ordered them a bit before ordering food. And a bottle of wine, Alain Voge's Terres Boisées St. Peray, 2008 was a fantastic Marsanne based wine that met with the approval of our sommelier, but wasn't delivered to the table by her until we were midway through our main courses – and then because it was getting late, they didn't want to delay our desserts so that we'd have time to sit and finish the wine – so we had dessert and then went back to the wine – not our preference, but, hey guys, hospitality and all that?
The food, overall, uniformly fantastic, and while pricey, I've had worse for more. It definitely wouldn't be a place I'd go to regularly unless I had a six-figure job, but, for a night out with one of my best friends and catching up, well worth it.