Perhaps it's a bit of the seven year itch, but even after 24 hours back here in New York, I'm finding this to be the first time I'm seriously thinking about the stuff here that I really miss, beyond the usual off-hand quip about bagels and good sushi. Just walking through the Union Square Greenmarket this morning, in drizzly rain, and seeing the panoply of beautiful spring vegetables and fruits – ramps, rhubarb, a dozen varieties of mushrooms, more types of greens that I'd care to count – and I find myself not only pining for access to it, but wondering just why in the hell a country with the natural resources and farming bounty that Argentina has, can't put together a farmer's market in its largest city. It can't be lack of interest – thousands of people turned out for the organic market put on in San Telmo just a week ago, and that was just a block's worth of booths offering packaged products and services. Restaurants that are open all day. Free refills on coffee. Come to think of it, coffee, not just espresso. And as I mentioned in my last post, iced coffee. And iced tea. Hell, even iced maté, the tereré of neighbors like Paraguay, Bolivia and Perú, would be a welcome addition to menus in hot summer months. The multicultural mix of the city, living and working side by side. Clean streets, no dog poop, little if any litter, maintained sidewalks.
There is, of course, the flip-side, the constant assault of noise and movement is one of the main reasons I needed to get out of NYC seven years ago, it was just wearing me down. The costs, though, probably, those seem exaggerated given that my income is a quarter of what it was when living in the big apple versus the gran manzana. Henry. Apartment space. A patio with a garden. A bidet. Still, I find myself weighing the pros and cons. Just thinking "out loud".
I'm not normally much of a breakfast person – coffee is fine, maybe a piece of toast or small bowl of cereal, perhaps some juice. But, I had the urge for something more substantial this morning – that may be the downfall of trying out multiple places – stretching those stomach muscles and they want more, more….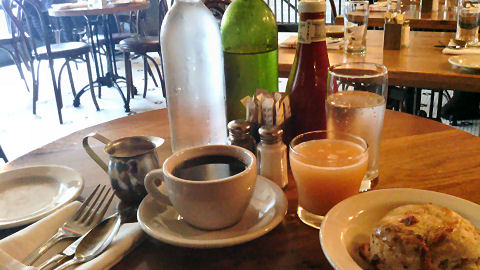 And so, a stop at The Smith, 55 Third Avenue, an "American brasserie" – filling in the space that used to be the much maligned Manhattan branch of Pizzeria Uno (mostly just maligned because it wasn't New York style pizza). Piping hot coffee, free refills, fresh squeezed grapefruit juice (perhaps a bit small, even for just $3, but really fresh), a delicious cheddar cheese biscuit served in lieu of bread….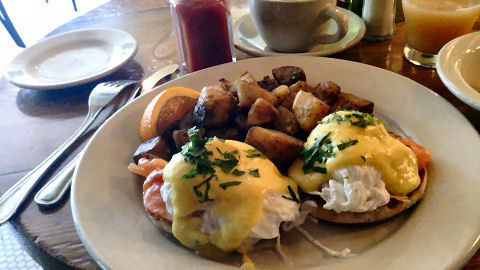 A lovely "salmon benedict" with perfectly poached eggs, a flavorful hollandaise, great home fries, and, in place of the tabasco sauce from the bar which is often the only attempt at hot sauce to be found in BA, a cruet of housemade habanero vinegar!
Running around for the rest of the morning, and finally getting around to lunch at close to 3 p.m…., bordering on dangerous timing as I have dinner plans with friends, but so be it. I'm on vacation, right? And I'm blaming it on my dojo instructor who at last minute had to cancel spending a couple of hours together working out this afternoon. If you can't eliminate calories, add to them, that's what I always say.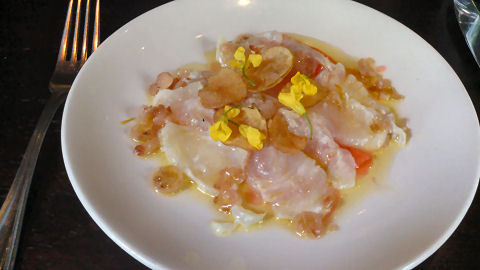 Just a block from the hotel is Casa Mono, at the corner of 17th Street and Irving Place. Part of the ever expanding Lidia & Joe Bastianich and Mario Batali empire, for which I used to work, it was always one of my favorites of the group. Stopped in planning on something quick and simple, but chef Andy Nusser's food is generally, just too good to do that and I knew it going in. It's all small plate food – a little bigger than tapas style plates, but similar. Another thing BA is lacking in – really creative tapas…. Here, fluke crudo, the sashimi of Italian tradition, flavored with a fresh, lightly acidic strawberry and rhubarb compote and perfect crispy slices of pink potatoes.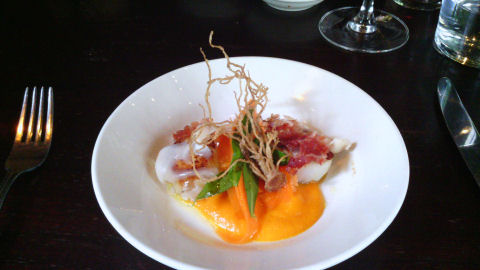 Two beautifully cooked scallops, golden seared top and bottom and just barely cooked through to the center. The description says it was served with rainbow carrots and lardo ibérico – the carrots just seemed orange to me – both the puree and the ribbons, I didn't see any other colors there, other than perhaps the thin shreds of deep fried carrot… the lardo just melting over the top of the scallops, and also, unmentioned in the description, slivers of cured ham as well, probably jamón ibérico.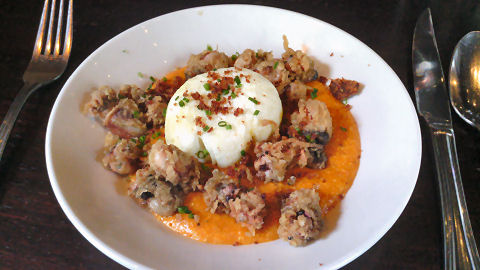 In all the times I ever went to Casa Mono, I don't think I'd ever had a dish I didn't like. I mean, it's even the only place that I ever liked stewed tripe – it was just overwhelmingly good. But I suppose even the best of places has to fail occasionally, and in this case, I think it was more in execution than in concept. The deep fried baby squid barely maintained their coating, which was just falling off, dripping with oil, and so over-salted as to rival Burger King's fries on a bad day. The "local corn grits" were likewise oily, and so intensely flavored with what I assume was some form of paprika that it hurt to eat, and I just couldn't. The "farmer's egg" (farmer's are laying eggs now? it wasn't a chicken's egg?) was overcooked, the yolk solid on the inside, and bits of chorizo scattered about did nothing for the dish other than provide some texture. Just an all around fail.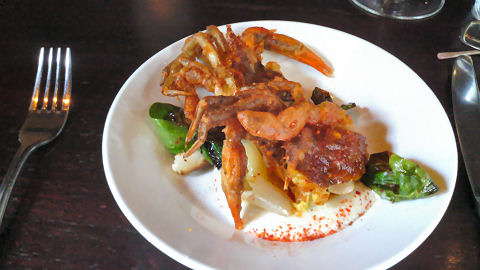 If I've gone out to somewhere new and I have a dish as truly awful as the one above, I'd likely decide enough is enough. But, the first two dishes, and all past experiences, spoke to it being a one-off problem, and I've been dying for a good softshell crab. Here, just crispy on the outside, still juicy on the inside, and deftly coated with espelette pepper, a delicious version that restored my faith in the restaurant and chef (not hard to do, really), served with fresh spring ramps and an onion puree. One strange note, and I don't know if it was intentional or not, but there were also a couple of slices of leek scattered into the dish that were refrigerator cold – hot they might have added to the dish, cold, not so much. But, the rest of the dish was a winner, and two slices of leek didn't kill the plate.
Accompanied all of the above with a cuartino (quarter liter) of Ameztoi Rosado, an obscure Spanish wine from the area around San Sebastién made from a just as obscure blend of two different Hondarribi grapes (I leave you to do the research). I've never been a big fan of the cuartino – it was something Joe Bastianich instituted in place of wine by the glass years ago. It has its pluses and minuses, but particularly as someone who likes to dine out solo, it generally means I only try one wine, because it's the equivalent of close to two glasses – whereas I'd often like to have, say, a white early on and a red later – it's just more wine than I usually like to drink, so I pass on the second one. It's great if you're dining with someone else and both want to try a couple of wines over the course of dinner. Wine aside, love the casual ambiance as always, service seemed a bit lackadaisical, unusual for the place. One additional service note – they go for this fancy pouring style where they pour from bottle into carafe holding them as far apart as possible, about 3-4′, which may aerate the wine and look pretty, but there was wine splashing all over the floor, and then the waiter did the same from carafe into my glass, leaving droplets of water all over the table which he didn't bother to wipe up.
Pricing borders on the expensive for the size plates – each running in the mid to high teens – so a meal can add up quickly.
The rest of the afternoon was spent wandering around, and then back to the hotel for a bit of reading. Dinner plans with my fabulous eye doctor, whom I've become friends with over the years, and who visited us a couple of years ago in BA. We decided on Floyd Cardoz' new North End Grill, 104 North End Ave (I didn't even know there was a North End Ave in Tribeca) – located just a block north of the World Financial Center. Nice looking place, in the Conrad Hotel, unexpectedly white tablecloth setting, but still a casual feel to it. Big. And the coolest, they have a counter setup around the open kitchen so you can eat and watch the cooking if you like. We decided on a series of small plates – shades of lunch…. As it turned out, he ordered three dishes that were all piping hot, and I ordered three that were served cold/room temp (and surprisingly so, given their descriptions – I mean, "grilled" usually, if not necessarily, implies "hot"). If there was any disappointment in the meal it was that our waitress didn't let me know that – but then, it turned out she was in training, and she apologized for it after I mentioned it towards the end of the meal.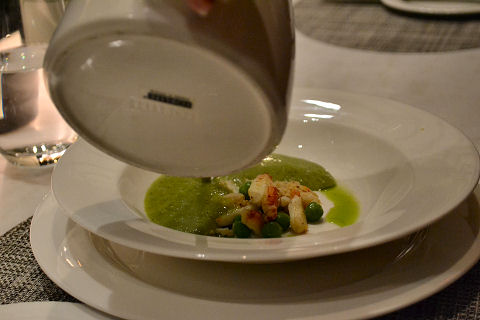 Spring Pea – Crab Soup. Delicious, spicy pea soup, vibrantly fresh, tender, juicy crab. I think Chris was ready to lick the bowl clean at the end.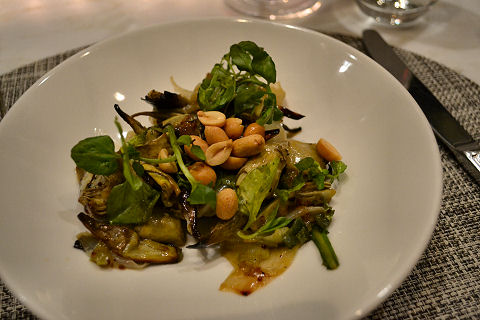 Charcoal Grilled Artichokes and Cippolini Onions with Wild Watercress and Peanuts. The name doesn't do it justice, and it was my favorite dish of the evening. Just amazing flavors from the grilled artichokes and onions, and the spiciness of the cress along with touches of vinegar, soy, and spices. Just beautiful. And, given the name, I expected a hot dish, not a cold salad, I must admit – and it was still my favorite!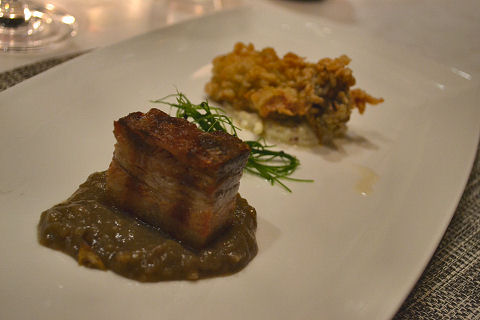 Grilled Mangalitsa Pork Bacon with Crispy Fried Oyster and Apples. A nice sort of surf and turf mixup, and I kind of got the impression it was Chris' favorite of the dishes he ordered. The name pretty much says it all. Really nice apple slaw under the oyster, with a touch of spicy mustard.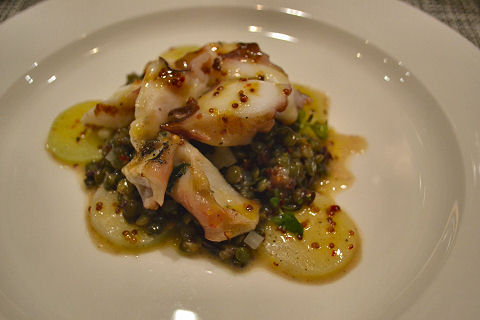 Grilled Octopus with Lentil Salad and Taggiashe Olives. Again, surprised at the temp – the grilled octopus tender as could be, perfectly cooked, but served room temp over a cold lentil salad spiked with the olives, anchovies, a housemade mustard, and watercress. Really good, would have preferred it warm.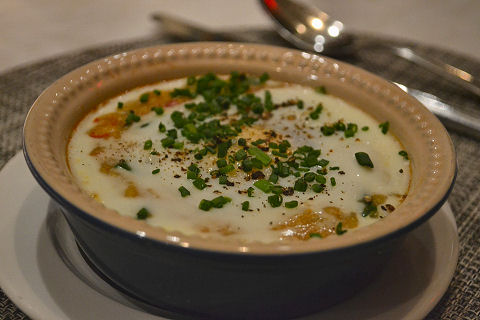 Coddled Egg with Peekytoe Crab, Bacon, Ramps, Spring Onions and Grits. I have to admit, after the disastrous lunch grits dish I had, I was curious to see a different one, so was happy when Chris ordered it – otherwise I probably would have. Perfectly cooked, seasoned, and balanced. Another winner.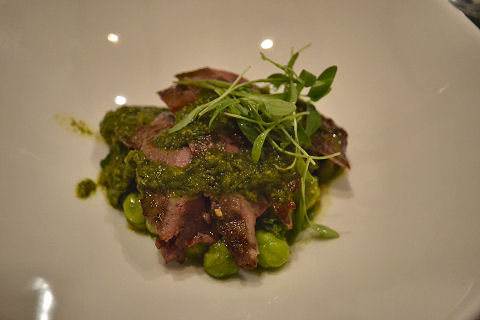 Grilled Lamb Liver with Green Chickpeas and Mint Vinaigrette. Come on, really, another cold dish? Lamb liver? I mean, that's the kind of thing that chefs order when they see it on the menu. And it was grilled to a medium rare, sliced, served over a delicious mix of the green chickpeas (never had those before), with a vibrant, beautiful herb vinaigrette. But chilled? Another one that I liked a lot but just know I'd have liked it a whole lot more warm.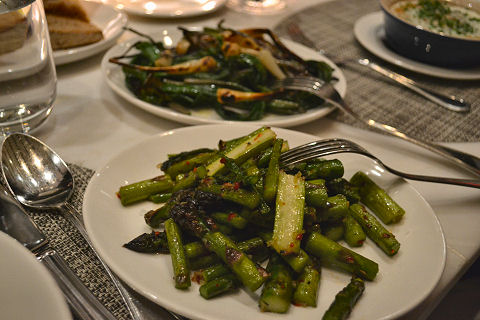 We ordered a couple of side plates of vegetables – amazingly crisp and intensely flavored ramps, and spicy, pepper coated asparagus – both off the grill, and delicious. I was just happy to have some hot food.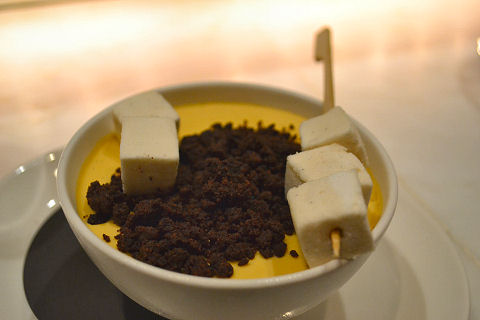 I wasn't going to have dessert. Chris went for the butterscotch pot au creme with "maltmallows" – housemade marshmallows flavored with single malt scotch. Neither of us like scotch. But the butterscotch, once we discovered its oozy richness below the surface of the vanilla pudding, was fantastic.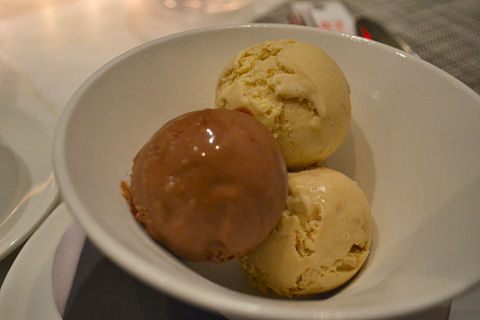 Our waitress overheard me musing about the Birch Beer Ice Cream, and even though I didn't order anything, brought me a complimentary bowl of their three flavors – chocolate malt, peanut butter, and birch beer. I grew up on the last of those, love the stuff, it's like really, really, intense root beer. The ice cream uses Boylan's Birch Beer from New Jersey of all places, who knew? The other two flavors, also good, but didn't hold a candle to it.
Overall, great place, great service, love the kitchen bar. Excellent food, I'd go back again without hesitation, though I might be more careful of making sure I ordered at least one hot dish in the mix….