This started off with a little project I just worked on for What's Up Buenos Aires? that will be coming out in the next week. As part of it, I started thinking about seafood on the grill – until recently one of my favorite spots to take visiting friends was Jangada, which just kept getting better each time I went, and where we could choose from a selection of local freshwater fish, simply grilled and served with lemon and olive oil. But, alas, it has gone. Somewhere out there, there must be people putting fish and shellfish on the grill, right? And I don't mean that dried out fillet available at your typical parilla that comes as an afterthought. And so, a new project is born for the blog, the mixed grill, but, the mixed grill of seafood. We begin with a trio…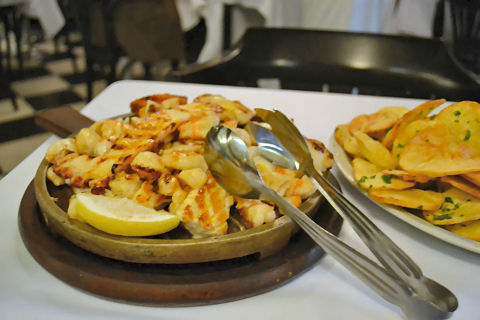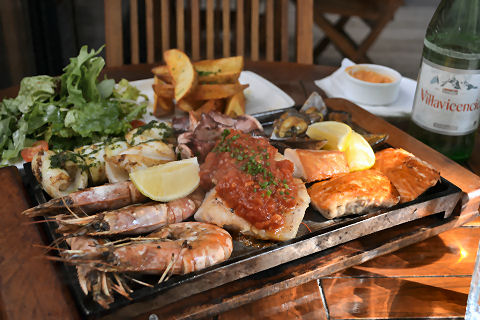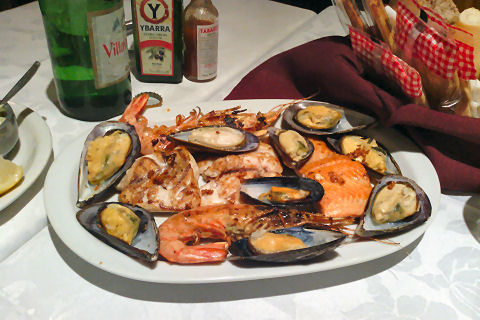 So I'm going to do a compare and contrast… the three places that got first honors in the lineup were Fervor, Posadas 1519 in Recoleta; Don Resto, Arcos 1836 in Belgrano; and José Luis, Quintana 456 in Recoleta – pictures in order from top to bottom.
Ambiance & Service – Fervor, beautiful and formal dining room, it's a trifle on the stuffy side, a bit formal, a bit nose in the air at the door (I was dressed casually, but that's no excuse for a "greeting" from two different people as I stood in the lobby of "Is there something you want?" and a headwaiter wandering the room who kept giving me "the eye" – I wasn't the only person casually dressed, nor the most dressed down in the room, thankfully, my waiter was the complete opposite, friendly and charming). Don Resto is a casual, laid-back neighborhood place with a very nice outdoor patio that's heated on colder days, service was warm, welcoming, efficient. José Luis is a spot of faded elegance, a place that has an air of formality, but just isn't quite up to the task anymore, and the service is very friendly, almost approval seeking – I'd heard rumors that it's gone downhill since I reviewed it (not causative, thank you) many years ago – I didn't find that other than it could use a bit of sprucing up, and more customers. For me, on ambiance, the hands-down winner is Don Resto.
Let's jump into the food. First off, all three charge similar prices. Expensive, but, you get a good amount of food. Fervor and José Luis offer the parrillada in either full or half portions, ostensibly for 4 and 2 people respectively, which would be true if you're having appetizers and/or side dishes, but I finished off the half portions easily at both places. Don doesn't, and my waiter expressed it upfront as "impossible to do given how we serve it" – I'm not sure why, they could have easily put half the amount of each item on the platter and it would have been fine – maybe they don't want to invest in smaller platters and admittedly it might look a little skimpy that way on the full sized platter – at the same time, the full sized platter at Don is listed for 2 people rather than 4, and indeed, it's roughly the same size as the half portions at the other two places.
So what does each offer?
Fervor – a mound of mixed fish and shellfish – salmon, ocean perch (salmon blanco here) – which were the two fish of the day, so it changes depending on what they are – scallops, chipirones (baby squid), shrimp, and one long half (split lengthwise) octopus tentacle. All simply grilled with a touch of olive oil, salt and pepper, lemon wedges served, and three sauces on the side – salsa golf, tartare sauce, and a sort of green goddessy kind of dressing of avocado, mayo and spices. The potato chips were not included, just a suggestion from the waiter – couldn't finish them, too much, after polishing the seafood. There's also a shellfish only version available at slight upcharge – no additional types of items, just more of each and no fish. Definitely the most quantity of seafood of the three, and a table near me ordered the full portion, it's enormous. 180 pesos for the half, 215 for the full, so the half is a bit of a rip-off price-wise, but the food is excellent, and I like that they keep it simple.
Don Resto – Definitely the prettiest presentation of the three, and it comes out on a sizzling hot iron platter. That's a plus and a minus – upfront it keeps everything hot, but it also keeps cooking the items, and I found by the time I was midway through things were getting overcooked and a little dried out, so I moved everything off the platter onto a plate – I guess if you're splitting it between a couple of people you might do that at the beginning anyway rather than picking at the plate a piece at a time. Same two fish – salmon and ocean perch, the latter a little bit drowned in a very sweet tomato sauce; calamari brushed in herb oil, calamarettes, really big prawns, and a good number of mussels. Turns out that it's not a parrillada in that none of the seafood is grilled, it's a "degustacón", or tasting, of seafood, all of which were pan-cooked and then placed on the sizzle platter. It comes with what may be the best steak fries I've had in Buenos Aires, and a generous mixed salad. At 179 pesos it's decently priced, particularly with its accompaniments. But, overall, while good, I was a little disappointed in the flavors, maybe because I was hoping for that nice smokiness from the grill, and, really, the tomato sauce has to go, or at least be less sugary.
José Luis – Nice presentation and generous in quantity. Everything off the grill, so we got the smoke back. Some nice, flavorful touches, given that this place has a Spanish bent rather than Argentine, the prawns marinated in a lightly spicy paprika oil, the mussels topped with a browned garlic crumble, and three different kinds of fish – the same salmon and ocean perch, plus chernia, a type of grouper. Not much variety though on the shellfish which was a bit disappointing. There's also a "degustación" available on another part of the menu that's just shellfish – according to the waiter, just prawns and mussels, nothing else. Still, delicious, in fact, on a pure flavor basis, probably my favorite. Comes with salsa golf, tartare sauce, plain mayo, top grade olive oil, balsamic vinegar, and tabasco. At 98 pesos for the half portion (pictured) and 175 for the full portion it's the bargain of the three, surprising for its location and past reputation.
In the end, I'd say I have to give my vote from these three to Fervor. It's a tough call because each had positives and negative. Despite the attitude of the door staff, once I was inside it was the best service of the three, and while the least pretty presentation, it was my favorite to eat, and had the most variety, and probably equal quantity or more – it looks a little less in the picture because it's just mounded on a plate, but the other two are just spread out to look more generous, and much space is taken up by mussel shells and prawn heads, there was no waste on the Fervor plate… It's the most expensive of the three, particularly if you order a half portion rather than full, but only by a few pesos versus Don, though both are obviously much higher, nearly double, the price of José Luis.
More to come – if you guys have any suggestions of places that offer up a similar platter to add to my list, and/or want to join me on these jaunts, let me know. I'll be picking it up again at the end of May after returning from vacation.