While Argentine food is not my first choice when it comes to teaching (I figure there are lots of folk teaching it here, I'm trying to offer something different), I do have fun introducing visitors to it in a way that makes it easy to access, and also giving it a bit of a perk-up – local food isn't known for its high spice levels. Got a request from someone who'd been to dinner a couple of weeks ago for an empanada class, along with maybe one or two other accompaniments. We decided on two different kinds of empanadas, some chimichurri for dipping, and our pesto-styled caprese salad. She arrived early last week along with a friend and her friend's parents for a tasty little lunch class.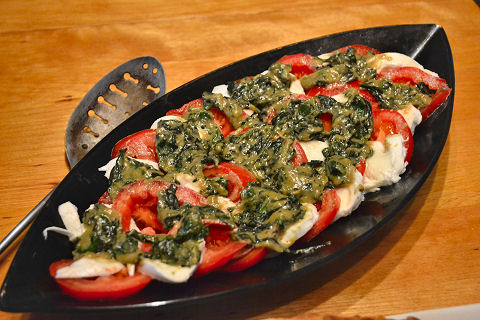 First off the production line, the salad, with a hand pounded basil pesto, buffalo mozzarella, and fresh tomatoes.
Next onto the table, fried empanadas filled with a spicy mushroom and bechamel mixture – nicely spiked with fresh chilies (recipe in February 12, 2012 article). Also, a blended style chimichurri sauce, perfect for dipping empanadas.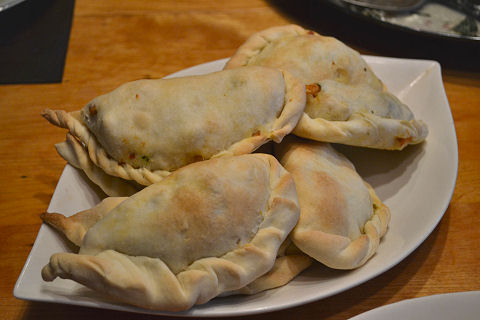 And, finally, some baked empanadas filled with a chicken and green onion mix.
Staying in the empanada theme, coming up this Sunday I take on lightening up the classic Empanada Gallega for the Buenos Aires Herald. Watch for it in the Sunday supplement or check it out a day or two later on my personal website.