I hadn't set out to design an evening around the cruciferous vegetable family, it just sort of started to happen, and so while I didn't make a point of it, our guests this last weekend had their fill from the family Brassicacaea, or Cruciferae. It's a grouping of vegetables that's probably more widespread than you'd think – including the broccoli/cauliflower sorts, cabbages, mustards, turnips, radishes, and cresses. And, away we go…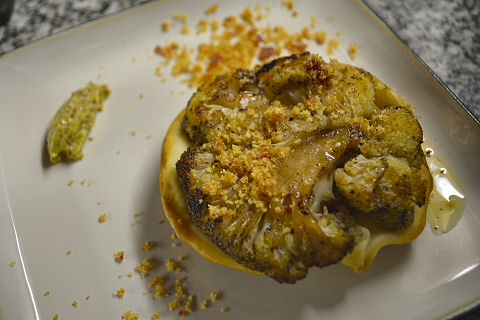 A variation on our popular tarte tatins – here, cauliflower caramelized in butter and olive oil with brown sugar, peperoncino, anchovy, salt and pepper, sumac and mustard. Baked under a pastry round, flipped out, served with a spicy mustard and chili puree blend and a scattering of prosciutto crumbs.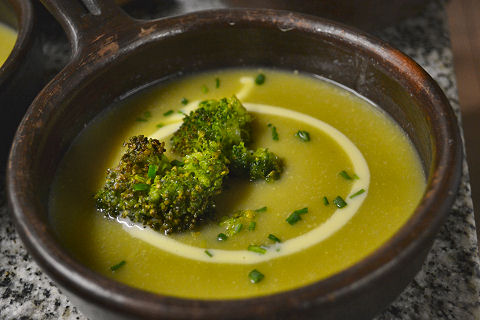 Broccoli lemon soup – a reworking of one I made for our Ginger Rogers centennial – two changes, no cream added to the soup, just the sour cream drizzle, and added in some sauteed florets for texture.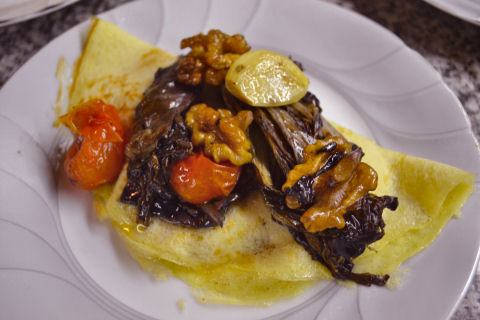 A twist on a manicotti – first, if you don't know the difference between manicotti and canneloni, it's actually pretty simple. The latter are large pasta tubes, the former are rolled crepes – not that even, sometimes, Italians don't mix those up. I decided not to roll them, but made semolina flour crepes, filled with a puree of charred eggplant, fresh ricotta, roasted cherry tomatoes, garlic and chilies, and some thyme and oregano. Atop, olive oil and butter roasted mixture of radicchio, cherry tomatoes, garlic and walnuts. My favorite dish of the weekend – then again, aren't the pasta sort of dishes usually my favorites?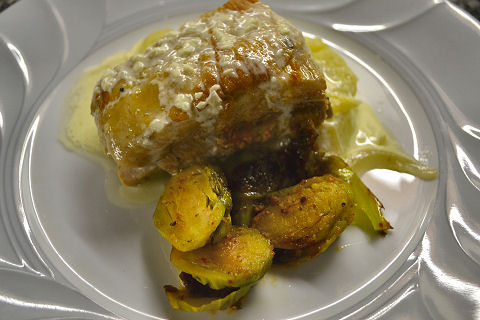 Brought back a slow braised pork breast dish from a historical dinner last year. No real changes other than I couldn't find any pork skin to crisp up, so went without it – last year a lot of people didn't eat it anyway, so leaving it off didn't seem a big sacrifice.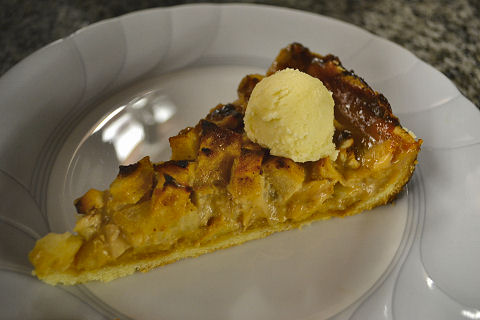 An inspired rip-off. Snackbar in Philadelphia offers up caramel apple slices that have been seasoned with miso paste and crusted in crushed wasabi peas. I've tried out the combination and there's something I like about it, though I wasn't looking for a snack. I tried out a sort of apple charlotte, topped with a miso caramel, and then the crushed peas sprinkled on top and it was okay, so I spent some time playing around with the idea and came up with this, which was a hit. Shortbread type crust, diced apples tossed with cinnamon, miso caramel (caramelize sugar, stir in honey, cream and miso), and then a brandy hard sauce spiked with powdered wasabi.
And that, my friends, was our cruciferous evening.