I do still check out things like Today in History sites looking for interesting inspirations for our dinners. Not perhaps for the whole dinner, but they provide some interesting fodder to chew on. This last weekend being the centennial of the introduction of the Oreo cookie to the universe, while I considered some sort of homage throughout the meal, I decided it might get a little silly and ended up going with an idea I've been playing around with for the dessert.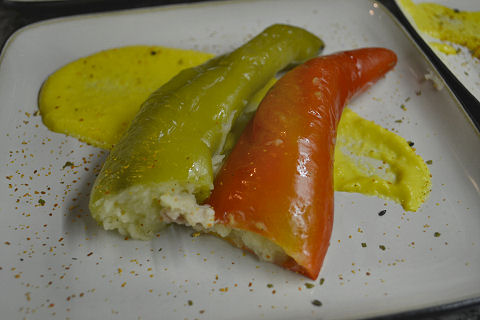 We began the evening with some stuffed ajies vinagres, what I think of as Italian frying peppers, filled with a potato puree laden with sauteed bacon and shallots, and a touch of butter, salt and pepper. Served over a corn puree spiked with ají amarillo, our favorite Peruvian yellow chilies, and a dusting of shichimi spice blend.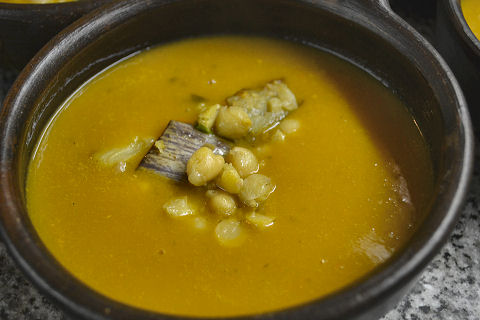 Bringing back my favorite tomato-gin soup, though lightening up the cream a bit – tough call, I do like the creaminess of loading it up with a cup and a half of cream, but, it's also incredibly rich, so I cut the amount to a third of that, just a half cup. Maybe a cup next time. I wanted to stock it with a bit more "umph", and so I added a saute of white eggplant, chickpeas and parsley to each bowl.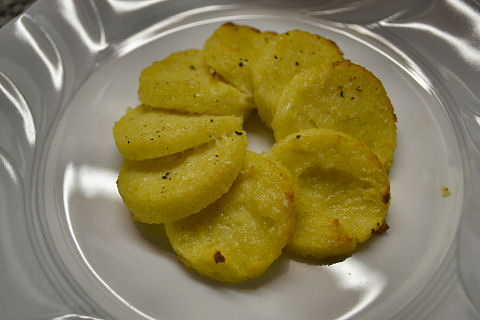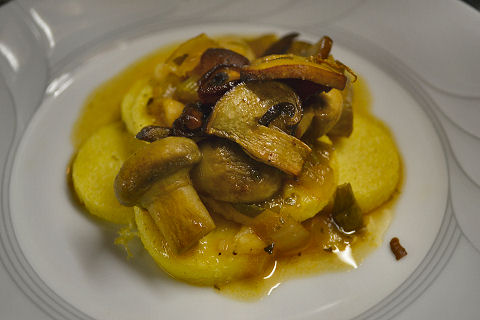 I wanted to bring back my mushroom sugo, a vegetarian take on the roast pork sugo that I've detailed in the past. Recipe coming out this weekend in the BA Herald, I'll post a link when it's up – but basically it's substituting sauteed mushrooms for the roast pork, and adding in some crispy portobello chips on top. Rather than serving it atop a traditional pasta, I decided to pair it with Roman style semolina gnocchi – a hit all around.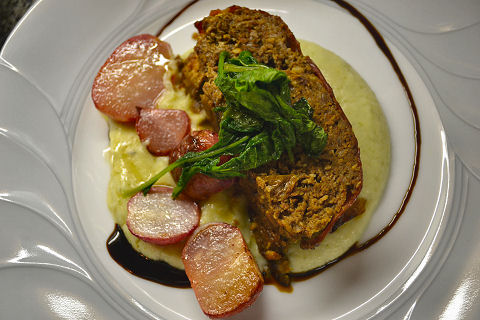 This, I guess, I'm going to have to accept is a love it or hate it dish. I've now made the lamb and pork terrine several times, and each time I get a mix of "the best meatloaf I ever had" and "I hated it" sort of responses. Already, only a couple of days after the weekend I've been asked by three guests for the recipe, and on the flip-side gotten a blog write-up from one guest who found it basically tasteless and dry. All I know is Henry and I wolf it down and if there's any leftover, I make "meatloaf sandwiches" the next day that we love. Instead of minted mashed potato this time I decided on minted puree of cauliflower – that part, at the very least, was a winner with pretty much everyone, as were the charred radishes.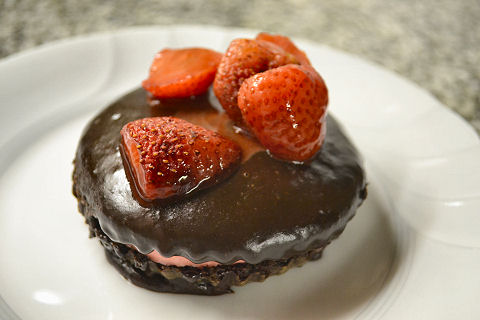 So, we get to the Oreo centennial. I wasn't about to make small cream filled cookies, but just used the idea as an inspiration. I made small tart shell sized cakes of the cocoa and chili cake that we've made numerous times, split them open and put in a layer of strawberry vanilla fudge, topped them with a dark chocolate ganache, and finished them off for presentation with some strawberries roasted in butter and vanilla (first night made it with raspberries but they tend to fall apart when roasted, so I switched). Almost everyone plowed through these like they were mana from heaven, though again, the same blogger absolutely hated them apparently, with a, more or less, "my mother told me if I couldn't say anything nice, don't say anything".
Thankfully, on both dishes, she and her friends were in the minority – we were overall quite happy with the dinners this last weekend and based on feedback so far, so was everyone else.