While we haven't been focusing much on themes of late, now and then they creep into my planning of our dinners. And so when Fez came on the horizon…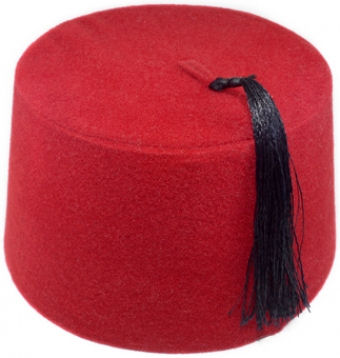 …no, not that fez…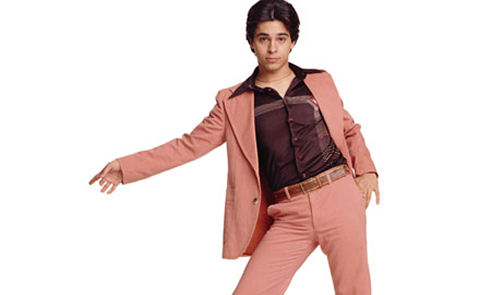 …not that one either (what ever happened to Wilmer Valderrama?)…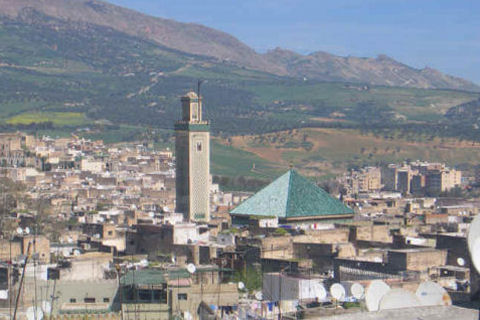 …okay, we're getting on the right track here…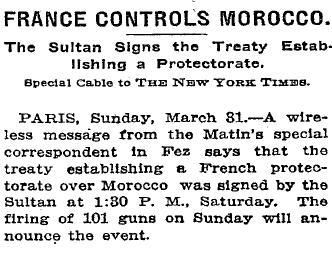 …ah, there we go, that was it, the Treaty of Fez, 100th anniversary of Morocco becoming a protectorate of France. Not a colony I was swiftly informed by some Parisian guests – "France doesn't do colonies"… well, not completely accurate, France had both colonies and protectorates and some of the latter ended up being reduced to the status of the former over time, but we'll give them this on Morocco, it was a protectorate, it retained its own sovereign government. And a bit of both Moroccan and French influence to the weekend's menu came into play.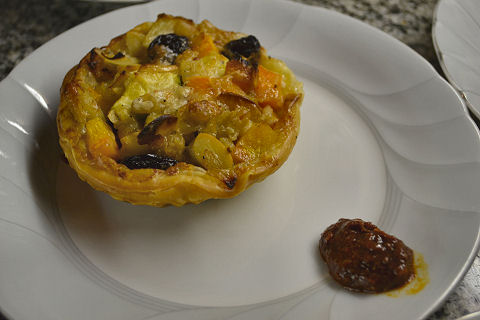 Based on the idea of a classic seven vegetable couscous, I went with a tartlet idea. The filling, a saute of onion, carrot, zucchini, garlic, fennel, ginger, white beans, almonds and raisins, seasoned with salt, hot paprika and a touch of cumin. Let it cool and put it into the tart shells, then added a mixture for making a sort of gratin – sweated shallots down in white wine until the liquid was absorbed, added cream and goats milk feta cheese and warmed it just enough to melt the cheese and make a smooth sauce, seasoned with salt, white pepper and nutmeg – poured some into each tart shell and then baked them. Served with a fiery little harissa sauce: 50 grams of dried red chilies (mix of Chinese ones and Peruvian ají panca), reconstituted in hot water, 2 cloves of garlic, 1 teaspoon caraway seeds, 1½ teaspoons cumin, 2 teaspoons coriander, 1 teaspoon dried mint, enough olive oil to create a smooth paste, and salt to taste.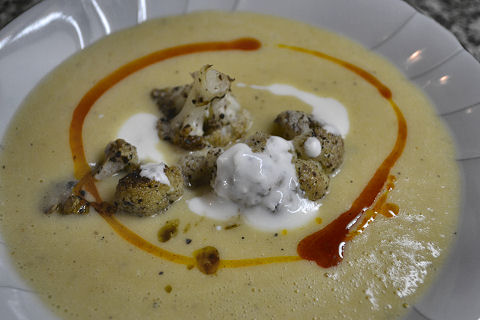 For our soup, one of my favorites and one we've served up a few times recently – based on the flavors of a good hummus – boiled together chickpeas, tahini, lemon zest and juice, garlic, onion, toasted cumin, salt, and smoked chili pepper, along with some potato for body, all in vegetable stock, pureed it and then it's served with cauliflower that's been sauteed with salt and sumac, some lemon yogurt and smoked paprika oil.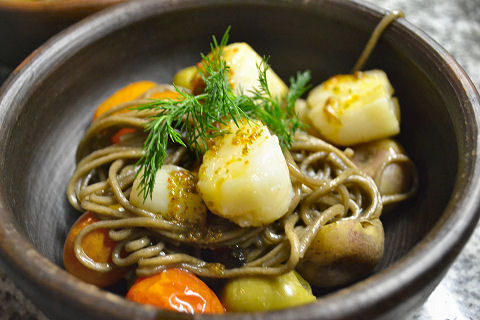 A fun new dish that still needs some tweaking, but I'm liking quite a bit – olive oil roasted cherry tomatoes and green olives, andean papines cooked in saffron, and scallops quickly sauteed in olive oil spiced with chilies, cinnamon, coriander seed, green peppercorns and salt. Soba noodles cooked, drained and then tossed with a little of the hot oil from the scallops. And then a few spoonfuls of chermoula over the top: into the blender with a good bunch of cilantro, stems, roots and all, 4 cloves of garlic, 2 tablespoons of hot paprika, 1 of cumin, a teaspoon or so each of salt, ginger, and red pepper flakes, a 1/4 teaspoon of ground saffron, the juice of a lemon, and just enough neutral oil to get it to all blend smoothly. The dish is a little oilier than I want it to be, to be played with.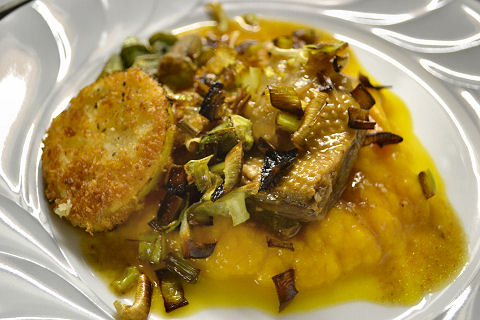 Duck, braised in a mix of lightly browned onions, white wine, chilies, tomato paste, peanut butter, mace, black pepper and salt and just enough water to barely cover the duck pieces – about 4 hours over low heat until the pieces were completely tender. Served over roasted squash puree and topped with roasted okra, sauteed leeks, and on the side a black pepper panko crusted and fried slice of lemon.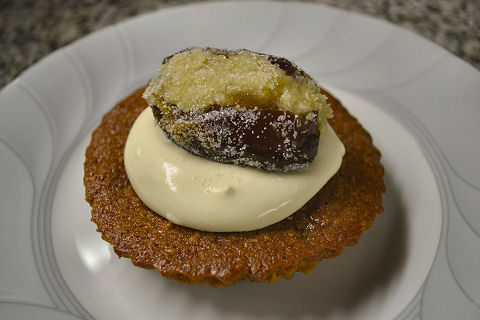 And, a little coconut and dulce de leche cake – 1 kg dulce de leche mixed with 250gm of grated coconut, 3 eggs, the grated rind of a lemon, and three tablespoons of flour (or other starch if you want to make it gluten free). Baked in buttered and floured tartlet molds. Served with whipped cream and topped with a date filled with almond sugar paste.
I'm pretty sure that by the end of the evenings no one was worried about the difference between protectorates and colonies….