Over my time (3 decades plus now) in the restaurant business, I've never quite figured out how a restaurant can completely change its character between lunch and dinner service. I understand there being a different menu, lunch is usually more limited, more casual choices – but generally, all in the same vein. And, I can't swear that this place changes completely between the two services, but based on my conversation with my waitress, and their promo materials, it seems they do. Now the place was suggested to me via a tweet from Fuudis, a couple of gals (can I still use that word?) here in town whom I have yet to meet, but really should – and I asked them to come along but they tweeted back lame excuses about having to work and liquid lunches and all that (martinis at noon?) – I was headed to Barrio Chino for some shopping and they suggested a new Japanese spot that they'd heard about but not yet tried – Nobiru Izakaya, Mendoza 1627, 4782-0401.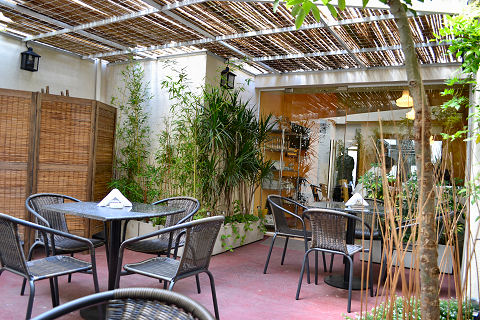 Now, an izakaya is the Japanese version of a tapas bar – a "drinking establishment that serves small plates of food to go with the drinks" – and, as best I could determine, that's what they do in the evening – a sort of tapas menu of pinchos (skewers, basically yaktori), picadas (cheese and meat plates), and a few other dishes. At lunch, the bar seems to be not in use (it's just beyond the waiter you can see in the far background, off to the left), and instead just the cafe area and garden are in use. And, it seems that during the day they call the place "Nobiru Café" instead of the izakaya moniker. Nobiru, by the way, is a town in Japan – one of the ones pretty much destroyed by the tsunami not all that long ago.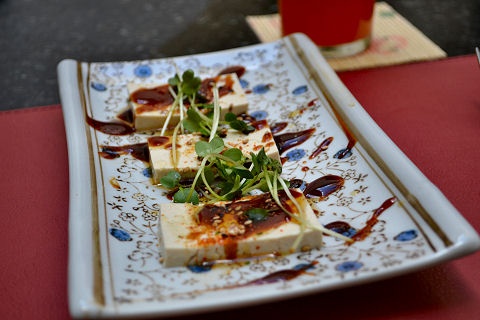 At lunch the focus is not on "drinking", at least not in the bar sense of the word – in fact the focus is an array of freshly squeezed or extracted juices, including quite a few very interesting combinations. Also teas and coffee. The food is still pretty much small plate food – they have a menú ejecutivo, a three course combo, but the particular choices of the day didn't sound all that intriguing; and, a short a la carte menu. Only two appetizers – tofu with ponzu sauce, sprouts and shichimi – nicely spiced, actually quite good – perhaps a little skimpy for ar$12 – a couple more pieces of tofu on the plate would have been nice.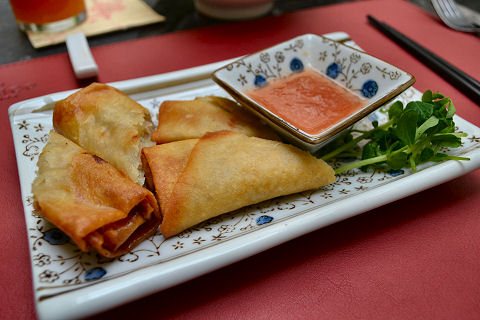 And the other, harumaki, basically springrolls – a choice of meat or vegetable, or a combination of both (which of course I tried). Nice and crispy, not at all greasy. A bit lacking on filling. Decent sweet and sour dipping sauce. Again, a bit skimpy for the same price.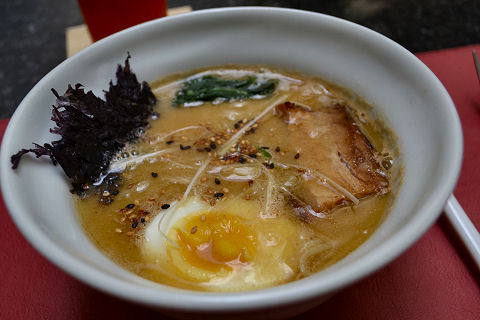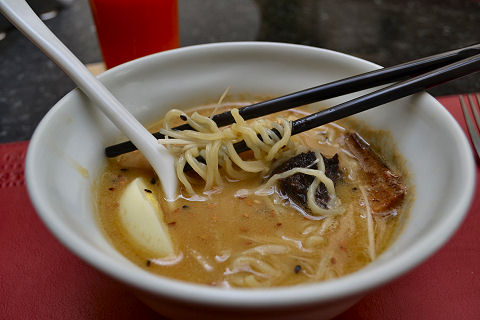 I was trying to think if I've ever seen ramen on a Japanese menu here in BA, and I don't think I have. So I was excited to see a tonkatsu ramen as one of the half dozen or so "main course" dishes available. Tonkatsu is a "pork bone" broth. While not a wow broth, it was good. It could have used a lot more depth of flavor, the bowl was a bit small of a portion – not much more than a small soup bowl (There was a large size available too, wish I'd have known how small the "medium" was – and how do you have a medium and large without a small? I guess they're following in the Starbucks model. Prices were, if I remember (can't find the receipt), ar$48 and 64, which is high for the sizes). A couple of slices of roast pork, a hard-boiled egg, some red shiso leaves, and a small quantity of noodles. Again, good, but not a wow.
Overall – good, and a nice alternative in Barrio Chino, though two small appetizers, a small ramen, and a juice rang in at a little more than ar$100. I would like to go back for the dinner service and see what's really different. And, a decent ramen fix if nothing to write home about… oh wait….