Woke up on day three with sharp pain in my left foot – swollen up, bright red – no idea. Could barely walk. Iced it down, took some painkillers, hobbled my way a couple of blocks to the pharmacy, pharmacist looked at it, examined it for any possibility of a bite or something, we agreed there was no evidence, and didn't seem to be broken or sprained. We came to a joint conclusion of some sort of tendinitis from all the walking (I'm not totally convinced, I walk everywhere all the time), she gave me some stronger painkillers and anti-inflammatories, both a gel and some pills, and an ace-wrap, and I hobbled back to the hotel and put my foot up for a few hours. It was still raining out, though lightly, but at least I didn't mind so much staying indoors. A few hours later, by around 11:30, swelling was gone, redness down to a mere pinkish tinge, and no pain. Rain stopped. I decided I couldn't spend my last whole day in town in my hotel room, but sensibility thrown into the mix, opted to keep walking to a minimum, use taxis between museums if they were more than a couple of blocks apart, and take it slow. But first, it was time to eat….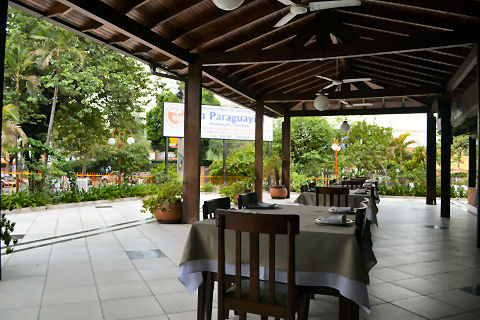 Recommended by one of my online friends, or actually her boyfriend, who's Paraguayan, I headed to La Paraguayita, known for its parrilla and traditional local foods. Now, he'd recommended ordering the parrillada, or mixed grill, but they don't offer a solo diner version of it, and ordering a mixed grill for two just seemed a bit too wasteful – I may over-order when I'm exploring, but I try to eat the majority of what I order when I do, and deal with it via extra exercise and switching to salads for a few days when I get home. He'd specifically recommended against ordering any of the single steak plates, noting that the value just wasn't there, and indeed they seemed a bit pricier. But, there was a nice selection of local foodstuffs, and I thought that although it wasn't why I'd been recommended to come here, it was an opportunity to try them.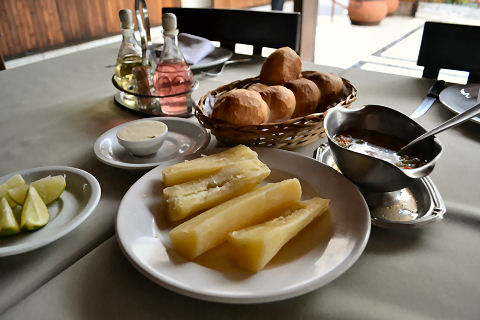 First up on the table, a plate of boiled yuca, some bread, a salsa criolla, and some lime wedges, all presumably to take the edge off of hunger. I do like yuca, but I think it may be awhile until I have anymore – it does tend to be filling, without a whole lot of nutritional value other than empty calories. This seems a good moment to talk a little about the local language. Now I know, you're going to say, "they speak Spanish in Paraguay" – but that's only partially true. First off, it's rapidfire and heavily accented, and to be honest, most of the time I couldn't understand a word that many Paraguayans were saying – and it wasn't just me, my new Chilean friend says he has the same problem, and a couple of Argentines I ran into echoed it. But I'm not sure it's all just accent, I think a big part of it is the actual dialect. Based on a bit of online research, while 87% of the population speaks Spanish, only about 50% of them speak it as their primary language. Guarani, the main indigenous language, is spoken by more than 90% of the population and is the primary language for about 28% of the overall population (though outside of the city, it's more like 56%). But virtually the entire population actually speak a pidgin blend of the two called Jopará, and often I found that it was simply I had no idea what the words being used were until someone translated them to Spanish – and the same is true on menus, often the Guarani or Jopará words are used.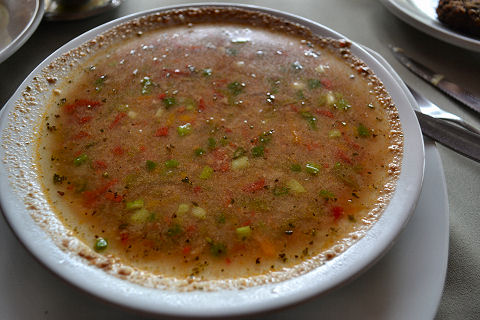 The usual suspects of sopa paraguaya and different types of chipas were all on the list, but there were four menu items (of which I ordered three) that I hadn't tried yet. First up, soyo, which my waiter described as a beef and vegetable soup – and it is, more or less – ground beef, bell peppers, onions. Nice tomato-beef broth. Nothing all that out of the ordinary, but a tasty soup.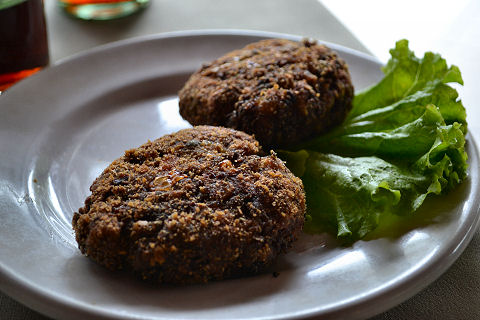 Remember that tasty reinterpretation with shrimp of a pajagua mascada that I mentioned in the last post? This is the "real thing" – it's basically a spicy fritter of ground beef, onions, yuca and chilies. Really good. Definitely the best of all the various snack food type stuff I had this week.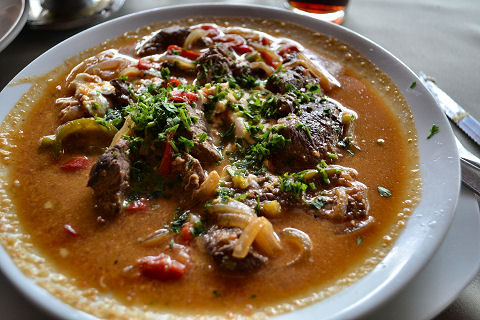 I'd asked about the remaining two – bori bori de pollo and bife coygua – and my waiter said I probably didn't want the first one because it was another soup, but that the second one was a mix of steak, eggs and vegetables and made for a really good main course. Or at least that's what I understood out of the conversation – clearly somewhere in there not getting that it was another soup. Similar broth, maybe even the same one, with grilled pieces of steak, a couple of whole eggs poached into the bowl, onions, peppers, and hey, surprise surprise, some yuca! Actually pretty good, though a bit hard to eat – cutting up steak in the middle of a bowl of soup is at times a trifle messy. Overall – good food, can't speak to what the parrilla would be like, which is their mainstay, but I'd eat any of the three dishes I had again. All three plus a bottle of water and a soda, 110,000pgy, $25.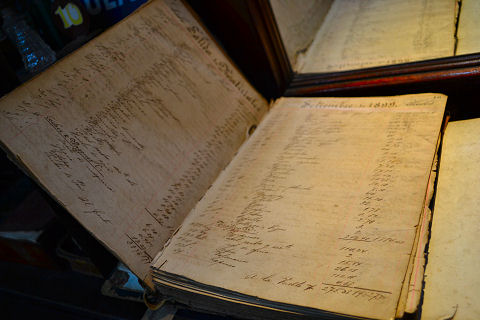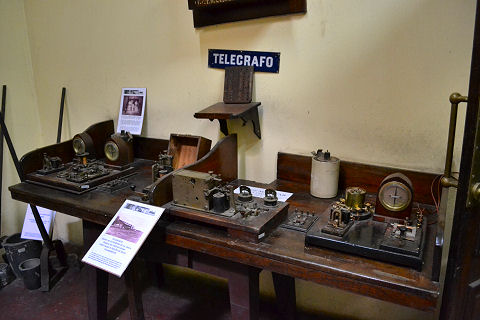 First up on my museum hopping was the train museum, the former main train station for the city, now the Museo Ferrocarril. Most of the museum proper, which isn't all that big – a series of four small rooms and one larger that used to be offices and the waiting room, is filled with various artifacts and journals and such.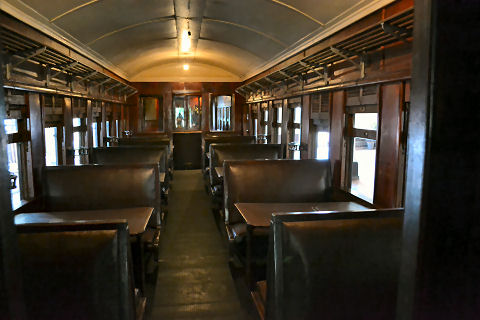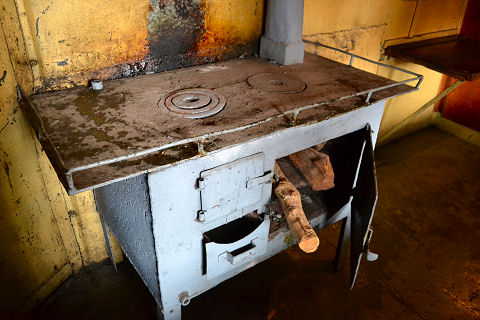 The most interesting part of the museum, I thought, were the two semi-restored cars from the original train line from the 19th century. The dining car… I'll never complain about a restaurant kitchen again…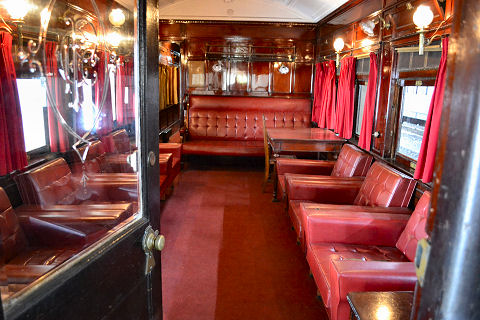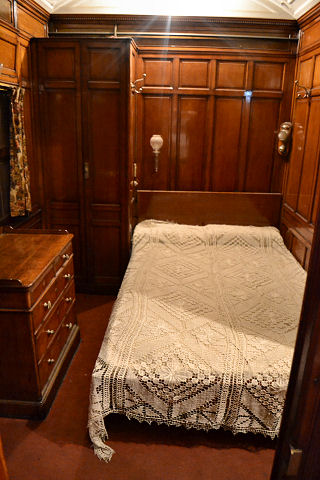 …and the sleeping car, which looks far more comfortable than the sleeping cars of today!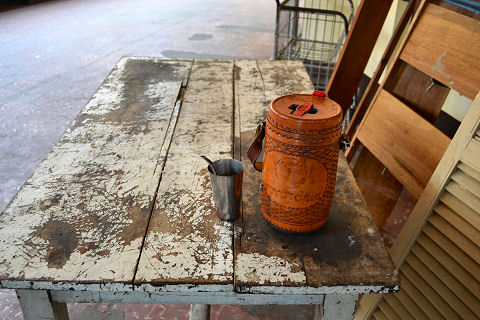 I mentioned how ubiquitous maté drinking is in Paraguay, I'd say more so than Argentina, and maybe the same as in Uruguay. The difference, as I talked about in my first post on this trip, is that the Paraguayans tend to drink maté iced, what they call tereré. So the maté sets are a little different, most people carry these bigger thermoses, since they pack them with ice cubes and then fill with water, and just let the ice melt over the course of the day. Also, almost universally I saw metal cups for the maté rather than gourds.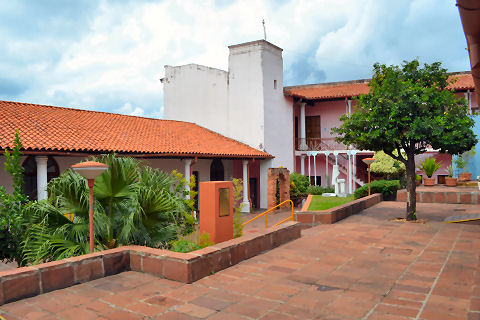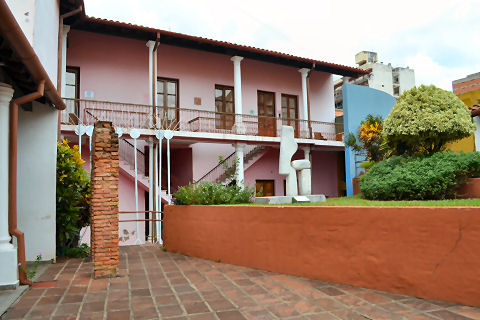 A dozen blocks away, opposite the Palacio de la Nación that I talked about two days ago, is the Manzana de la Rivera, a city block dating from the 1750s that was restored as a cultural center complex starting in 1989 and finished in 1996. It now houses an art gallery, some historical stuff, but mostly it's a space for cultural events – theater and talks, it's got a small museum of the city's history (no photos allowed), and apparently a café, though I didn't see it anywhere.
I got into a conversation with the guy who apparently runs the center and somehow we ended up on politics. He excused himself and came back in a minute or two with a letter that he wanted to show me. Fascinating, it was a copy of a letter that had been sent out just the week before by, if I understood correctly, Paraguay's secretary of foreign relations. The letter was addressed to his counterpart in Argentina and basically said, setting aside all the diplomatic language, "Look bud, you want our support on this whole Malvinas thing, but if you truly believe in the rhetoric about returning territories that were taken by force, how about returning everything you took from us during the War of the Triple Alliance 150 years ago – more recently than your claim against the British? Otherwise, why should we support your position?" And Paraguay has been claiming rights to Chaco and Formosa provinces for a very long time. As to whether the letter was ever delivered to its addressee, and/or whether there's been any response, no idea, but he has a point. Come to think of it, maybe the whole provenance of rights over Tierra del Fuego as to whether it should remain Argentine or, as the Chileans claim, be returned to them, needs to go to the U.N. along with Argentina's claim against the U.K. – oh but wait, that would really be a problem for Argentina since their whole claim is based on the Malvinas/Falklands being a part of the Tierra del Fuego territory – it could end up in Chile's possession…. Really, way too much saber rattling all around.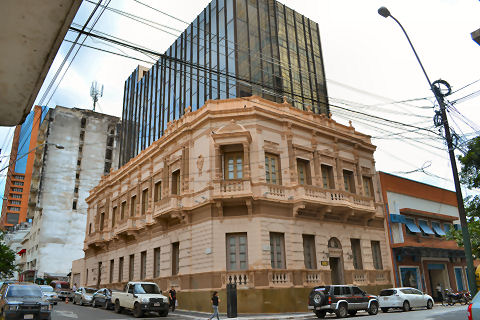 Headed just a couple of blocks away on the curator's recommendation, I passed by the "Vice Presidency" building – note how the old building has been extended upward in a, umm, slightly different style.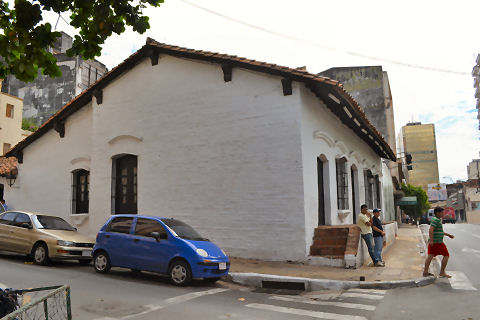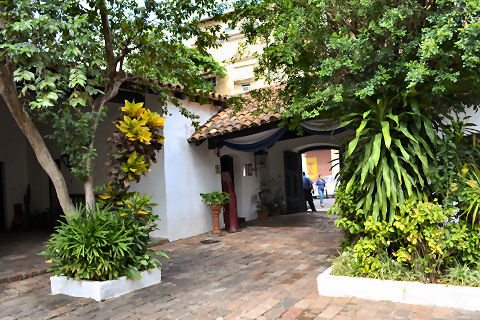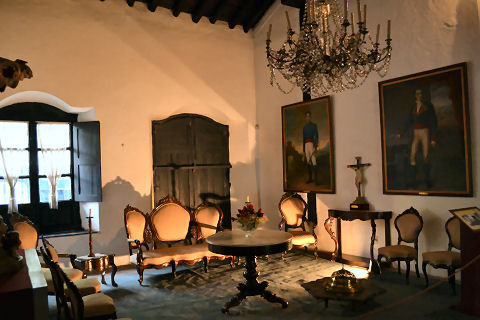 The curator at the cultural center had recommended a visit to the Casa de la Independencía, the home where the first plans for revolution were drawn up. It's been semi-restored and furnished with a mix of restored and replicated furniture and paintings. Unfortunately there's very little information provided about the whole independence movement, it's mostly just stuff about the rooms and furnishings. The woman who was manning the entryway popped in and gave me a quick five minute summary, but that was about it.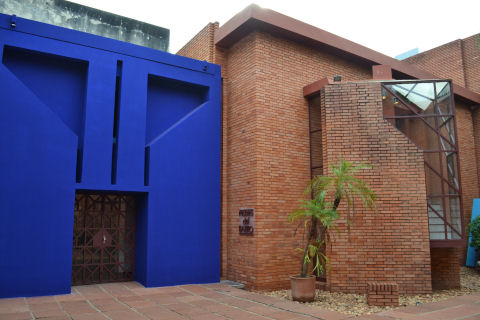 Returned to the Museo del Barro that had been closed the day before. It's a museum that houses a mix of folklore, popular and indigenous art.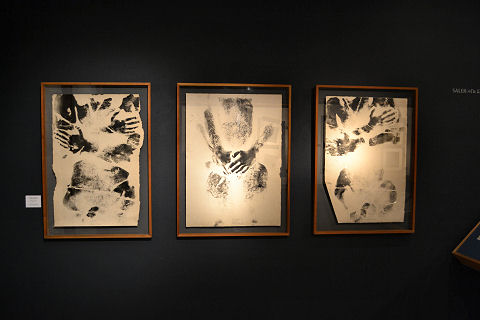 Some of the modern stuff is not overly my stuff, if at least interesting to look at – there were a couple of Yellow Submarine related paintings that were a little out of place, but overall, not the worst collection of modern art I've ever seen.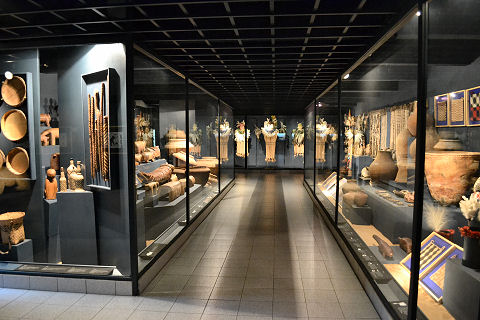 The most interesting for me was the indigenous art, which takes up about half the museum (two stories, about a quarter of a city block).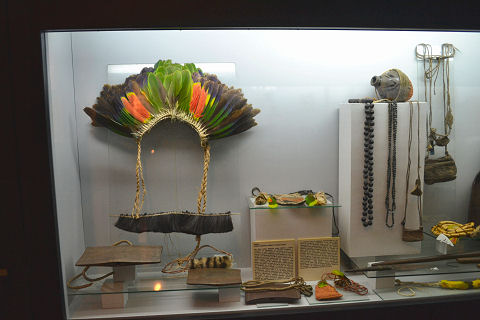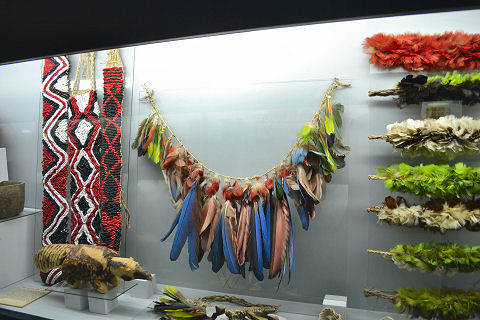 A lot of art based on feathers – some of it ceremonial, some of it not.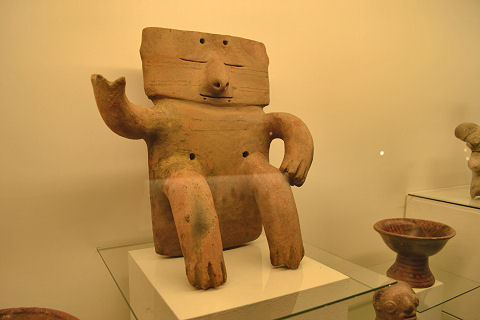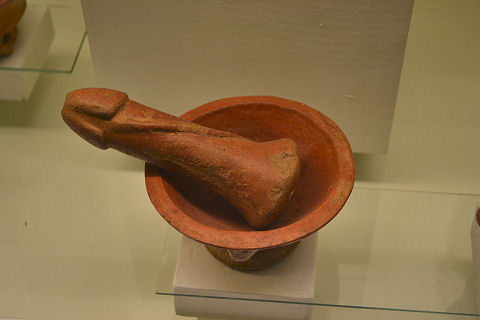 And not everything was feather related. Perhaps a new mortar and pestle?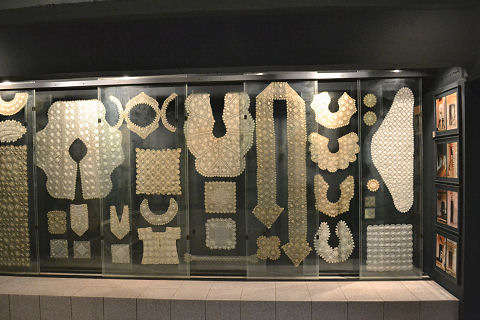 There's a local type of lace making called ñanduti, a word that comes from the Guarani term for a spiderweb.
That seems like enough for this post, it's already getting long. Next and last Asunción post will cover my last dinner and lunch, and a wrapup of my thoughts on the visit.