In preparation for this trip I talked with a lot of people about what I might do here. Now, the general expat response was that no one had any idea, but that it always sounded like something interesting to do, or, more interest from folk in things like eco-adventure tourism and/or the Jesuit Mission trail. The Argentine perspective, not universally, but a clear majority, was "Why would you go there? There's nothing to see or do in Asunción." On further questioning it seemed that few if any of them had ever been, it was just something they "knew".
One woman, not someone I know, but a salesperson in a bookstore where I was attempting to find a guidebook (a futile effort as it turned out, they simply don't exist – Lonely Planet used to put out an Argentina / Uruguay / Paraguay book, but they no longer do, relegating a few recommendations in Paraguay to their website, and the most current version of the book I could find was a loaner from a friend of the 1999 edition), informed me that she had all sorts of books on Uruguay if I'd like to go there instead. When I demurred she informed me that the only reason to go to Asunción was to find a cheap maid because the city was full of them.
But all this rolled around in the background, unavoidably. What can you do? Yesterday morning I decided to head into the city center, an area that I'd been warned was generally safe during the day, but not in the evening or at night (though locals are all telling me that's nonsense, there's no problem with security anywhere in the city – a friend of a friend whom I went out with last night to dinner told me that in his years living here as an expat from Chile he's never heard of a tourist having a problem with being robbed or threatened, regardless of where they were). So, I set out along the main avenue that I had walked a few short blocks the night before. During the day it's far less ominous looking – it's more of just heavily trafficked, noisy and full of vehicle fumes. I was thinking of taking the bus, but decided that at least one direction, I'd walk (about 4-5 km would be my best guess of distance). Tons more pictures than these taken, but wanted to give a general impression of the pathway….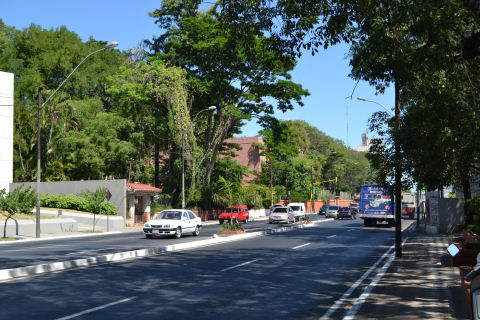 The avenue is named after Mariscal Francisco Solano López, who was president of the republic from 1862 to 1870. He succeeded his father, an authoritarian figure who was fairly distrustful and jealous of other countries, particularly the development of neighboring ones. While he took a prudent approach to development of energy resources and the military, his son pretty much went a bit crazy on the latter. In a nutshell and glossing over a lot, he basically decided that if he put every able bodied person in the country into the military he could take on the "Triple Alliance" of the armies of Brazil, Uruguay and Argentina combined. Needless to say it was a disaster and resulted in Paraguay going from being a wealthy, developing nation to one of subjugation and poverty, where virtually all the wealth of the country was stripped. The only thing remaining, some 150 years later, is that Paraguay is still one of the world's leading producers of electrical energy, most of which is supplied into Brazil, leaving a poor infrastructure and high costs for electricity here in the country.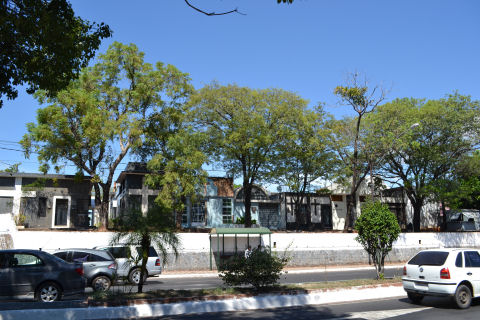 Just past where I'd walked to the night before is the Recoleta Cemetery. It's not quite the same as the one in my 'hood back home.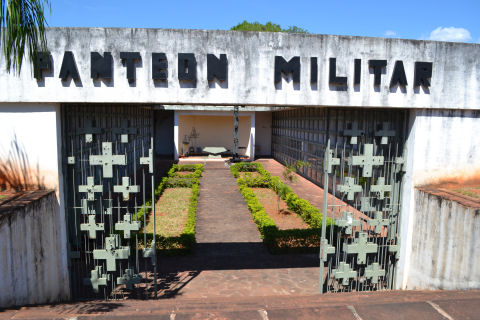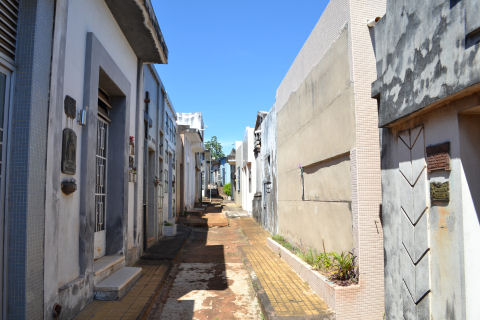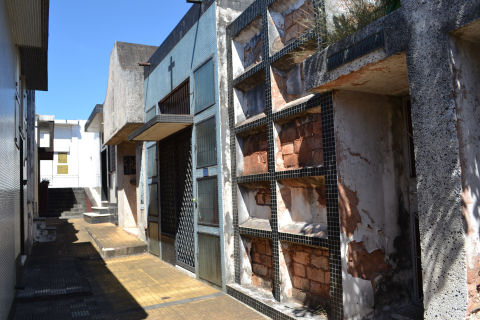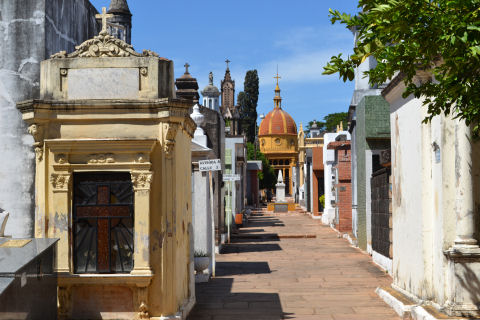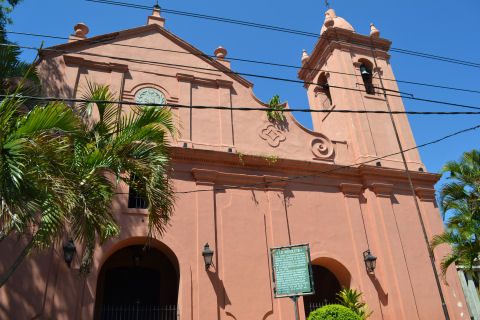 Overall, it's pretty rundown, but you can see that at one time it was likely quite beautiful.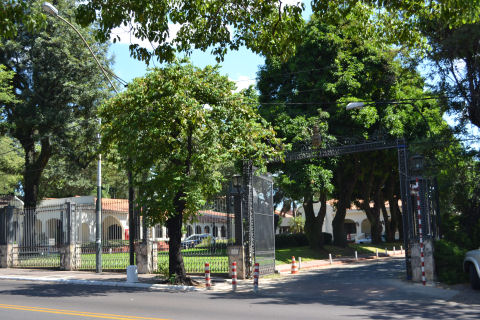 A bit further on some sort of joint military compound with, I think, Argentina.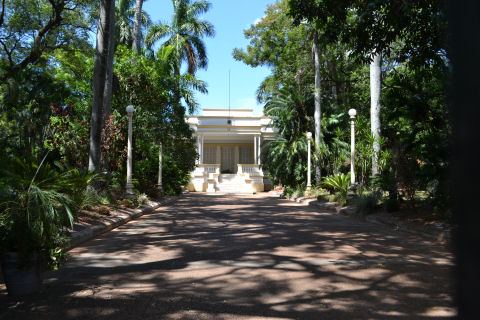 If I understood correctly, this is the current president's house. There's a high fence surrounding it, with the ubiquitous razor wire and guards, but a quick shot through the gate.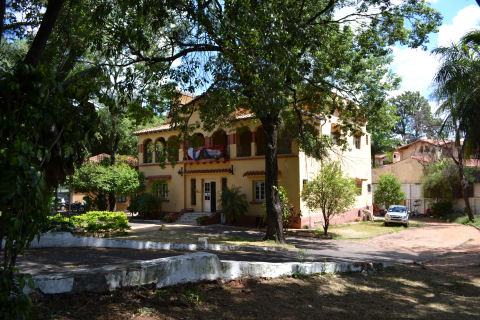 The wealth that used to be here is obvious in mansion after mansion. Most of them refurbished and repurposed as businesses these days.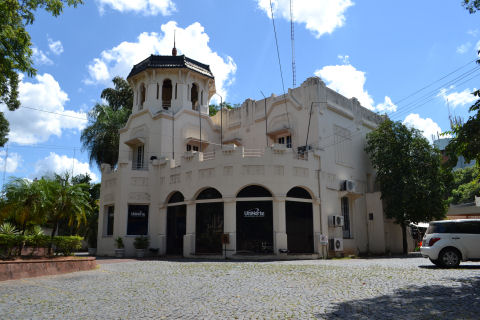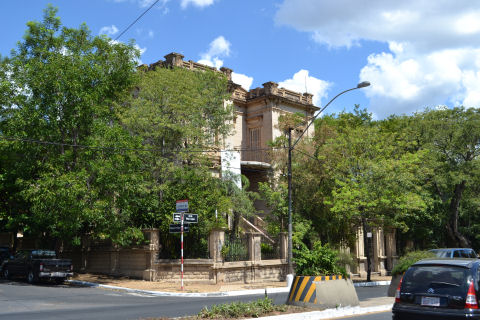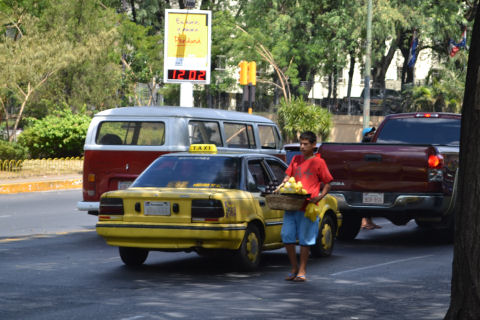 There is a lot of poverty here (my companion last eve estimates it at 70% of the population). Fruit selling seems to be common – one wonders if there are enough people buying the fruit for the number of sellers that I saw, everywhere. Pears and plums seem to be in season right now and were the order of the day.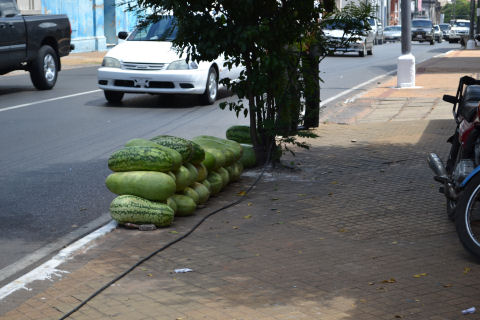 Also watermelons.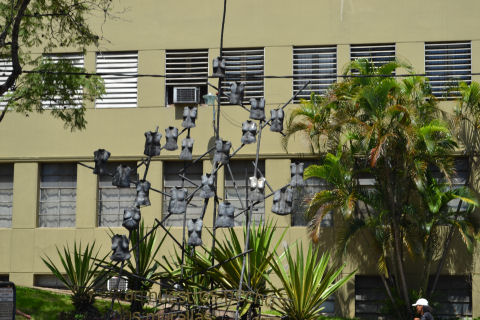 An odd metal sculpture in front of a military building, of what appear to be casts of woman's torsos.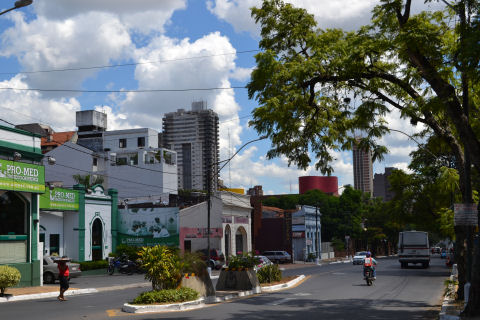 My first glimpse of downtown.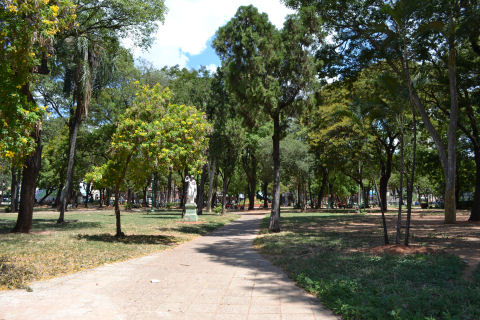 As I got into the city center, the avenue turns a bit gritty, and I'd been warned that being on the north side of Palma, a main shopping street, was "iffy". So I cut over a couple of blocks south and hit the first of three downtown plazas, Plaza Uruguay. Very rundown and a whole lot of folk who, if I ran into them in BA, would be a problem. Although everyone looked me over, and a few clearly were eyeing things like the camera, no one even so much as approached and asked for change. A few people said "buenos dias", but that's about it. Still, I skirted the plaza and headed on down to the main plaza…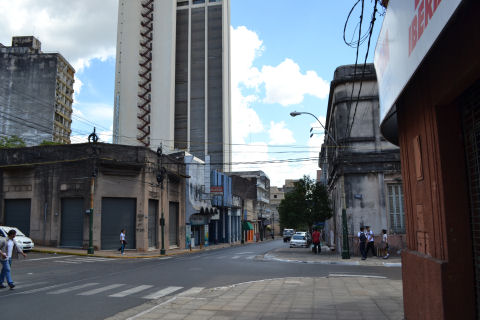 … walking through the downtown, it's just clear how rundown the center of town is. There seems to be virtually no investment in maintaining anything – it may be because there's nothing to invest, I don't know enough about the local government and economy. I'll get to the main plaza in the next post, but at this point it was going on 12:30 and I decided to grab a bite to eat at one of two places recommended near to it. The first, Lido Bar, was jammed with people (and looked nothing like the romantic cafe that a magazine article I read recently pictured). The second, a block off the plaza and much bigger, Bolsi, has an outdoor seating area on one side, a big U of a lunch counter, both of which were packed, and a white tablecloth dining room, which was only about half full. I grabbed a seat there.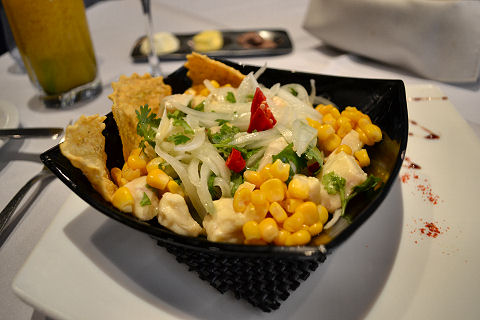 While there are plenty of beef and chicken dishes around, it's clear the the surubí is THE local specialty. Bolsi offers up more than a dozen preparations – unfortunately the specialty of the house, a slow cooked clay-pot preparation, is only served family style, for 2-4 people. So I started off with a ceviche. Pristine fresh fish, corn, onions, chilies, a fairly mild citrus marinade, nicely balanced but almost a touch of sweetness, not sure if it was a mix of citruses, or a bit of sugar. But, overall really, really good. Not as creative as the one I'd had the night before, but just as delicious in its own way.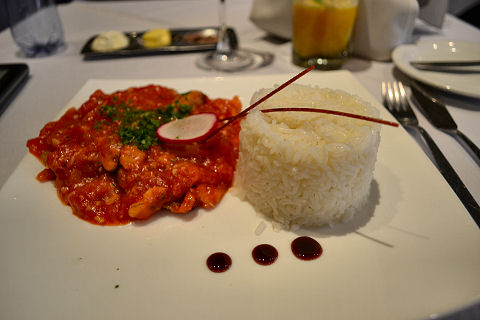 In place of the specialty, my waitress recommended the version with the salsa de camarones – the fillet of fish, nicely cooked with a thin flour crust on it, topped with an again slightly sweet sauce of tomato, onion, shrimp and mussels. Completely delicious, very happy me. With a bottle of mineral water and a glass of fresh passionfruit juice, lunch came in at 120,000pgy, just under $28, $30 with tip.