Although not actively creating dinners in our old themed manner, it doesn't mean I don't still get some inspiration from various "today in history" sort of sites. This past weekend was Bulgarian Republic Day, and while there were certainly no dishes of Bulgar origin on the menu, I did take in some ideas from favorite ingredients of the nation – things like yogurt and cheese, white beans, radishes, mustard, potatoes, green beans…. Originally planned as a two-day weekend, we ended up with a private party on Monday night and kept the same menu other than one minor change due to an allergy.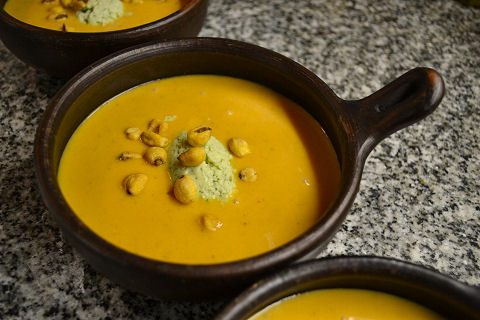 My favorite tomato soup, though with about half the cream I used to use, served chilled, and with a frozen yogurt that was flavored with mint, parsley, and… white beans. Yes, you read that right – about a cup and a half of plain yogurt, an equal amount of cooked white beans, a handful of mint and parsley, a couple of pickled ají vinagre (Italian frying peppers), salt and white pepper – blended and churned – a tasty little iced treat. Toasted corn kernels for texture. Overall a hit, with three people from the dinners already begging for the recipe. Trying to decide if my chilled soups with ice creams and sorbets has played itself out for this run. It's still warm weather, but, perhaps time to return to hot soups… hmmmm.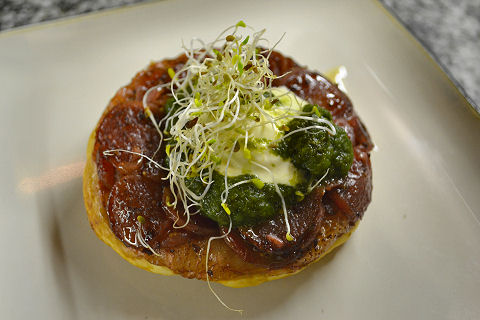 Delving back into the world of savory tarte tatins, this time, radishes. Caramelized sliced radishes in butter, brown sugar, dijon mustard, rosemary, sherry vinegar, shallots, garlic, peperoncino, miso, salt and black pepper. Whew! Topped with sour cream flavored with mustard powder and salt. Drizzled with a puree of the radish leaves (blanched, shocked, just salt, pepper and water added) and topped with radish sprouts. A radish three-way, and another hit, with another three folk asking for details on how to make it, and a self-identified "tarte tatin maestro" at one of the evenings telling me that it was "very good" after giving me a description of what a tarte tatin should be. That's not to make him sound pretentious, he was actually completely enthusiastic and engaging, a charming diner, and, I'm fairly certain, our first guest whose homeland is Zimbabwe.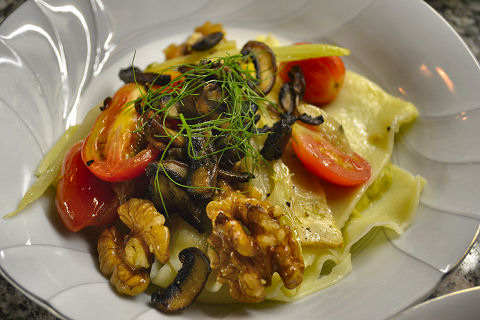 Playing around with more ideas for our recent popular raviolones with hummus style fillings – this time the hummus flavored with fresh goat cheese and arugula. A saute of sliced fennel, cherry tomatoes and walnuts on top, and garnished with crispy portobello mushroom slices tossed with smoked salt.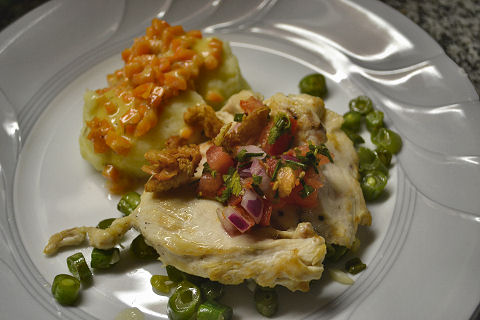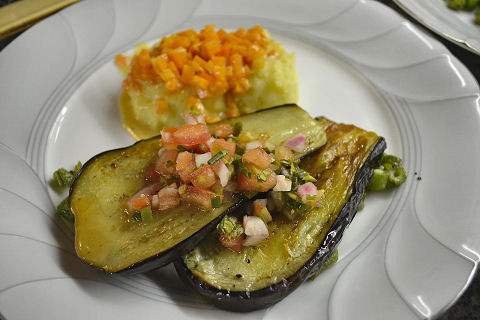 Not the chicken with mixed vegetables that I grew up on, but, I think, infinitely better. Chicken breast quickly sauteed in olive oil and butter, then finished in the oven. Served over diced green beans with garlic, and topped with a, more or less, salsa criolla (tomato, red onion, vinegar, cilantro, chives, salt and pepper), and, strips of deep-fried chicken skin for crunch. Behind, mashed potatoes that were passed through a food mill to get them silky smooth and mixed with just a touch of butter for flavor, and then a good amount of skimmed milk (everyone was swearing they were packed with cream, but no, they weren't). The topping for them, however, was – a carrot fondue – a brunoise of carrots cooked slowly in a mixture of cream, honey, bitters, marsala, salt and pepper. Several vegetarians over the three days – same exact dish except sauteed and baked eggplant slices replacing the chicken.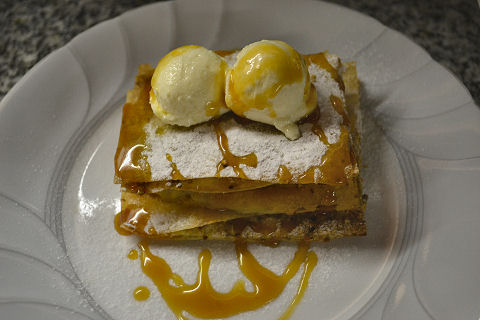 And, a "pumpkin napoleon" – four crispy layers of phyllo dough (butter, sugar and ground pistachios in between, then more butter and sugar on top – switched to cashews the last night due to someone with a pistachio allergy). Between two squares of this, a roasted pumpkin, well, butternut squash, and cinnamon pastry cream. On top, powdered sugar, a couple of scoops of homemade mascarpone flavored with lemon, and swirled over the top, bourbon caramel sauce.