Just a quickie for the day, a private party this week with pretty much dishes that we've done before. The only instructions – not overly spicy and some hints of Argentine cuisine thrown in.
Started with a pionono filled with a mix of mascarpone and goat cheese, fresh shrimp and endive. Served over our own version of salsa golf spiked with piquillo peppers. Pretty much the same as here other than changing crab and frisee to shrimp and endive.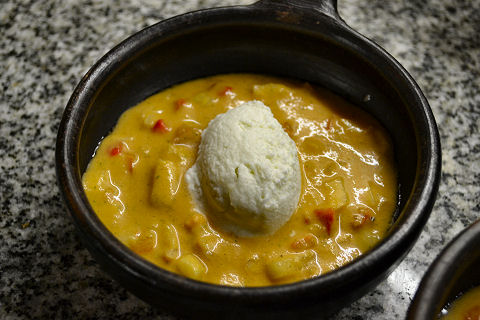 Continuing in our cold soup with ices vein, a fresh gazpacho – the base a puree of tomato, garlic, cilantro, olive oil, red wine vinegar, salt and pepper. Stocked it with diced roasted pepper and onion. Served it up with a sorbet of cucumber, green chili, coconut milk, honey, salt – which, by the way, is also excellent in a Bloody Mary.
On to a heart of palm fritter with avocado italian dressing, followed by spiced, roasted pork loin with creamed chard and glazed beet (same link). And finished up with a panqueque de dulce de leche with blueberries and toasted cashews.