"If you cannot say what you mean, your majesty, you will never mean what you say and a gentleman should always mean what he says."

– from The Last Emperor (1987)
This weekend was the 100th anniversary of the abdication of the Xuantong Emperor, Aisin-Gioro Puyi, China's last. It seemed a fitting tribute to influence one of our dinners, and it's been awhile since we put any Chinese spin on one of the dinners – these days, less than I would have back in our theme days, but still, touches, here and there.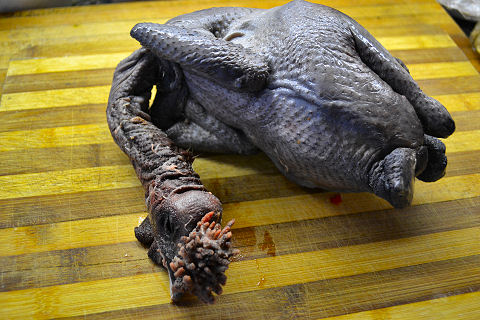 So let's start with the inspiration – June 1999 – my old supper club in New York, and a menu entitled "Simple Fusions – Chinese Cuisine Meets the World". I think that was inspired by the fact that I was dating a very nice Chinese man and was thinking about some of the traditional dishes of where he was from in China. The menu is an interesting mashup:
Beijing – Monterey
Red-Braised Five Spice Beef – "Heartwise" Salad
Kristone Blanc de Noirs, 1992

Shanghai – Galicia
Drunken Crab Paella
Pazo de Barrantes Albariño, 1996

Sichuan – Milan
'Lungching' Conch Tonnato with New Potatoes
Nino Negri Valtellina Sfursat "5 Stelle", 1994

Guangdong – Beaujolais
Steamed Black Chicken with Morels and Dates
Paul Bernard Fleurie, 1997
Clos de la Roilette Fleurie, 1998

Hong Kong – Portugal
Azeitão, Evora & Ribaeria Cheeses with Fresh Lychees
Paolo da Silva Colares "Chitas" Reserva, 1989
I wasn't looking to reproduce the menu, but took some thoughts from it. Starting with The Black Chicken – which here are only occasionally available in Barrio Chino, and come in at a whopping 150 pesos apiece – but they're so flavorful that I decided to use the chicken as a stock base, and therefore could split it up over the three nights. As you can see, the chicken is indeed black, and the meat, while not the same color, is definitely tinged with a grey shade.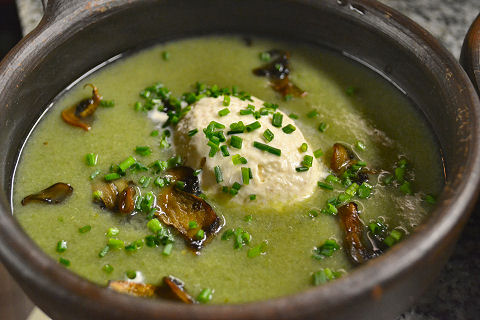 Continuing with my chilled soups and ices trend of late, first off made a base soup with the black chicken, green onion bulbs, and a mix of button, oyster, and shiitake mushrooms, salt and white pepper. Simmered together until really flavorful, then removed the chicken and pureed the rest with the green onion tops. Chilled and adjusted the seasoning. The ice cream – simmered dates, lemon peel and long, red Chinese chilies, and salt in milk and let the flavors steep, then pureed, strained, mixed with an equal amount of heavy cream, chilled and churned. Thinly sliced portobellos deep fried to a nice chewy and crispy texture and then tossed with smoked salt.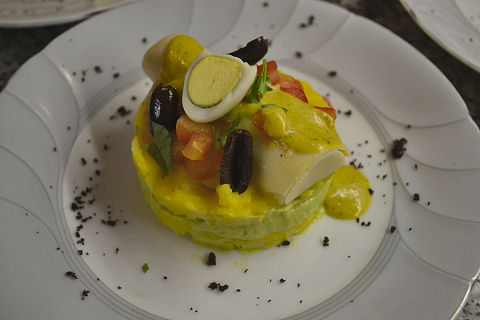 A semi-traditional Peruvian causa – potatoes mashed with yellow chilies, olive oil, salt, and lemon juice, layered around a puree of avocado, cilantro, and mayo made with lime juice. Atop, tomato concasse, black olives, cilantro, and heart of palm, the last glazed over with an ocopa sauce – a blend of cheese, milk, walnuts, bread, yellow chili, and huacatay, or Amazon Black Mint. Quail egg garnish, and black olive crumbs around the plate.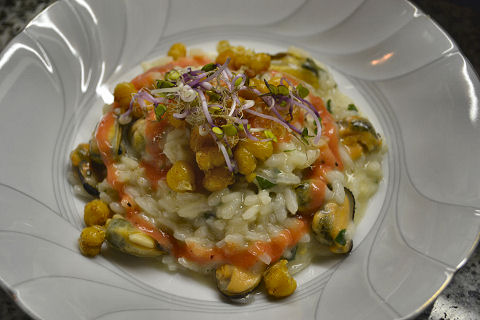 Vegetable stock and white wine risotto, finished with fresh mussels, the local gran pampeana cheese (a grana padano knock-off), and lots of parsley. Topped with crispy fried chickpeas, a plum, brandy and butter sauce, and some radish sprouts.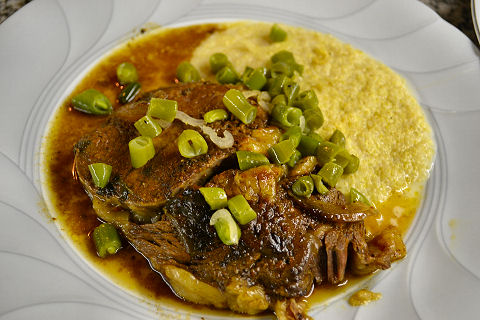 While the spicing is different, there are similarities between the Chinese "red-braising" process and one of our favorite Peruvian beef dishes, the huatica sulcana, so I combined the two – first sauteeing a mix of red onions, garlic and chilies in a bit of oil and five-spice seasoning, then browning thick slices of rib-eye roast. Then I added a mix of ají rojo puree, soy sauce, red wine vinegar, and beef stock, put a layer of herbs over the top – mint, cilantro, basil, oregano – brought it to a simmer and let it cook for 5+ hours. Served up with creamy quinua and quickly sauteed green beans with shallots.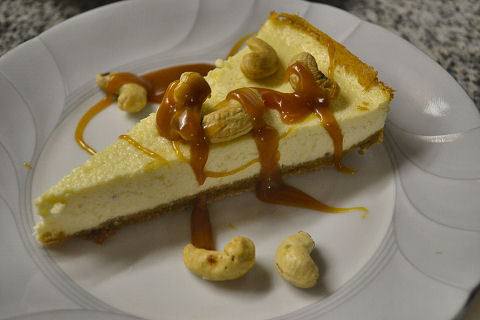 Our homemade cream cheese cheesecake base pureed with litchis. Topped with a caramel sauce flavored with moscato, and toasted cashews.
And that was our Last Emperor tribute.