No, we're not bringing back the short-lived and not particularly successful Casa SaltShaker brunch. It was just one of those Sundays when I wanted out of the house, didn't want to hang out with friends, just a book and a really good meal. And, given that Henry is away and, let's face it, that cuts down on dining out expenses, I figured it was a good time to try one of the pricier brunches in town. The relatively recently opened Algodon Mansion hotel at Montevideo 1647 in Recoleta, 3535-1365, has a restaurant, Chez Nous, that's been getting some nice write-ups from some of my compatriots for ambiance and service, drinks, and, some mixed but generally positive thoughts on the food. I'd actually talked with one of the owners when the hotel was under construction about possibly taking on the restaurant, but they decided on a fine dining, classic French style, that's not my thing and the conversation petered out. I moseyed my way over there and easily got a table – during my entire meal there was only a party of 3 Brazilian women having brunch, and someone who I'd guess was one of the managers, hanging out at a table drinking coffee and working on spreadsheets and paperwork. [Closed]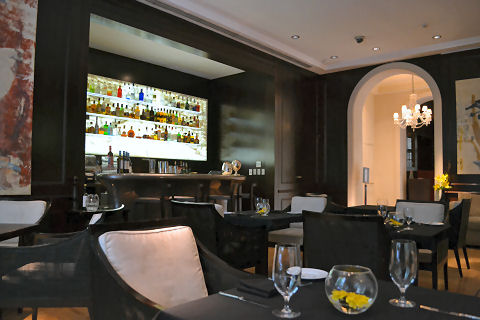 It's a very pretty room with a well stocked bar. The service staff were immediately attentive. There was a trio of three attractive young women dressed in black, two of them waiters, one of them the bartender, but major kudos to them throughout the meal as they all interchanged where necessary, serving or clearing the tables, food, drinks, answering questions, etc.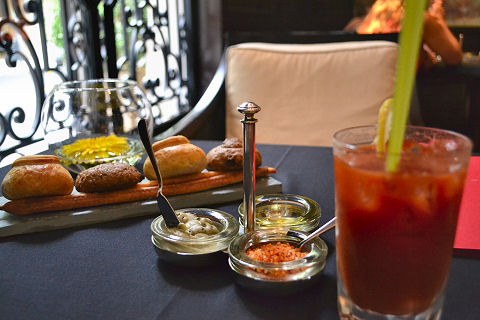 Drink order was the first bit of business, and on asking for a Bloody Mary, I was in turn asked how spicy I'd like it – another positive notch on their belt. And, when it arrived, it was good and spicy, and really, the best Bloody Mary I've had in this city. A selection of fresh baked bread was brought to the table along with some olive oil, dried tomato salt, and an olive butter. Great bread, too! The brunch menu has two options. The first,
a la carte
, is fairly straightforward – the menu includes a selection of egg dishes, eggs cooked however you want them, some salads, some main courses ranging from sandwiches to roasts, and, several "of the day" selections – a soup, a couple of pastas, a risotto, a fish. A minor negative, having to listen to four or five different daily specials – I've always been of the opinion that once you go past two, you should put it in writing rather than having waiters recite it, I find it an overwhelming amount of information to have to sit there and listen to and then think about which sounded most interesting, ask for it to be repeated to make sure it's what I thought it was….
The pricing isn't bad – egg dishes run around 20-25 pesos, the salads in the 30s, the sandwiches are a bit higher, running in the 50s, and the pastas and main courses run in the 60s. So depending on how hungry you are, you can eat for under 100 pesos without a problem, or you can go to the prix fixe brunch, which runs 197 pesos, non-alcoholic beverages included, for an all you can eat of your choice. Yes, the entire menu is open for your tasting. Now, in theory, that could be quite interesting, and on asking, I was told that the kitchen prepared tasting menu portions of each dish so that you could comfortably work your way through quite a few courses if you wanted. In practice, however, they don't. Everything came out full-sized, I don't know if the waitress forgot to communicate that it was a tasting to the kitchen, or if their regular portions are simply massive, or, if they just don't pare them down. Either way, it was simply too much food, and I only ordered what I thought were four tasting menu plates.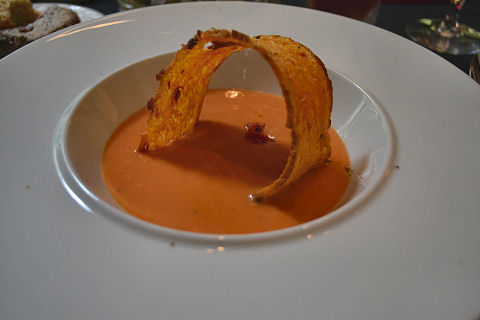 At first, all seemed well. I decided to start with the soup of the day, a gazpacho. A bowl was brought with a large ring of toasted bread and a small pile of diced tomatoes, and then a sauceboat of the soup was poured in at the table. Flavor-wise, great. Really delicious gazpacho, though I have to admit, I tend to like gazpacho with some chunks of the vegetables in it rather than a pureed version, but other than that, a great soup. Figuring that this was a half-portion, the 20 or so pesos for a full portion seemed like a reasonable charge – in retrospect, if this was a full portion, not so much. It was maybe a half a cup of soup and was literally gone in under two minutes.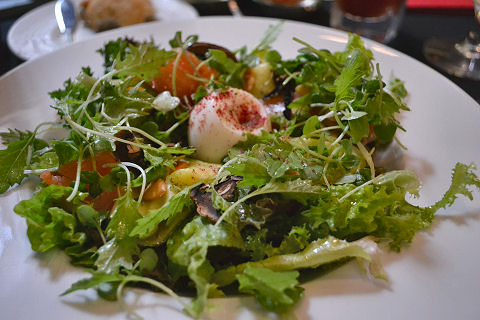 Then the salad arrived and I thought, this is awfully big for a tasting portion – a great tangle of mixed greens, house-cured gravlax, ribbons of pickled cucumber, a perfect soft boiled egg, and, a creamy Manchego cheese dressing. Absolutely delicious and by the time I was done I was thinking, hmmm, maybe that's enough food….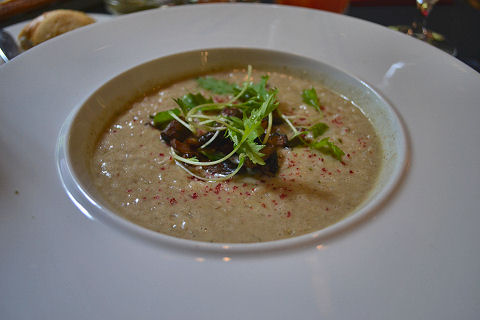 Next in line was the risotto of the day, a mushroom and pancetta version. Another textural issue, again just personal, I like risotto to be a bit thick – this was pretty much a soup. The rice was cooked perfectly within it, but it was swimming in liquid. Mostly mushroom, portobellos, with just a very little bit of crumbled bacon – would have liked a little more balance. I was really done by this point, and probably should have just stopped things and, likely switched back to a la carte and it would have cost me less, but they'd already prepared my next course – I couldn't pass up…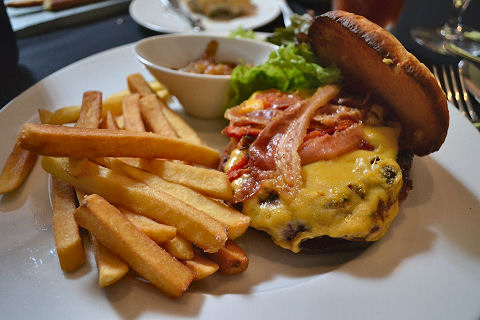 … the Black Angus burger topped with bacon, cheddar, caramelized onions (which were, mysteriously, served in that small bowl on the side rather than on the burger), confited tomato, lettuce, and a selection of condiments. I appreciate from an aesthetic point of view the serving of those little 2-oz jars of mayo, ketchup and mustard, but from a food wasting perspective, it's a massive waste of them. They don't re-serve them to other customers, each person gets their own bottles, and I would doubt anyone uses a full 2 ounces of any one of them. The burger was good. Not great. Good. I think I'd have preferred the stuffed pasta of the day with lamb, but, I do love a good burger. The fries, not so much. Dry, almost mealy, and not really very pleasant, actually just a really odd texture. No idea how they cooked them to get them that way, but I wouldn't want them again. Just couldn't finish this plate, but it was nice to try it.
Finished off with some tea, very nice tea service, passed on the offer of dessert, also included. They brought a couple of macarons with the tea and I had one of those Mr. Creosote moments and just couldn't. Brought them home with me and tried them later, very good.
Overall – fantastic ambiance and service, no mis-steps that I could see unless there was an error in communicating the tasting menu thing to the kitchen – really, it's impossible to eat all of more than maybe three plates unless you're a huge eater, at which point you'd be better off dining a la carte. The food, overall quite good – very high quality, some strange, at least for me, textures to things, but great flavors. I'd go back, though I'd eat less, or certainly really verify that the courses are going to be more tasting sized (and if not, it's just a silly all you can eat offer – though I suppose you could just eat part of each plate and waste the rest). And I'd certainly be interested in checking out their dinner offerings. Recommended.