"Don't worry about the world coming to an end today. It is already tomorrow in Australia."

– Charles Schulz, cartoonist
It was Australia Day once again – how is it that even without my posting themes anymore, the Australians visiting Buenos Aires seem to gravitate to Casa S on Australia Day? I wasn't even really using it as much of an inspiration, though I did go back to our first Australia Day celebration and pull a little bit from it. My goodness looking back at some of those early dinners, I wonder, what was I thinking? It's not that the food was bad, it was just not all that interesting. The only thing I can really think is, thank goodness for evolution or intelligent design, or at least having customers who stuck with us and gave us the opportunity to keep improving! Then again – I also look back at the couple of comments we received from those evenings and they were all like, "superb", "wonderful", "truly memorable"…. Go figure.
So there were Australians this weekend. And folk from all sorts of interesting places – Sweden, Holland, Argentina, Brazil, the U.S., the U.K., Canada, the Caribbean. Thursday and Friday were jam packed with folk, Saturday was full until last minute – four of the people who were reserved for Saturday showed up on Friday, thinking it was Saturday, and then called me a bit after noon on Saturday to say that they couldn't change their other Saturday plans (funny how they didn't get the "other Saturday" event confused), and then around 4 p.m., another couple sent an e-mail to say one was headed into the hospital and they weren't going to be able to make it. We waited until about 6 p.m. to see if we got any late calls and then put out an all-call with a discount offer, and filled up quickly – in fact, so quickly that I was getting multiple people confirming at the same time, so we ended up having to offer to set up the small table for a party of three.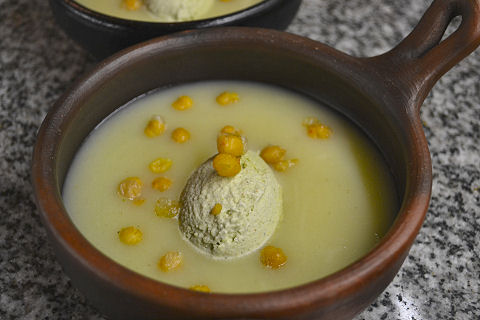 You might have noticed that I'm on a kick of chilled soups with ice creams or sorbets in them. I'm having fun exploring them, and the kick will continue for a bit longer, at least as long as we're having our nice, steamy hot weather in BA. They're likely to end up with their own chapter in my cookbook, should I ever buckle down and get the thing finished – which is looking good, as Henry's going to be spending a good part of the next couple of months in Peru, so I'm going to have a lot of uninterrupted time on my hands. Back to the soup – started with the idea of a vichyssoise, and, in a sense, deconstructed and then added other bits in. The soup – onion, potato, zucchini, garlic, thyme, chicken bones, salt and white pepper – cooked together until the vegetables were soft, then removed the bones and thyme stalks and pureed the rest, chilled it down, adjusted the seasoning. The ice cream – sauteed leeks in butter and then pureed them with some watercress, milk, salt, and just a touch of chipotle pepper for heat. Then mixed the puree with heavy cream and ran it through the ice cream maker. Some crispy fried chickpeas mostly for texture, but they also add a nice flavor to the whole mix.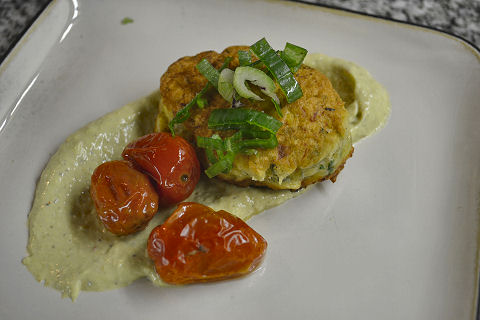 A heart of palm fritter – spiced up with garlic, chives and cayenne – fried up until golden brown and then served over what is, essentially, creamy Italian dressing mixed with pureed avocado – delicious by the way as a salad dressing or with fish, or as a dip for vegetables. Some cherry tomatoes roasted in butter, salt and vanilla, and a little green onion atop. Every time I make these heart of palm fritters people love 'em – they were actually a creation for one of our vegetarian cooking class series on US regional cuisine that started out as classic Floribbean conch fritters.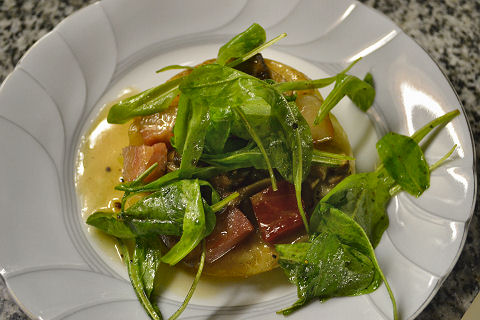 I'm also, I know, inordinately fond of my savory tarte tatins – this one a smoky bacon and portobello mushroom one, the sweetness from maple syrup – the real thing, not flavored sugar water. Topped with a little radichetta salad in a light vinaigrette.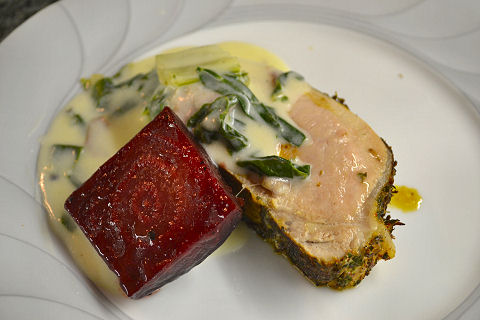 The final two courses were reworkings of dishes from that first Australia Day dinner – here, a slice of roasted pork loin crusted in my blackening spice mixture – so first seared to caramelize the spices and herbs, then into the oven to cook to a medium-rare/medium (yes, pork that's not well done and dried out). Served up with a roasted beet that's then caramelized in butter, salt, pepper, and a bit of rosehip jam. For a sauce, acelga a la crema – creamed swiss chard – though lightened up a bit, instead of cream I use a skim milk bechamel to which I add grated grana padano cheese and some crispy prosciutto – okay, I know that's not light, but imagine if it was also a mix of whole milk and heavy cream in there! And I'm not running a spa, after all.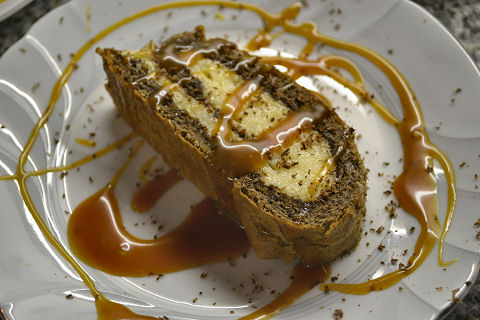 And, a cocoa pionono with a toasted coconut pastry cream (made with a mix of milk and coconut milk plus the toasted coconut), served up with the salted bourbon caramel sauce I've been playing with. I should just jar that stuff and sell it.