Oh, the foodie hordes are going to hate me again. I'm about to knock one of the new darlings of their set. I'm not going to trash it, it wasn't bad, it just wasn't all that. There were things I liked, there were things I didn't. Meh.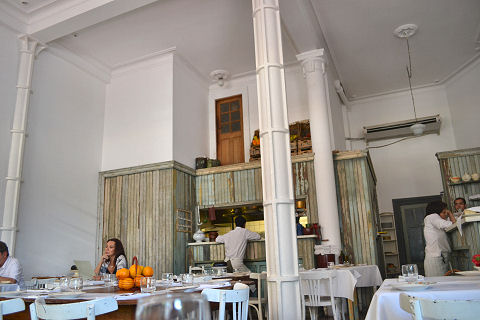 Now, I suppose, part of the problem may be that I have no aspirations to be chic or cool. I'm not in the targeted 20 and 30 something age range for whom this is apparently the pinnacle of such adjectives. I just want a decent meal at a fair price. Especially if I've traveled across town to the southern end of San Telmo on an aged, rickety #10 bus for it, on a meltingly hot day. But let us start with the space at Caseros, Av. Caseros 486, 4307-4729. I like it. I like it a lot. It's got that farmhouse distressed wood, whitewashed look that is one of my favorites for a casual cafe. In fact, it immediately made me feel like I didn't have to concern myself with being chic or cool. Oh wait, I wasn't, but that's all good. The vegetables and fruits on most of the tables as decor are cute – we had two eggplants. There were few people in the place and it never really got busy, certainly not more than a bit over half full. The majority of people seemed to be going for the daily menú ejecutivo, which is the inexpensive option, but the two choices of main course didn't excite either of us – one a salad topped with fried chicken nuggets (which were a strange, glowing, yellow color), the other a simple spaghetti with tomato sauce. The regular menu, while not expensive, isn't quite the same deal.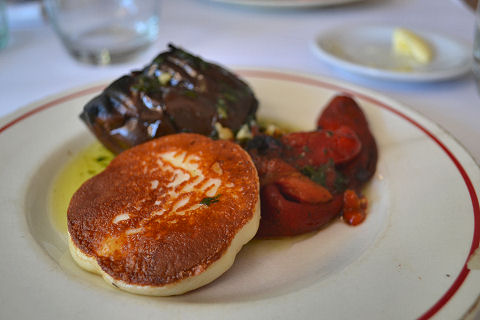 Now, some of it may be my own fault. I spotted a couple of dishes that sounded really interesting, but my dining companion, a sommelier and restaurateur who had eaten there numerous times, pimped for some dishes that he asserted would really shine. I love a good provoleta, and we decided to split the goat cheese version with grilled vegetables. Not a bad decision. The vegetables, in particular, were delicious, in fact, I'd have rathered just have a plate of them – beautifully charred eggplant and peppers. The hard, still cold in the center, puck of goat cheese, did little to contribute to the dish, and that's hard to do for a goat cheese. To the restaurant's credit, as we were splitting the dish, they pre-split it on separate plates for us, so the photo is a half order.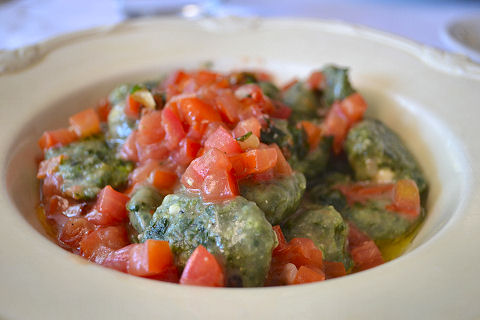 A similar experience with the malfatti, one of my favorite "pastas". The fresh tomato sauce with herbs and olive oil, a simple, beautiful expression of the tomatoes completely out-shone the flavorless, over-cooked, water-soaked and falling apart balls of spinach and cheese. Stick that sauce on a couple of toasted slices of the delicious housemade white and brown breads and I woule have been far happier. And that was another thing – I've been hearing about the restaurant's amazing foccacia topped with charred cherry tomatoes and onions. None was to be found. Neither was the much touted paté for the bread, though the quite good herb butter was just fine, thank you very much.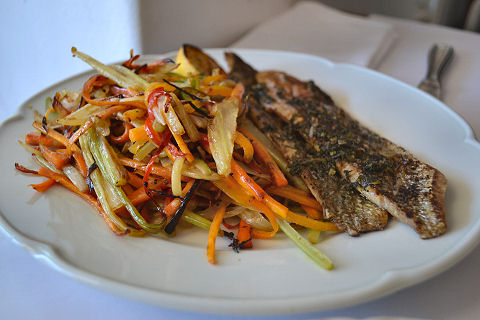 And, the same held true on the other main course on our table, the grilled fish plate of the day (we were pretty sure the menu had said mero, or grouper, but just based on size and shape, no way – likely this was merluza, hake, a much cheaper fish). The fish was overcooked, near to dry, while, the accompanying tangle of lightly charred vegetables was simply delicious and perfectly executed.
My companion ordered a coffee, I declined. They brought me one anyway, but then realized the mistake and didn't charge us for it. It was decent coffee.
So, overall, like the space a lot. Great service, nicely attentive and friendly. Food was mixed, at least based on three dishes – they do an amazing job with vegetables, all of which I'd have been happy with alone on a plate, but in each of the cases, the vegetables were the accompaniment to a main ingredient that was poorly prepared. And, it ran us, for one appetizer, two main courses, three bottles of water, and a coffee, a solid 100 pesos each. For lunch. Still, I want to go back and give it another try, because it was intriguing, though I can't say I was excited by my first visit – and my lunch compatriot assures me that normally the food is better – so perhaps it was just an off day. For the moment, just Okay.