It's been one heck of a week with dinners. On Tuesday, originally, we had a private party planned – a group of four who were only able to come the one night, and they were referred by a past customer. They were happy to go the private dinner route, but, asked if we'd offer up the evening to the public, and if we didn't fill, they'd make up the difference financially. We agreed, and, to our surprise, it was the first evening to fill up, weeks ahead of time – who knew Tuesday would be so popular? We may have to give that some thought – then again, it could have been a one time fluke. The only requests for the evening put us on a pescetarian track, with no shellfish. We ended up going with a menu put together from recent successful dishes – chilled cauliflower soup with litchis and cashews; carrot fritter with carrot hummus and an arugula, orange and feta salad; open charred eggplant raviolón with crispy leeks and mushrooms; blackened salmon with creamy quinua and caramelized brussels sprouts; and, a new iteration on the sesame, fig and bourbon caramel tartlet.
The rest of the week provided an interesting split. Friday and Sunday we had open public dinners, while Saturday we were booked out by a group of employees from an Australian corporation who were on an overseas trip that was basically a company thank you for their work over the last year. We might have gone with all the same menu, except the latter group had a series of restrictions – gluten free, dairy free, peanut free, and pescetarian; while the other two nights only had the restrictions of no shellfish.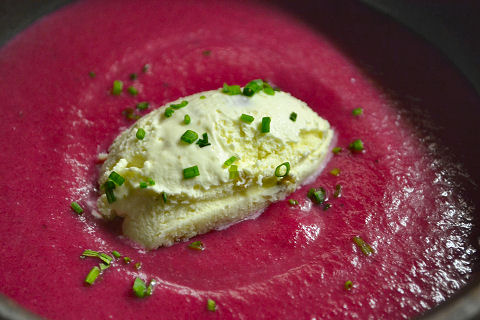 The public dinners first – chilled beet soup with onion, marjoram and thyme, cooked together in vegetable stock, then pureed with red wine vinegar, salt and pepper and finished with just a small amount of cream. Served with a jalapeño ice cream – cream, pickled jalapeños, corn syrup, salt – and some chopped chives.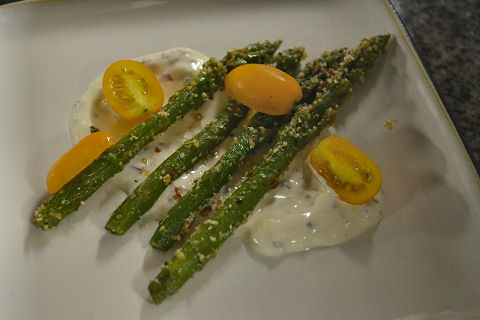 Asparagus sauteed in a mix of breadcrumbs and pancetta, served over our "deviled egg sauce", with some yellow cherry tomatoes.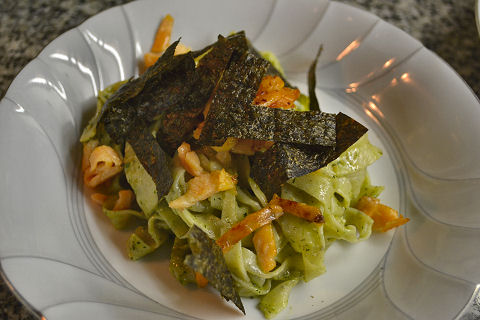 Green tea semolina fettucine, tossed with a cilantro, basil and mint pesto, smoked salmon that's been lightly crisped in oil, and toasted strips of nori.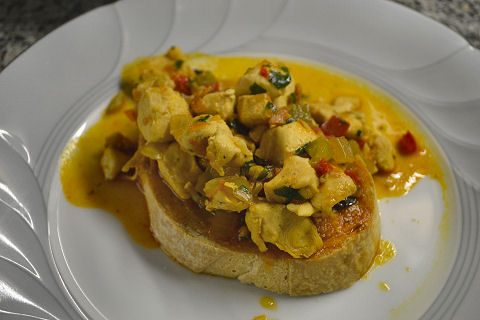 Pollo al Chilindrón – prepared just the way I wrote it up a couple of posts ago in my step-by-step.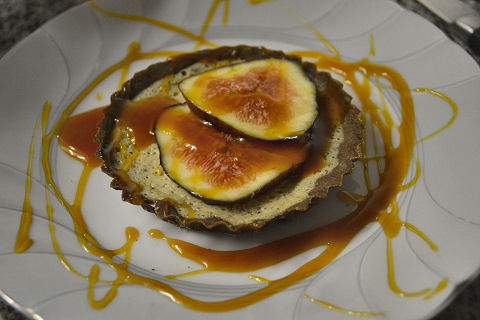 And, the sesame-fig cheesecake with salted bourbon caramel sauce.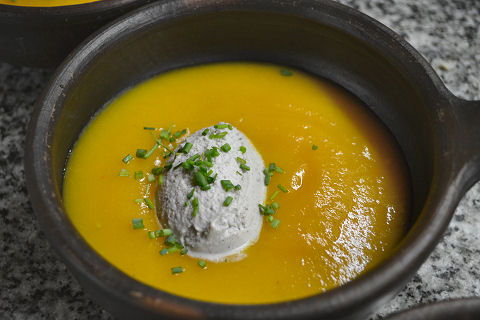 And, on to our night of restrictions – it was actually kind of fun coming up with a way to work my current repertoire with the various nos. Chilled carrot soup – carrots, potato, ginger, onion, red chilies, mace, orange juice, vegetable stock, all cooked together until the vegetables were soft, then pureed, seasoned with salt and white pepper. The "ice cream" is coconut milk, honey, triple sec, garam masala, salt. Our bread for the evening, quinua-brown rice mini-loaves – the primary gluten free person at the dinner said it was the best bread he'd had since going gluten free – we're trading recipes for a chocolate cake that he's come up with.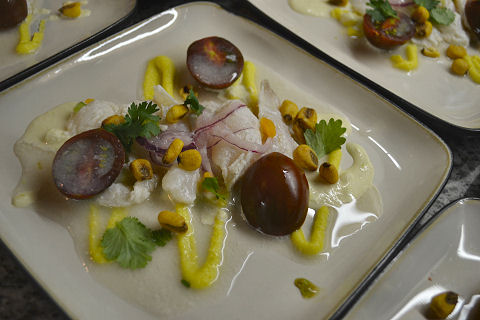 Sole tiradito (ceviche) with corn puree (using coconut milk), rocoto-macadamia sauce, tomatinos, toasted corn kernels, cilantro, red onions, rocotos.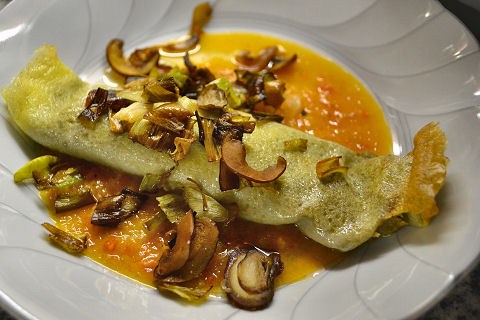 Rice flour crepes (water, no milk), which have a tendency to dry out if left too long, so instead of wrapping them around a scoop of filling, I made our charred eggplant hummus and spread one side of the crepes with a nice layer of it, then rolled them up. Baked in the oven to lightly brown, served over a fresh tomato sauce and topped with crispy leeks and mushrooms.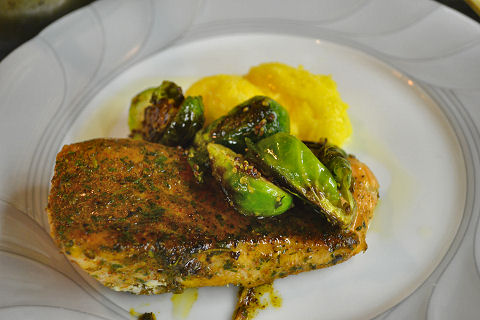 Blackened salmon. Since we were serving quinua bread, and, with the no dairy rule in force, I went with polenta cooked in fish stock and finished with a spoonful of margarine. Caramelized brussels sprouts to accompany.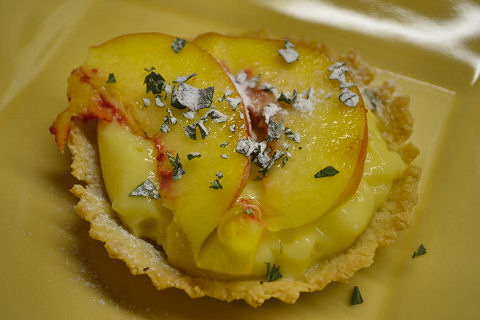 And, finished off with a peach tartlet – almond crust, peach-soy milk custard, fresh peach slices, chopped mint, dusted with powdered sugar.
This week looks like a breeze…!