"Thai Pirandhal Vazhi Pirakkum (the commencement of Thai paves the way for new opportunities)"
A year ago, still in the midst of very thematic dinners, we had a happy camper weekend of celebrating Thai Pongal, the start of the month of Thai – basically a harvest festival. I decided to bring back some of the ideas from that dinner that were particularly successful and work them into our newer format….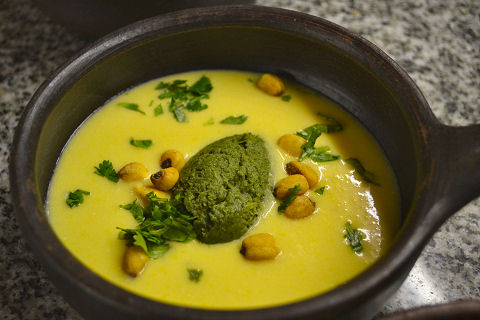 Moved the soup up to the opening act. Recipe wasn't that different from what I did last year, though I made it thicker and intenser by putting in more corn and chilies this time around. The spinach sorbet was the same other than I left out the sugar – the corn syrup provides enough sweetness – and used pickled peppers instead of horseradish for the heat, better flavor combination – also, to keep the texture of the sorbet really smooth, I churned it literally at last minute, pouring it into the ice cream maker as people were having their welcome cocktails on the patio, so it was just perfect when they sat down to eat. Added some toasted corn kernels for a little crunch.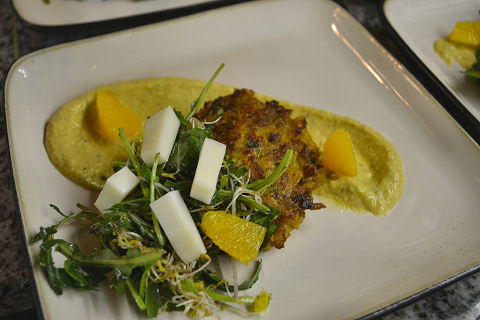 In place of the salad we did last year, which I wasn't overly thrilled with – it wasn't bad, but just wasn't "it", here, a carrot fritter flavored with garam masala, served over a spicy carrot hummus, and accompanied by an arugula salad with sprouts, orange segments and goat's milk feta, all lightly dressed in olive oil, smoked balsamic, salt and pepper. Much better, and the favorite course of the eve for several guests. One young man turned to his mother and told her that these were better latkes than she made….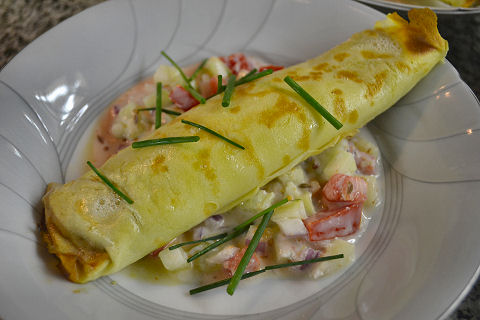 Almost no change in this recipe from last year, simply in presentation – though made the crepes with semolina rather than flour. For serving, left them whole rather than sliced and served over the raita so that it was easier to eat than the dipping sauce fashion of last year's plating.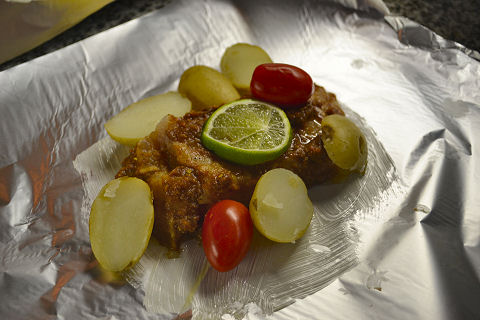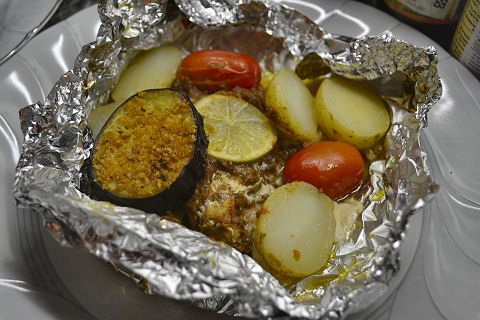 A couple of requests over the weekend for pescetarian, so instead of the lamb dish, I decided to start with a Tamil Nadu curry, but rather than make it as a curry dish over rice, I took the same spices: turmeric, chili (I used a mix of two chili powders – de arbol and ancho), cumin, fenugreek, tomato, tamarind, shallot, black pepper, anise, and coriander – and rubbed fillets of grouper in the paste and let it marinate for several hours. Went through three different presentations on this dish – first night sauteed the fillets and served with Andean potatoes that had first been boiled and then sauteed as well, sliced cherry tomatoes, and eggplant fries. Too much stovetop cooking going on at the last minute. Second and third nights, placed the fillets onto a piece of buttered foil, added the parboiled potatoes and cherry tomatoes to it, put a slice of lime on top, and wrapped it up, then served it up in the foil. One night, as pictured, I sliced the eggplant and fried it, but decided the dish needed something green on it, so instead, the last night, charred brussels sprouts added atop at serving time – photos didn't come out, ah well. Good, but in contrast to the other dishes, my least favorite of the evening.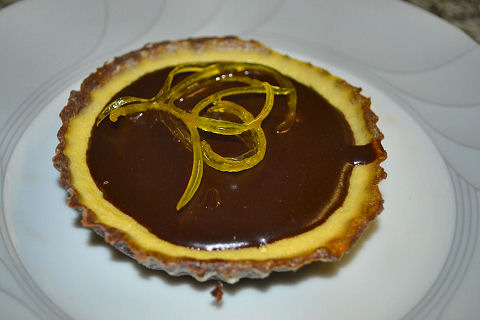 And, finally, taking the same flavors from last year's dessert, but changing it around, a cocoa crust, a ginger, lemon and black cardamom cheesecake filling, dark chocolate ganache, candied lemon peel. Just a step further on.