Continuing on to the final Montevideo post, basically, from the far right edge of the red circle I cut straight down to the shoreline and then just walked the rambla, or boardwalk, pretty much to the eastern edge of what's shown on the map – though it does continue east from there.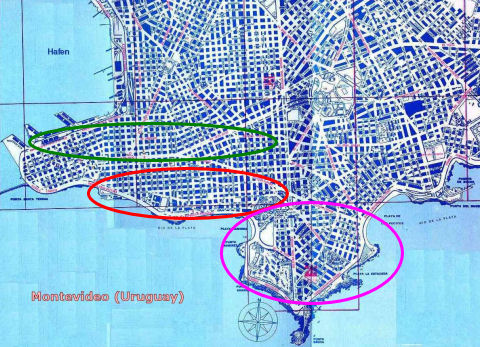 The rambla is one of Montevideo's nicest features, it actually begins at the far western edge at that little point of land and goes all the way to the east, without interruption, a well maintained pathway for "rambling". The shoreline changes from fairly rocky in the west, to an okay beach along the western side of Parque Rodó, then around the lighthouse point and up to a very nice beach along the eastern edge that then continues on out east.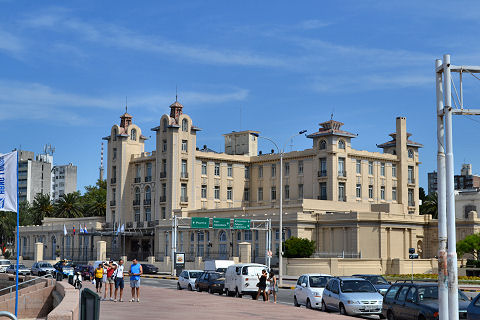 Just about where I started on the rambla is the Mercosur parliament building.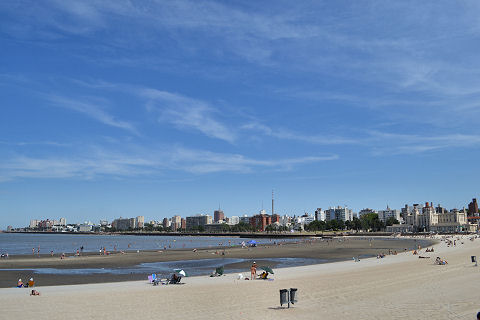 Looking back at the western part of the city across the beach – so at this point I've already walked a fair distance over something like two hours, and I have another two or so until I'm supposed to meet a friend for lunch in the eastern part of the city.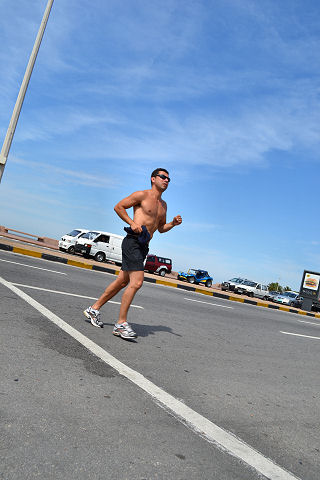 Welcome to the rambla.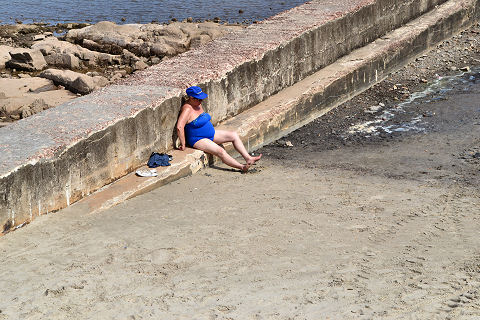 Really, welcome. Most of the shots of the beach that I have are just sort of random people doing whatever, and some dogs splashing about in the water. I continue on south along the shoreline, staying on the pathway, and once past the western beach…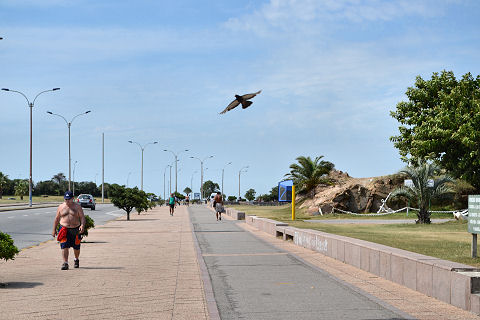 …the rambla moves a bit inland and the southern section as it rounds the point is more of a park area with a rocky shore. I move off the path and walk through the park right along the "cliff" edge.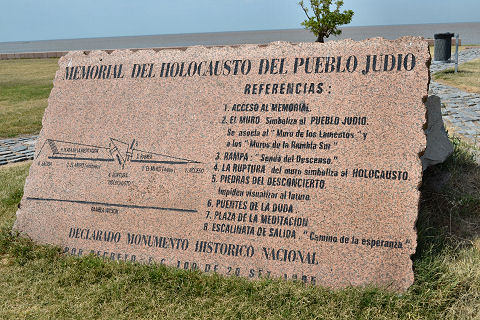 And, discover that there's a holocaust memorial. It's very abstract.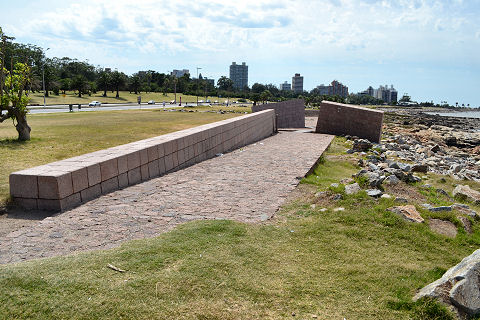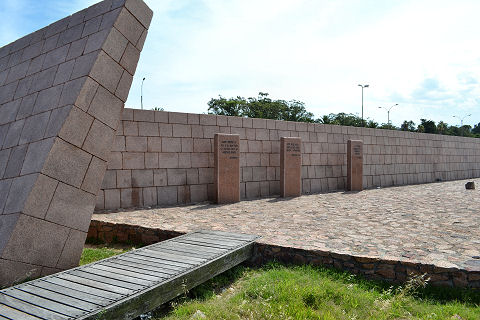 Very abstract, but I spend some time wandering about in it. It's well maintained, at the very least.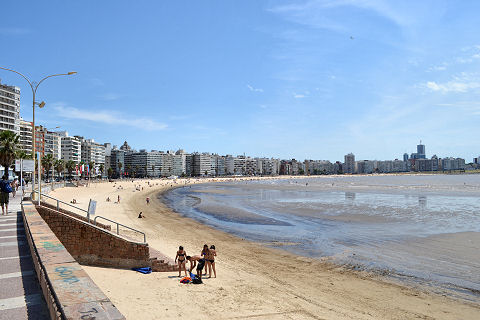 And when you come around onto the eastern side of the bulge, the entire character of the city has changed – gleaming midrise apartment buildings, beautiful sand beaches, lots of statues in the parks and on street corners. This is Punta Carretas, Pocitos, and on to the edge of Buceo, which is pretty much my destination. The further east, the more packed the beach, though by this point the temperature has edged up to around 40-42°C (105-110°F). I'm turning into a roasted lobster, and many people are starting to head for shade… or perhaps lunch.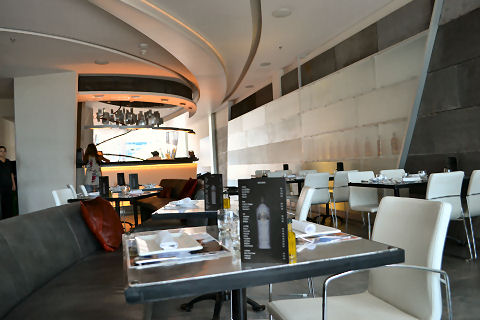 My destination is Gardenia, located in the base of one of the office and shopping buildings of the Montevideo Shopping Center. Why? You might ask. Because chef Coquel at Tandory the night before highly recommended it, and my friend who I hoped to meet up with said it was a favorite spot of hers. Unfortunately, she wasn't able to make it, so I lunched alone. Pretty much completely alone as no one else came in the place until I was almost leaving when a group of four guys from one of the offices upstairs and an older couple came in to eat. Owned by a young couple, one Brazilian and one Spanish, the food is an interesting fusion of Spanish tapas and Brazilian classic dishes, reworked for a modern style. And, apparently, this was their first day back from a several week vacation closure, and they were completely unprepared – my waitress basically told me "we don't have half the menu" (which is short to begin with) "because the chefs haven't gotten around to preparing things." Not auspicious, especially when some of those things turn out to be their line of specialty fresh-made juices, which according to the menu are made to order, but apparently aren't, as "no one has gotten around to making them yet". How hard is it to throw some fruit in the juicer and add ice?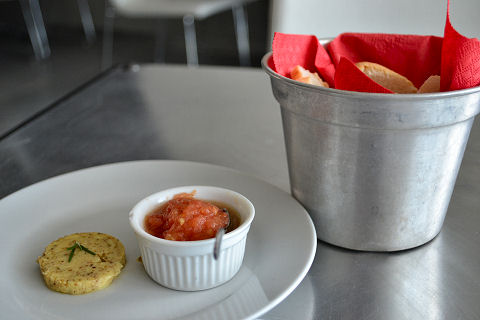 Even more inauspicious, when a bucket of sliced, ordinary white bread – the ubiquitous stuff that we have everywhere here – is brought to the table with a dish of chopped tomatoes and a pat of butter that's so soft it won't stay on the knife – I think it's flavored with cinnamon and rosemary.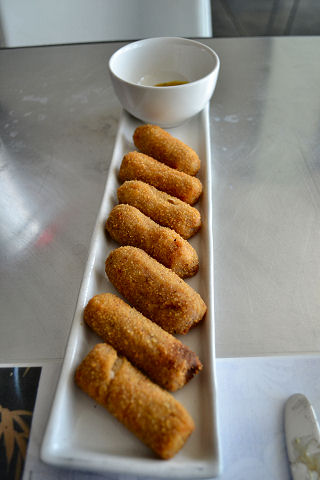 One of the few appetizers they've actually got available, lamb croquettes – actually quite good, although the sickly sweet mustard dipping sauce is, sickly sweet. They'd have been better with a sharp mustard. Still, they're really well made and quite tasty.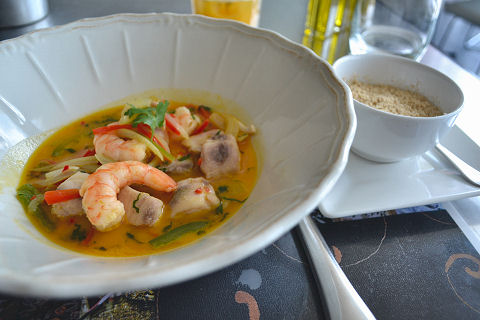 Only two seafood dishes are available, a fideua and a moqueca. I'm leaning towards the former but my waitress asserts that "it's all angel hair pasta with almost no seafood, the moqueca is a better, bigger, more satisfying dish." Who can turn that down. I'd hate to see the pasta bowl, because this moqueca, despite being absolutely spot-on delicious, could have fit in a coffee cup, despite the bowl it was served in. Three prawns, four 3/4″ cubes of fish, and maybe three thin strips of calamari – all cooked perfectly, in an excellent broth, and all finished in about two minutes. Nicely served with more toasted farina that's a nice touch – I think I'll add that to my moqueca too. Delicious food, but way too little of it for the price (I just realized I haven't been giving prices, I'm going to go back and add those to the last few posts) – lunch, consisting of the two dishes, one bottle of water and one glass of orange juice (the only juice they were willing to make, not even on their menu), ran 775 uruguayos, or $40. I was still hungry and almost went to Chivitos Marcos, my favorite chivito uruguayo stand in Montevideo, a branch of which was only half a block away, but figured that might be a little over the top. I should have gone. Instead, headed back to the apartment for a long cold shower for my now lobster red skin, and stayed in working for the afternoon…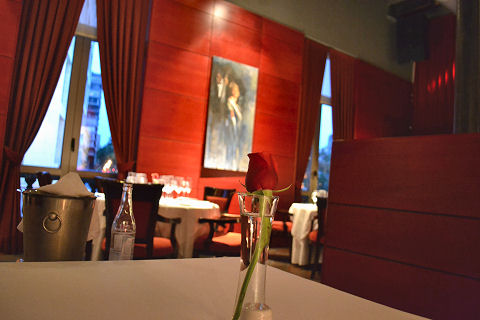 …until it was time for dinner. I'd run a couple of my planned places by chef Coquel and he'd shot down a couple of them as having gone downhill, or in two cases, because during the summer the chefs are away and the restaurants are pretty much running on empty. Plus, I was feeling a bit roasted and decided to keep it close to the apartment. Of the two spots on my list, one turned out to be closed, so it was off to the much touted "special occasion" spot of Rara Avis, in the Teatro Solis building. It's got a jazz club sort of theme to it, very elegant, tuxedo clad waiters, a maitre d' in a high class suit, and relatively hushed conversation (other than the young couple with their young daughter who screamed at the top of her lungs and ran around for the first twenty minutes I was there until they finally packed it up and left. Most people were casually dressed, but other than that couple (shorts and t-shirts), all were nicely dressed.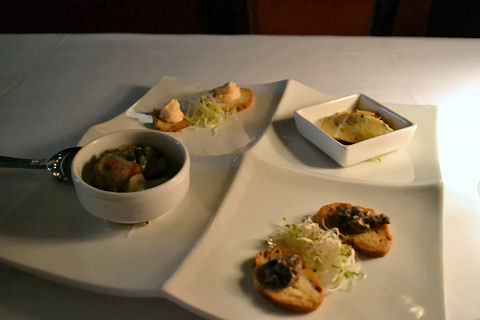 A team of waiters again, but professional about it all, and not annoying the way they were at Francis, my first evening in town. Truthfully, it was a very special experience, with some strange little missteps that marred it. The meal began with an amuse plate of pickled vegetables, pate, salmon mousse, tapenade. All tasty. Happy as a clam. Bread service, however – again, plain white bread sliced off a baguette-ish loaf, tasteless, and served with rock-hard, ice-cold butter. A place like this ought to have better bread service.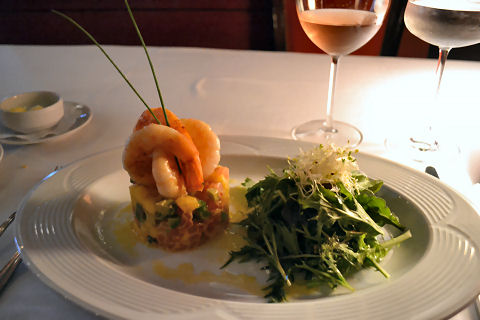 This time I was happy to chat with the sommelier. The winelist, first off, is outrageously expensive – I suppose not a surprise in this kind of place, but the list starts off with "sommelier's recommendations", that ranged from around 2000 uruguayos (just under $100) to 30000 ($1500). Even the rest of the list was marked up high – prices were about double what I'd seen on other restaurant lists. I picked out a trio of interesting sounding whites and roses, something different from the usual Uruguayan selections, and the sommelier's response, with no pretension, was that they were there as curiosities, but he'd inherited them from his predecessor and didn't really think they were all that good. He steered me to what turned out to be a fascinating and delicious wine from Bodega Marichal, a Pinot Noir Blanc de Noirs with a bit of Chardonnay blended in – kind of like a bubble-free champagne. Great choice!
The mango and prawn salad caught my eye with its "black tigger" prawns, tomato, mango, avocado, and a green salad with a passionfruit vinaigrette. Spectacular. I was still happy as a clam.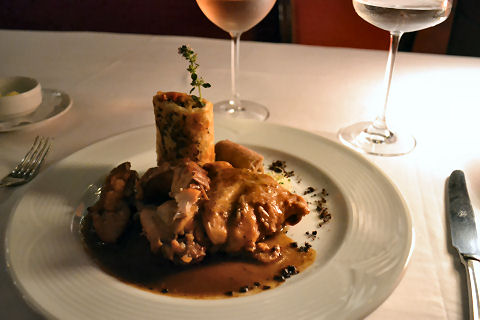 The three-way of rabbit arrived with mixed results. First, I love rabbit, but it's hard to cook it right. The trio of preparations included a confited hindquarter – perfect; a pamplona and moussaka – the tall tube of phyllo pastry there, filled with shredded rabbit meat, delicious, and on its side, at the very back, a little curled up bit of what I assume was pork belly wrapped around the rabbit kidneys and liver – I'm guessing the former was the moussaka and the latter the pamplona; and, the disappointment on the plate, the grilled tenderloins, which were so overcooked as to be dry and inedible. But I was broaching on full, so I just nibbled at them, and didn't finish them.
Two minor service missteps through here – I was asked after my first course if all was well, but not any time after that – or I would have said something about the rabbit tenderloin; and second, as you might note in the picture, the wine bucket and the water are on a little sideboard at the end of the table – too far away to comfortably just reach, and I repeatedly had to signal for someone to pour both water and wine, despite the fact that waiters, manager, and sommelier passed by the table regularly, and they'd look, but it didn't seem to register that glasses were empty unless I signed for them to do something about it.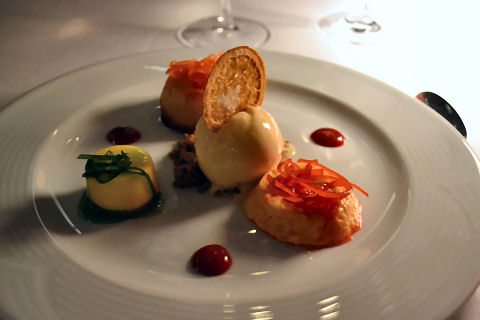 I love citrus desserts and decided since it was my last night out to go for it. They did have a sampler plate of desserts available on the menu, but the waiter couldn't guarantee that the pastry chef would put the trilogy of citrus preparations on it, so I went with just the latter, since I wasn't all that interested in all the chocolate and other desserts on the list. A lemon and olive oil cake, a cocoa sponge cake, an orange creme brulle, grapefruit ice cream with almonds, and a lemon parfait with mburucuyá ice cream – I assumed that they were talking about maracuyá, or passionfruit, but the waiter assured me not, however online searches and hey, wait, I wrote the freakin' dictionary on the subject, assures me that it is. Perhaps a different variety of passionfruit, but still, very recognizably, passionfruit.
Overall, a really elegant and delightful night out. Great food other than the rabbit tenderloin strips and the bread. Great wine. Mostly great service, though not as polished as one might be led to expect from a place that is of this supposed caliber. Expensive. 1900 uruguayos, or nearly $100. Then again, that's less than some places here in BA that I've had less satisfying meals at. And, all three dinners I'd have to take into account that I ordered full bottles of wine, despite not drinking much over half of each, had I been with someone to share the bottles it would have brought the price on all three meals down on a per person basis.
And that, for the moment, finishes off my Montevideo trip – the following day I only had the morning, it was on and off raining, the electricity had gone off in the evening and was still off in the morning, for the whole area I was staying in (though I was right at the edge, so literally across the street the cafe had power and I had internet access. And, falling prey to be generally helpful, it turned out that the electric company guys arrived while I was sitting in the cafe and the owner had already left for work, so I ended up letting them into the building to do the repair work on and off over a two hour period, and they did get it back on, but that kind of killed my morning. Was thinking of zipping over to the Mercado del Puerto again for another lunch, but was feeling a bit over-saturated with rich food and wine from the night before and decided a steak lunch wasn't in order. I grabbed a quick sandwich and something to drink, met up with the building owner who returned at lunch hour to collect the keys, and headed to the bus and back to Colonia, the ferry, and back home. And now, back to our regularly scheduled programming.