After my little pizza and beer indulgence it was back into the streets… well, first a stop back at the apartment to "freshen up" and take a quick catnap – figuring I wasn't coming back until after dinner.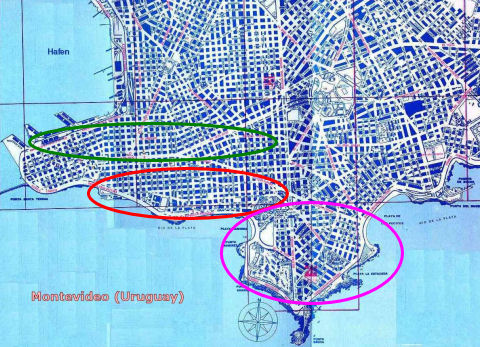 So, back into the streets and a walk through the areas of Barrio Sur and Palermo, circled in red, and finally extending a bit into the upper part of the pink circle…. I also had a list of restaurants in mind, but no idea if they were open on a Sunday night, or, as turned out to be the case at one of them, closed for the summer while the chef/owner moves lock, stock and barrel to Punta del Este for the season.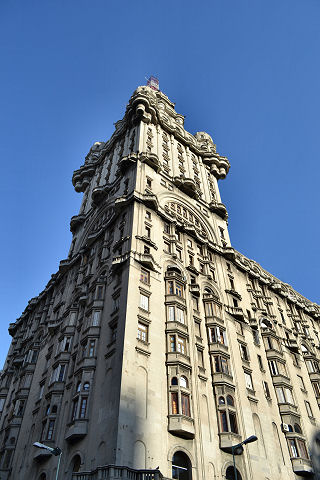 A different view of the Palacio Salvio as I head into Plaza Independencia….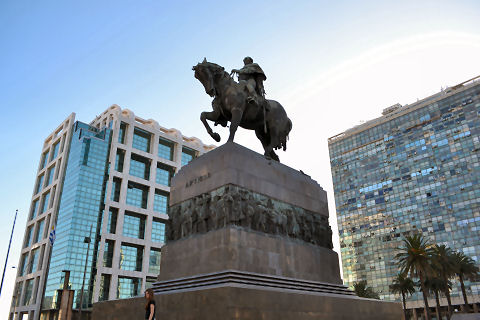 In the center of the plaza, a statue of José G. Artigas, Uruguay's most important national hero, who led the fight for independence against the federal powers in Buenos Aires and leading Uruguay to be an independent country.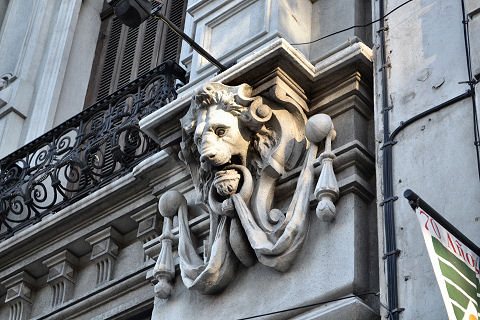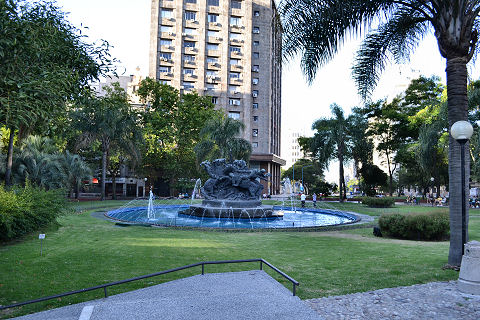 The pretty little Plaza Cangancha, or Plaza Libertad – here, from Wikipedia: "In 1829, four years after the declaration of Independence, it was decided to pull down the fortifications of the Ciudad Vieja and extend the city to form the "Ciudad Nueva". The plans for some additional 160 city blocks and included a new square, which in 1840 took on the name Plaza de Cagancha, after the homonymous battle of 1839, when General Rivera defeated the invading forces from Buenos Aires. In 1867 the Pillar of Peace (Columna de La Paz) was erected in its centre with a bronze statue on its top."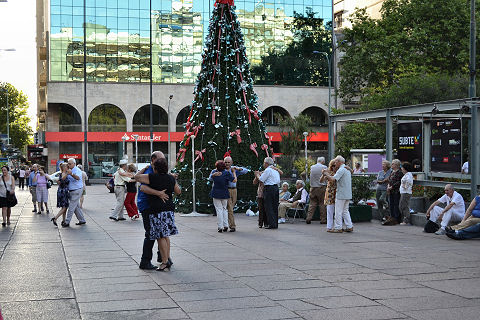 Lots of folk out dancing tango on the plaza all afternoon and evening.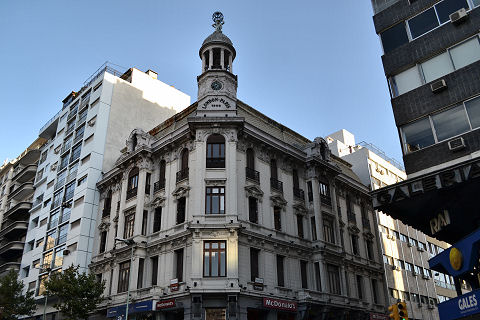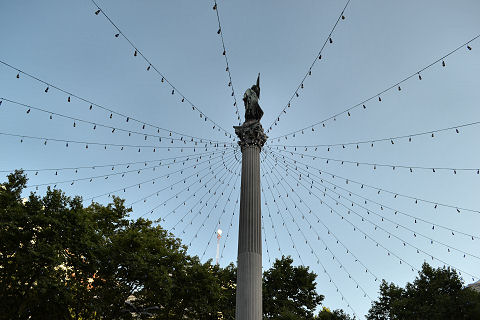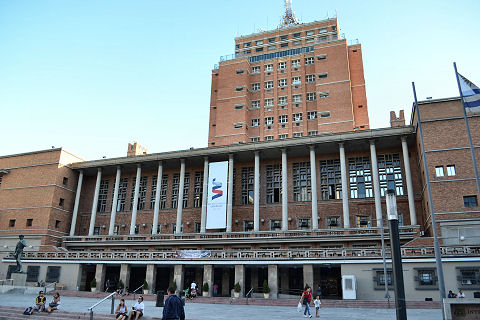 The "Intendencia" – more or less the administrative headquarters of the city.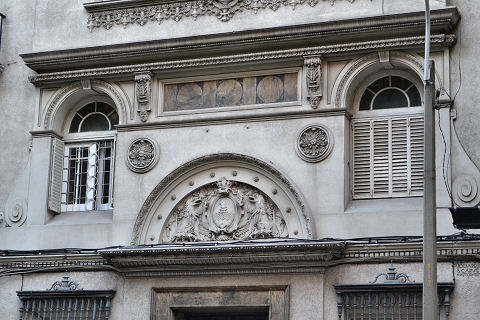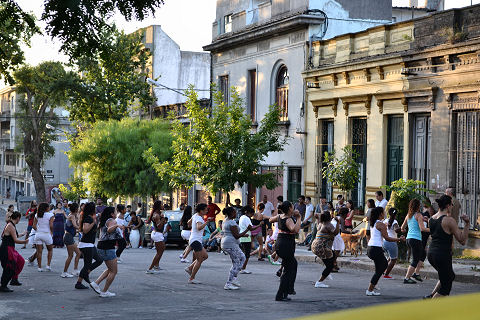 One of many groups out dancing Candombe, a popular form of dance and drum-based music throughout the region.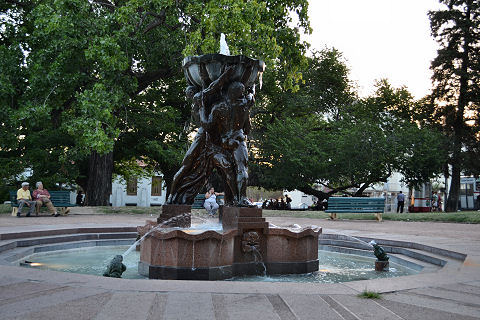 The statue of athletes at the Parque Rodó… along with various other diversions: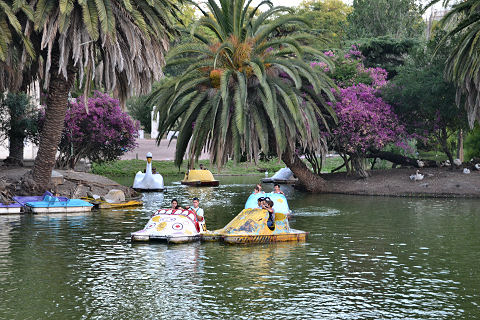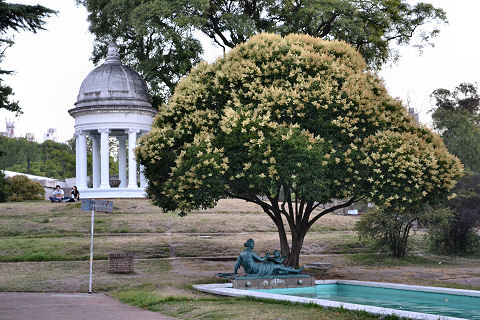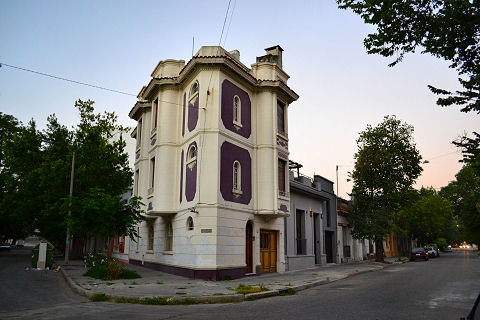 As twilight fell, I headed into the Punta Carretas neighborhood, now hoping to find that one, just one, of the restaurants that I'd been thinking about would be open. Alas, none of them were. After an hour or more of wandering from one address to the next, hungry and tired (I'd only had four hours of sleep the night before, and maybe half an hour on the bus enroute) I finally decided to take a recommendations off my map/guide to the city, and started checking those – thankfully, the second spot I tried for, Francis, was open.
I entered, hot and sweaty, and not dressed up at all, but then, most of the customers didn't seem to be. It's a pretty restaurant, informal, with a specialty in sushi. It gets high marks from most of the guidebooks and online fora. The host graciously offered either a table on the balcony (no one else was up there, so I wasn't keen on that), or a ten minute wait for one of the tables that was paying their bill downstairs. I opted for the latter, headed for the baños to freshen up again, and he had a big glass of ice water waiting for me when I came back. In the promised ten minutes I had a choice of tables, took one at the front, and sat. Then things started to get weird.
You see, this is a casual kind of place, it's not formal and stuffy, but, they have waitstaff teams. So there's a beverage waiter who takes your order for cocktails and water/sodas, and there's a regular waiter who takes food orders, and, there's a sommelier, who handles the wine, and a separate runner to deliver the food, and a different one to clear the tables between courses. And while I've dealt with that kind of service before, not only was I tired, but the attitude of the various minions was that they only handle their own tasks, no overlapping… "not my job". I hate that, even when I'm not tired and hungry.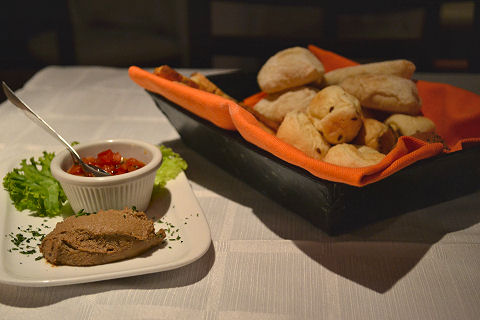 So, the hostess who'd seated me gave me a menu, but not a winelist. And the runner brought a lovely basket of bread with a bit of chopped liver and some tomato salsa. Okay, things are looking up a bit, I can put a little something in my stomach. The beverage waiter arrived and dutifully took my bottled water order but refused to take my food order. She walked away, brought back my water, I still had yet to meet my regular waiter. At some point someone, who later turned out to be the sommelier, dropped a wine list on the table. A good 15 minutes went by and my waiter arrived – I ordered an appetizer and some sashimi and sushi… and tried to order a bottle of wine, but she refused, saying I had to talk to the sommelier… come on, I don't need a consult, I know what I want to order. But no.
Another five minutes went by and the sommelier showed up, and at least the waiter had communicated what I wanted to him, because he started with, "I understand you're considering order a bottle of Verde Virgen Blanco de Aguja from Pisano, one of my favorite Uruguayan wineries. The wine is a white blend that even the winemaker doesn't know what it contains as it's a field of mixed white grapes planted by the current owners' grandparents. The wine is styled on the Vinho Verdes of Portugal – delicious, crisp, light, with a bit of a spritz to it, perfect with something like sushi. Back to sommelier and my response, "actually, I'd just like to order a bottle of it." "Would you like to consider…" "No, I really just want a bottle of what I ordered." Walks away, returns with bottle, shows it to me, wordless, pours, walks away, never returns to the table, leaving me to get the wine from the ice bucket and pour for myself the rest of the evening.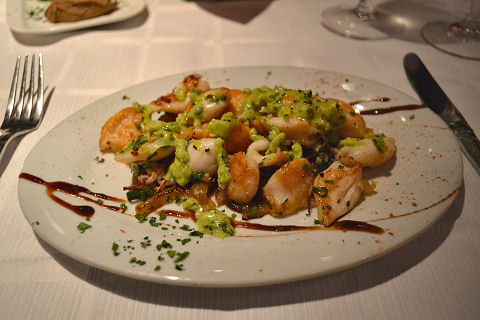 My appetizer, a half-order of grilled chipirones served over a bed of caramelized onions and topped with a green onion sauce, arrives. The chipirones, melting tender, nicely seasoned, the caramelized onions below were a nice accompaniment, the green onion sauce seemed to be nothing more than raw green onions that had been pureed – it was a bit overwhelming, so I avoided it as much as possible. I'm now not really happy at Francis, but I'm not about to try looking for something else.
I get really unhappy as time drags on – a good forty minutes after my appetizer is cleared and still no sashimi. I'd ordered a "surtido", or mixed selection of sashimi, plus two pieces of scallop nigiri sushi. My main waitress dropped by the table around half an hour into this wait to say it would be just a minute or two more… it was ten, though at least she herself brought my plate this time, a platter of mixed sushi rolls and nigiri sushi – all of the salmon with cream cheese variety that I hate. I told her it wasn't what I ordered, she replied that it was, "You ordered the combinado de sushi". "No, I ordered the surtido de sashimi." "We don't have anything like that on the menu." "Yes, you do – 18 pieces of mixed sashimi, a surtido." "Oh, that's the variado of sashimi, we don't call anything a surtido." "They mean the same thing, and you clearly know I ordered sashimi." "Yes, but I had to guess what it was you really wanted, so I picked combinado." "You could have asked." "You could have used the word on the menu." She walks away with the plate. Now, you all know me, normally, I'd have just gotten the manager and blasted what was going on, but I really, really, was tired and hungry.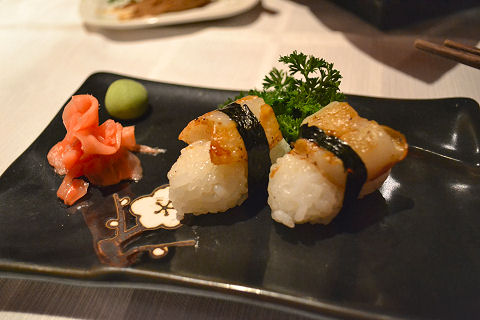 She did, at least, have the sushiman remove the two pieces of scallop sushi and put them on a separate plate to bring back to me while I waited for the sashimi. Rubbery, grilled to death scallops – I guess I would have liked to know they weren't raw, but, so be it. Another ten minutes passes…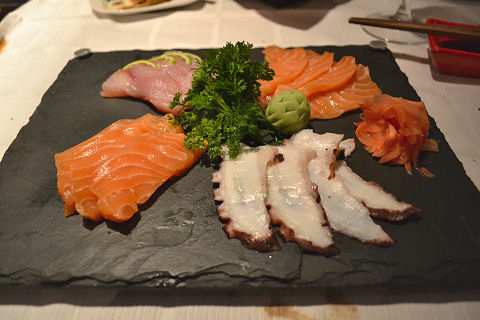 …and, behold, my 18 piece sashimi selection…. "Your variado, not surtido, sir." Bitch. Sorry. But really. There are only 16 pieces, and half of them are salmon, it was supposed to be a mix of salmon, octopus, prawns, and a variety of white fish. She'd already walked away. At that point, I just ate it – thankfully at least the fish was delicious and very fresh – asked for my check, left a mediocre tip, grabbed a cab (the host very kindly called one for me). Not once did anyone ask if things were alright, not once was anyone, other than the host and hostess, pleasant. Cost – 1365 uruguayos, $71, before the minimal tip. Not a place that goes on my list of recommendations.
And so ends my first half-day in Montevideo.