Sometimes when a recipe, or an object, is named after someone famous, the story is relatively well known. Other times, it's not. This is going to be a bit of an exploration of the origins of one of Argentina's iconic dishes, the revuelto gramajo, or "Gramajo's scramble". Not only does the legend of the dish have more than one, quite different, versions, but one of those versions brings into play a different persona entirely. Even the constituent ingredients of the plate differ, depending on the source. We'll see if I can come up with any conclusions.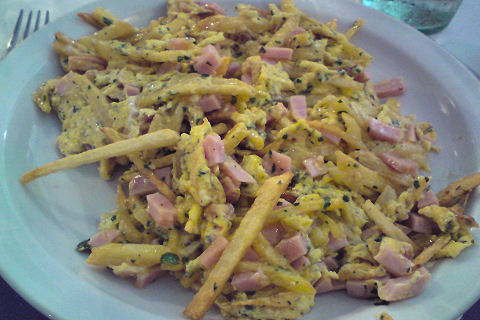 At its most basic, the dish is a plate of scrambled eggs with ham, onions, and fried potatoes (photo above from our neighborhood parrilla
Pichi Huasi
). But that's merely a reference point. Let's start with the legend(s). First off, there's Colonel Artemio Gramajo, adjutant to General Julio Roca during the late 1870s campaign to conquer the "desert", or the Pampas, or, at the risk of embroiling my self in a repeat of a once past argument on the subject, the extermination of the indigenous population of central Argentina. The colonel, a roly poly sort, was a bit of a gourmand, a bit of a dandy, and, apparently, a fairly accomplished cook. There are three versions of his part of the legend. The first, and seemingly most common, is that prior to heading out into the battlefield, he'd been accustomed to starting his days with a couple of fried eggs, a slab of ham, and some potato and onion hash browns – or at least that's more or less what it amounted to. Sounds like a typical North American diner breakfast. Preparing all of the items in a tent, in inclement weather, became a bit of a chore, but being unwilling to give up his beloved morning platter, he simply fried up the onions and potatoes in a skillet, threw in some chopped up ham, and scrambled in a couple of eggs. Not as pretty, but got the job done.
Version two of the story is quite similar, but asserts that the person who was accustomed to said breakfast was El General, and so it was for his breakfast that this field ration was created. And, version three involving Artemio has it that this all happened post-war in 1880, when he was ensconced at his "club", El Club del Progreso (still extant here in B.A., with a public restaurant), and regularly insisted on preparing his own breakfast, one day, a bit hungover or some such, deciding that the detail work of separate cooking of the components was just too much to take on, and, voila!
Now we move on to version four, which not only takes us to a different country, France, but a different Gramajo, Arturo, a bit of a socialite, perhaps a touch of a playboy, though married with children, and, for a time, the city superintendent of Buenos Aires.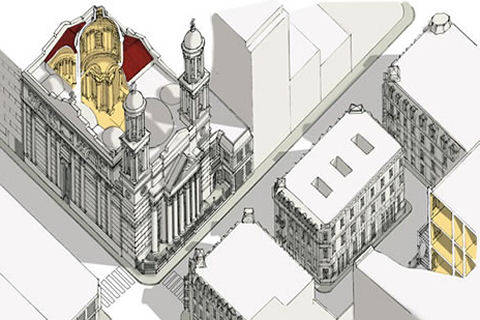 He even created a small u-shaped street just to satisfy the whims of his wife, and quite the spectacular mansion – I'll have to get over and get a photo for you all one of these days, it's not far from me, in the little
Pasaje de la Piedad
(link to where I lifted this sketch) right off of Bartolome Mitre – addressed at 1525-1573 on that street. The story is that he was in Paris, staying at the Hotel Ritz, and one day just insisted on preparing his own breakfast, basically throwing together a scramble of whatever looked good sitting on the prep counter.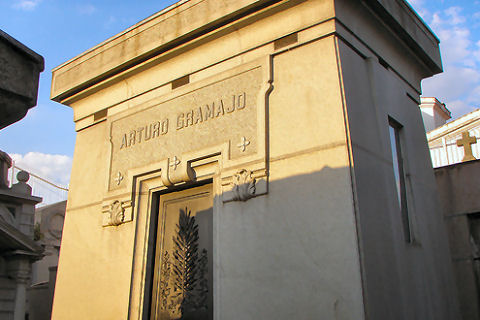 Here's my problem with that version. While it's not impossible that a young Arturo would have been cavorting about in Paris in the early 1880s, since he was born in 1860, he wasn't yet a particularly well known figure in Argentine society, other than via family connections. Given that the
revuelto
was becoming all the rage in the late 1880s and early 1890s, and has continued to be a staple of local cuisine since, it just seems unlikely that something that a 20-something kid threw together early one morning in a hotel after a night of carousing in Paris would become a dining hit back home within the next decade. Arturo didn't really come into his own and become a figure of note until the early 1900s, and then as the superintendent starting in 1915. I'm not going to say it couldn't be so, but to me it makes far more sense that the influence of, well, influential military leaders like Roca and our boy Artemio, would have more likely had that impact on their return from the campaign. So I'm going to leave Arturo in the Recoleta Cemetery, where he's been since the early 1900s.
As to which of the three Artemio stories is the most likely, I think we'll never know. And now, I'm going to subject you to more photos of scrambled eggs than you ever thought you'd have to view at one sitting. Just remember, I confronted each and every one of these plates, in service to mankind. These are not in the order I tried them (which stretched out over months), but more in telling the story.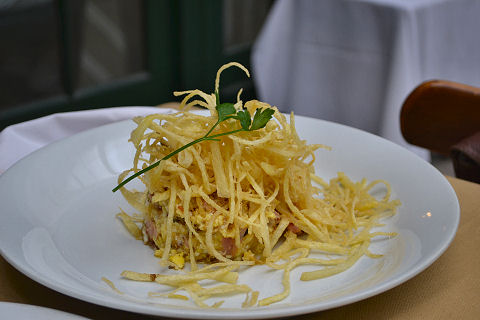 Being open minded about which legend is the true one, it only made sense to visit
El Club del Progreso
, Sarmiento 1334, the possible origin of the dish. Now, given the legendary description of something thrown together in the midst of a hangover, it is unlikely that any care was taken as to plating, but, the club likes to claim that their version, while modernized and plated prettily, is the true one. It's certainly one of the two nicest presentations of the dish I've encountered – the eggs verging towards a hard scramble with finely and beautifully diced ham and some herbs plated up in a ring mold to create about an 1½" high, 3″ across cylinder, and then topped with absolutely crackly, crispy long shoestring potatoes. While good, it wasn't my favorite, but I'd happily eat it again, though as a $32 appetizer portion, it's a little pricey – then again, it's a private club, despite the restaurant opening to the public during certain hours.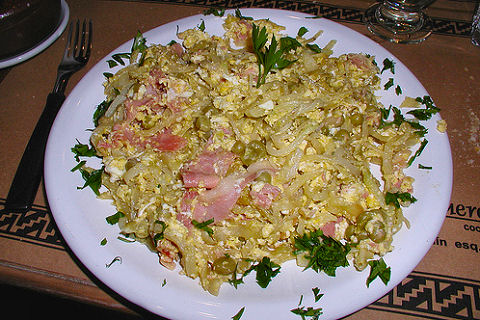 The very first time I tried this dish was here in the neighborhood, at a waitress' suggestion –
La Querencia
, at the corner of Junín and Juncal – serves up a version that is mostly onion and potato, very soft fried and limp, with a mere hint of egg – one would guess looking at the plate that there's maybe only one egg sort of scrambled about on the whole thing. Thinly sliced ham, canned peas, lots of parsley, and a bit of cheese finish the dish. When I first posted about this dish way back I got a lot of grief because of the peas and the cheese. Hey, I didn't cook it, I just ate it, but it seemed to raise the hackles of several locals who insisted that there's no place for peas, nor for the cheese. Yet, a local history website that subscribes to the Club del Progreso origin describes the dish:
"El mismo Gramajo y luego otros hicieron más elaborado el sencillo plato; ya a inicios del siglo XX un revuelto Gramajo típico era hecho con finas rodajas de papas (patatas), jamón (según el gusto, crudo o cocido), cebolla, ajos, arvejas y pechugas de pollo, así como un "adobo" de especias varias."

"The same Gramajo (Artemio, this is part of a long story) and later others elaborated on this simple plate; at the start of the 20th century the typical revuelto Gramajo was made with thin slices of potato, cooked or cured (serrano) ham, onion, garlic, peas, and chicken breast marinated in a mix of spices."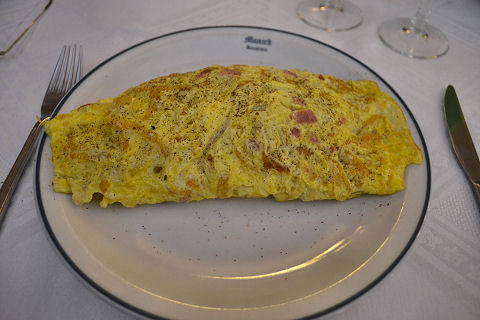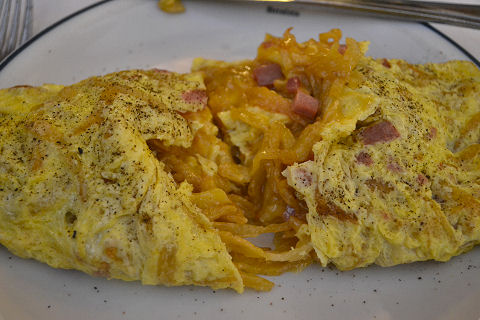 At this point it became a quest for "the best". And while I can't claim to have exhausted sources, nor locations, I did a simple Google search for "el mejor revuelto gramajo en buenos aires" – "the best revuelto gramajo in buenos aires" and latched on to the ones that got either real rave reviews, or a significant number of citations. Easily the most commonly mentioned one is the version at Munich Recoleta in Village Recoleta. This is the other particularly elegant presentation of the dish, much like a French omelette. The one thing I really like about the Munich version is that they offer it either baboso or cocido, literally, "slobbered" or "cooked" – the former (pictured) with the potatoes and inside of the omelette all soft and gooey, and using cooked ham, while the latter uses crisp shoestring potatoes, cooks the eggs to a fairly hard omelette, and uses cured ham, probably serrano style. The one negative, for an omelette, even in Recoleta, it's outrageously pricey at $55. [Closed]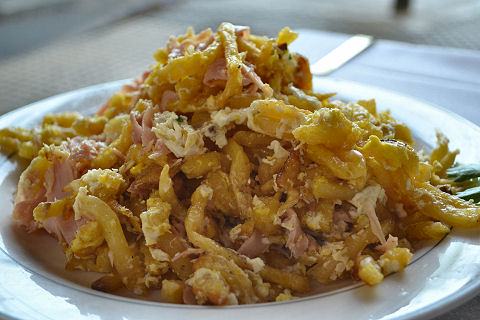 Another that got quite favorable reviews was the plate from
Liber
, Av. del Libertador 690, right by the Patio Bullrich shopping mall. The setting isn't ideal, it's a corner spot facing onto the avenue, choked with traffic, but the indoors is a nice, old style cafe, and some of the outdoor tables are on the side street, a bit more pleasant. Upfront, this is my favorite version of the revuelto that I've tried. It's more than generous – I brought home half of it to Henry, a mound of beautiful golden french fries, dark, caramelized onions, and thin shreds of both ham and chicken breast. It's also one of the few versions I tried that was well-seasoned, with not only a little salt, but also freshly ground black pepper, and, a pepper grinder brought to the table to add more to taste, without having to ask for it. ($39)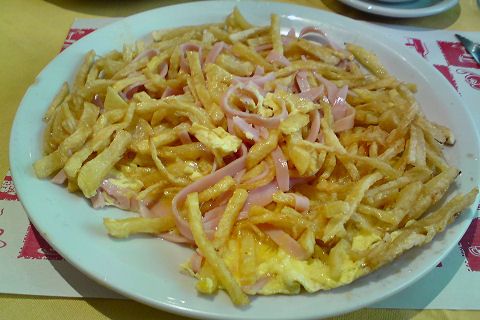 At
Las Delicias
, Av. Quintana 380, in the heart of the wealthy part of Recoleta, strangely, offers up not only my least favorite of all the ones I've tried, but the one that seemed, well, cheap. In execution it was a plate of plain, unseasoned scrambled eggs, over which was dumped a handful of barely cooked onions (just soft and translucent), a bigger handful of mediocre, soggy french fries, and cold lunchmeat slices of ham that had simply been cut in strips. It was overall pretty insipid and I was surprised that several people had recommended it.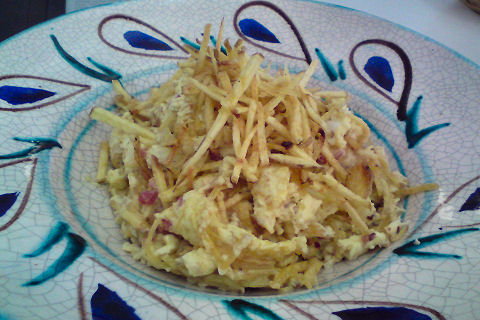 I don't know why, but I was expecting some little hole in the wall, neighborhood cafe kind of place when I saw the recommendations for
Lo de Coki
, Amenabar 93, behind the train tracks off of Dorrego, south of Cabildo. The neighborhood is mostly warehouses and rundown looking residences. Couple that with torrential rain the day I went and I was just not prepared… for one of the cutest little cafes I've been in Buenos Aires. It's light, airy, decorated in sort of farmhouse chic, the sort of place that evokes "California cuisine". And, the menu, a short list of creative sounding dishes, a commitment to quality ingredients – this place will come back as a full review one of these days soon after another visit. And, the
revuelto roberto
, which was described exactly as a gramajo would be, and apparently is just a conceit (although, there is a Roberto Gramajo, a famous Rosario Central soccer player from the 60s and 70s…). And a quite tasty version of the dish with the eggs scrambled with the ham and onions, and then topped with nice crispy shoestring potatoes. ($32)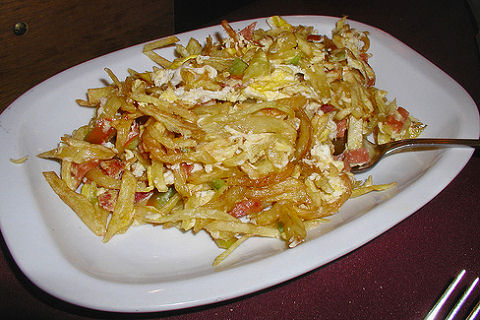 And finally, a version I tried awhile back, and not one that came with any particular recommendations, but just an interesting take on it from
Mama Jacinta
, formerly at Tucumán 2580, but now closed, in which, given that the restaurant is kosher, replaces the ham with thin shreds of pastrami. Might have actually been a great dish had the pastrami been real pastrami as opposed to just hard shreds of cured beef. Their version had peas in it too, though not many. Just sayin'.
Pricing, wildly variable, from a low of $28 at Pichi Huasi to $55 at Munich Recoleta. Unless anyone has a sound suggestion for a truly great version of this dish, I think it's off my diet for at least a few months- other than I'm working on my own version, modernized and tweaked.