"But what makes seasonal fruit so scrumptious is that it is part of a rhythm, a rhythm that allows you access to it only once a year. And, let's face it, it's the 11 months of not having fresh strawberries that make fresh strawberries so inviting."

– Bob Welch, Lazy days full of anticipation, June 25, 2002, The Register Guard
I didn't start out planning this weekend's menu with a theme in mind, but it sort of came together when I looked at what I'd wrought. Each dish featured a season fruit of one sort or another, used in an unusual way. So, that became the theme of the week. A bit of tweaking during the weekend as well as new ideas occurred to me.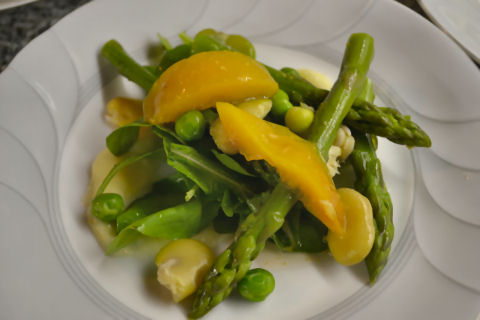 Asparagus / Fava Bean / Pea / Nectarine
Dante Rubino Extra Brut, N.V.
A fresh green salad of arugula, asparagus tips, fava beans and peas, served over preserved lemon oil, and stopped with a couple of pieces of nectarine mostarda and a light vinaigrette of the mostarda juices, olive oil, sea salt and black pepper.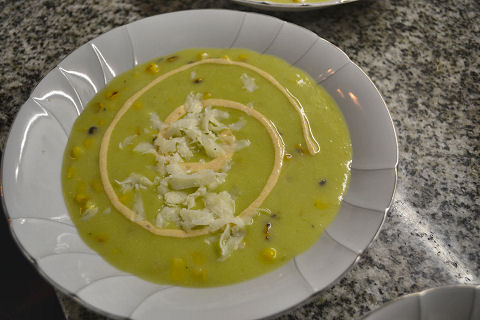 Avocado / Corn / Rocoto / Goats' Milk Feta
Lurton Vuelá Sauvignon Blanc 2011
People tend to forget that the avocado is a fruit, not a vegetable. A chilled soup sounded perfect for the hot weekend. Fresh corn, cut the kernels off the cobs and then use the latter to make a corn stock. Cool the liquid, strain it, puree avocados, white onion, garlic, a rocoto pepper, lime juice and salt to make a creamy, smooth soup. Take the corn kernels and dry saute them in a large frying pan until they're lightly browned in spots. Let cool, add to the soup, chill. Served with a drizzle of yogurt blended with our house chipotle-smoked cashew sauce, and a grating of goats' milk feta cheese over the top.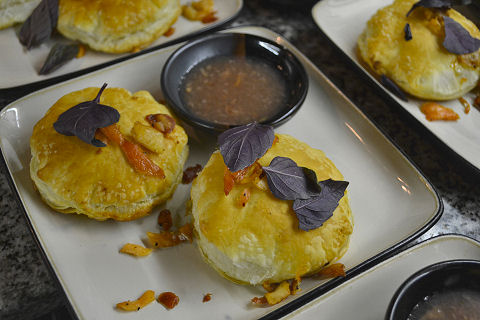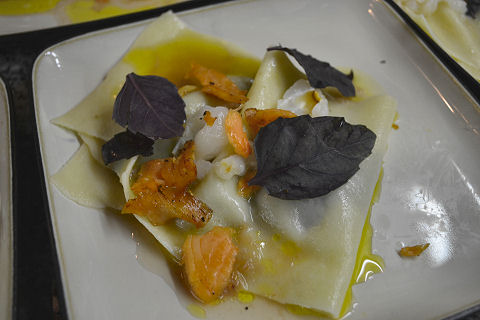 Eggplant / Litchi / Purple Basil / Smoked Salmon
Monteviejo Festivo Rosado, 2010
Here was the major tweak of the weekend. Started off with empanaditas, little empanadas, filled with charred eggplant puree with mint, basil, salt and pepper. Served it up with fried "chips" of smoked salmon, purple basil leaves, and a dipping sauce of a litchi vinegar (fresh litchis, sweet torrontés wine, red wine vinegar, basil stems – reduced to about half its original volume then seasoned with salt and pepper. While I liked the flavors, the dish seemed too clunky, too heavy – the empanadas had too much bread to the filling, and the whole presentation just didn't quite work – the chips of salmon sort of became something to eat separately. So I redrafted the whole idea overnight and made semolina pasta sheets – like long lasagna noodles without the wavy edges. Cooked the pasta, folded it over a big scoop of the eggplant puree, then took the litchi vinegar and lightly whisked it with olive oil and then spooned it over the top. Chips of smoked salmon, more fresh litchis sort of loosely torn up, and purple basil for garnish. Complete transformation and a winning dish.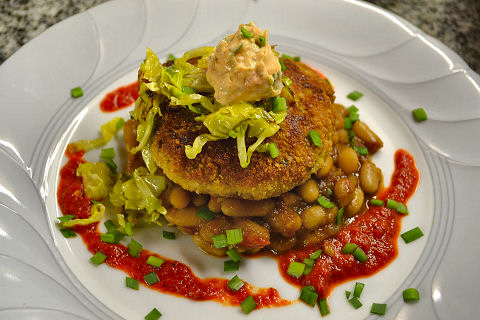 Crab / Squid / Scallop / White Bean
Barrandica Pinot Noir 2010
This was actually my starting point for the dinner when I was planning it out. I was in the mood for crabcakes, but something a little different. Starting from the house crabcake recipe from when I worked at The Sazerac House years ago, I made an equal part blend of minced crab, squid and scallops. Mixed with green onions, mayo, breadcrumbs, hot smoked mustard, homemade Old Bay spice mix (can't get the real stuff here), worcestershire sauce and yellow Peruvian pepper puree. Made into patties, rolled in breadcrumbs and fried to brown in a mix of oil and butter, then into the oven to cook through. Served over white beans cooked with tomatoes, pineapple (there's the fruit, finally), jalapeño, onion, ancho chili, cumin, garlic and salt. A charred red pepper puree surrounds, topped with sauteed brussels sprouts and a "cajun tartar sauce" – mayo, pickles, hot smoked mustard, onion, parsley, cayenne, salt and pepper. Some garlic chives for garnish.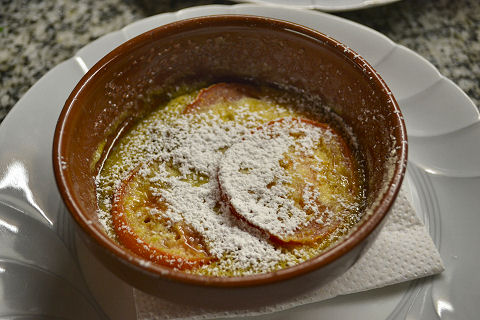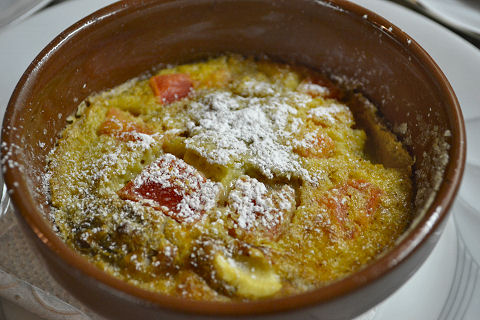 Tomato / Walnut / Egg / Vanilla
Etchart Cafayate Cosecha Tardío, 2009
A semi-classic clafoutis recipe from Raymond Blanc, but using tomatoes and walnuts in place of the stone fruits. First night with sliced tomatoes marinated in vanilla vodka, then the other two nights to make it look nicer and also easier to eat, peeled and seeded tomatoes cut in cubes. Also toasted walnuts. Other than that, followed his recipe exactly (well, three times the quantity to make a dozen individual sized ones).