"Behold Laos – a vivid world awash with monks in saffron robes, violet sunsets, & golden Buddhas."
A year ago, even six months ago, had it been Independence Day in Laos I'd have had out cookbooks and been delving into internet research to come up with traditional Lao recipes that I could prepare. And the food we served would have likely been good, but wouldn't have been mine, it would have just been following recipes. And for the locals who come, it would have been a nice change of pace, though for the visitors from afar it would have been (and often was), a sort of "we really didn't come to Buenos Aires for Lao food…". And, since those visitors, particularly at this time of year, have become such a big part of our business, plus, over the last few months I've been concentrating on perfecting my own repertoire and style, a Lao meal was not in the offing this last weekend, Independence Day or no.
Instead, I really did look for the subtle influences of flavor combinations and ingredients that I could simply use in my dishes – so this meal is far less Lao than it might have been, and at the same time, I think, far more enjoyable all around. And, we could still lift a glass in honor of the day.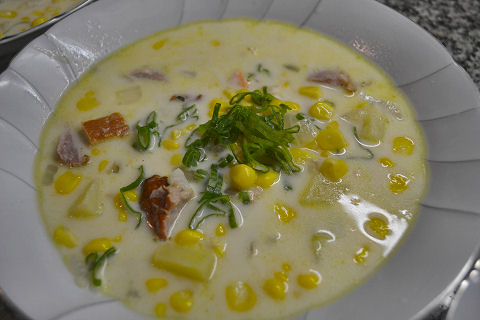 Corn / Crab / Chili / Green Onion
Nieto-Senetiner Nature, N.V.
A crab soup was a starting point, chockful of chilies and green onions. But rather than a simple crab and spice broth, I went with a chowder style soup – a base of diced, smoked and roasted pork loin, onions, red chilies, celery and fresh corn, slowly cooked in a little bit of butter. Then added corn stock made from the corncobs, plus a good hit of cream and some diced potatoes. Brought it to a simmer and cooked until the potatoes were cooked through. Added shredded crabmeat and lots of green onion right at the end to just cook the crab through.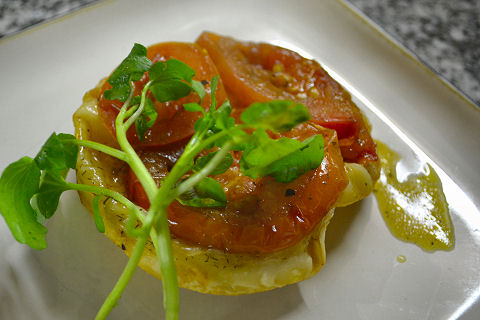 Tomato / Puff Pastry / Garlic / Fish Sauce
Lurton "Vuelá" Sauvignon Blanc 2011
I often get asked, "do you ever have disasters in the kitchen and what do you do?" Well, yes, and it's one of the reasons that I prepare everything during the afternoon so it's all ready to go, and I also prepare extra portions – ostensibly for us to eat, but also because if something were to happen – a dropped plate, a burnt piece of something, whatever it may be – I've got a backup. So the second course was not intended to be a tart at all, I was planning on making a crespéou, with each layer flavored with different Lao ingredients – dill and scallion, red chili and tomato, shallot and anchovy – but, for whatever reason, it just all fell apart – it didn't even come out relatively pretty like the original one at that link – something to practice a bit. Rather than start over and try again, with all the other courses still to prepare, I decided on a fallback of a tomato tarte tatin, flavored with lots of garlic, peperoncino and a good splash of fish sauce. And, it was a hit – I know regular readers are probably tired of seeing my vegetable tarte tatins, but hey, they're popular when we serve them, you know?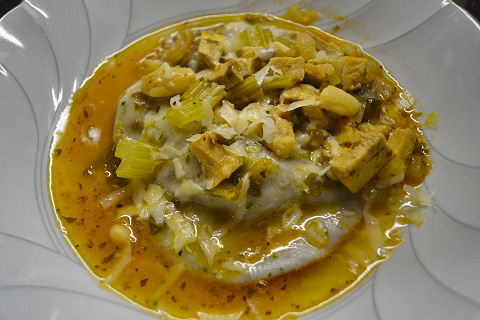 Mint / Cilantro / Basil / Roast Pork
Monteviejo "Festivo" Rosado, 2011
This was my favorite course, both to make and eat. But then, you know, I do like my pasta. A raviolón made with green tea-flecked semolina pasta, filled with a mix of homemade cream cheese pureed with lots of cilantro, mint and basil, sunflower seeds, garlic and a little romano cheese. The sauce, a roast pork sugo – the making of which will be a step-by-step either in tomorrow's or Friday's post. So good. More romano cheese over the top. So good.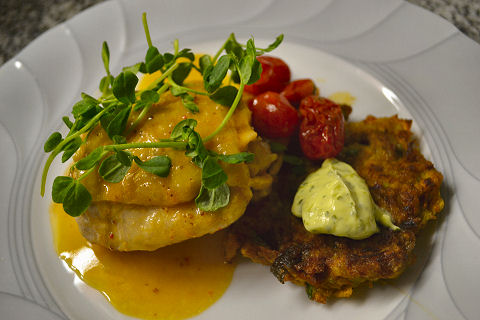 Chicken / Carrot / Watercress / Vinegar
Alfredo Roca Pinot Noir, 2009
Keeping in mind that Lao food, particularly modern Lao food, is heavily influenced by the French occupation, the independence from which we were celebrating, I had already been keeping a bit of French influence in their from the beginning. Here I brought back the poulet au vinagre that I detailed here but spiked it up with some crushed garlic cloves and ginger in the oil while sauteing the chicken. Accompanied by a carrot pancake spiced with a bit of garam masala, a flavor combination that I like a lot. Topped with the reduced pan juices, roasted tomatoes, and a spoonful of watercress mayonnaise.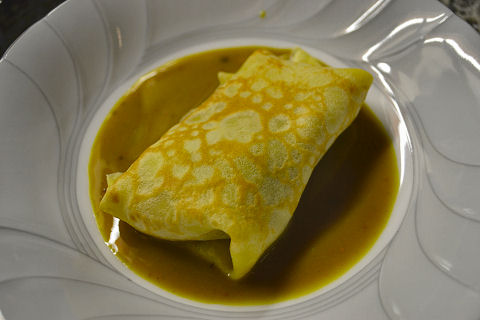 Banana / Mango / Five Spice / Milk Caramel
Putruele "Tardío de Abríl" Chardonnay, 2009
For several southeast Asian meals I've finished them off with a phyllo dough wrapped banana rolled in brown sugar and lime and served with a coconut and turmeric sauce. Improving on the idea, I think, I sliced the banana and also diced some mango for acidity, and sauteed them in butter, brown sugar and five spice powder, finished with a squirt of lime juice. Wrapped the filling up in freshly made crepes. The sauce remains the same – coconut milk, brown and white sugars, turmeric and salt. I sort of miss the crunchy texture of the phyllo wrap, but like the flavor profile of this better – and it's easier to eat. Maybe adding something crunchy to the dish as a topping – some toasted coconut or some sort of brittle…. To be played with.