I realized recently that at the end of each month there are always a bunch of photos sitting in a folder that I haven't gotten around to writing about because they're just things that caught my eye or, if they're restaurant/food related they just don't quite merit a review. So, perhaps this will be a new monthly feature to "use them up"….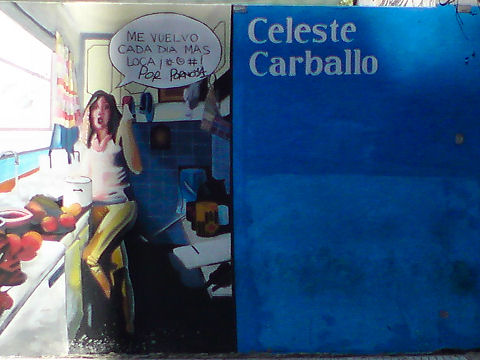 For those who don't read Spanish the drawing says, basically, "I make myself crazier every day." Ignoring the defacing scribble.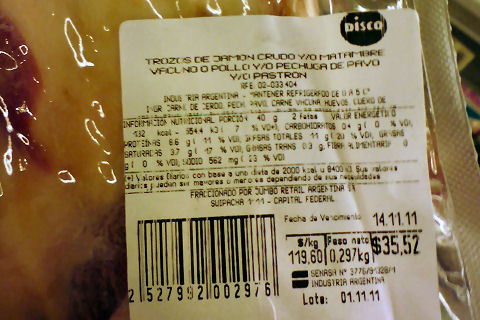 Bringing new meaning to the term "mystery meat", there was a whole display of these packages of varied meats and cuts at my local supermarket. The label reads: "Pieces of prosciutto and/or stuffed beef or chicken and/or turkey breast and/or pastrami". That, and they're charging 120 pesos/kilo, or nearly $13/pound.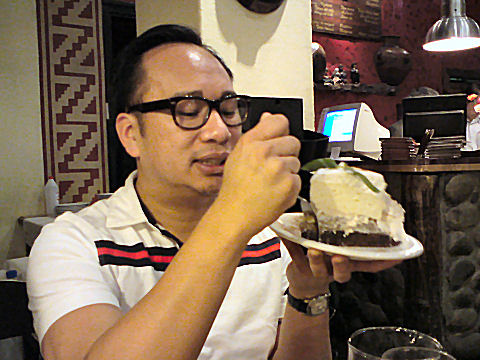 I mentioned earlier this month that my friend Huy was in town with a group of his friends. We hit La Querencia one night and he valiantly finished off the evening with this towering slab of Torta Querencia – cake, meringue, dulce de leche, whipped cream, chocolate, and more.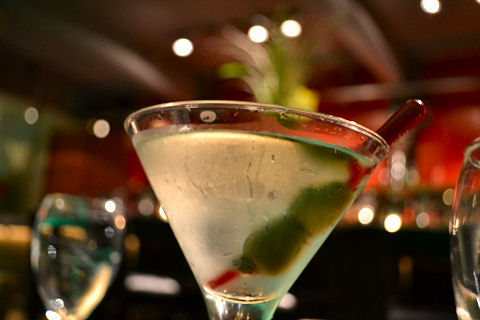 Let me just say I can't quite bring myself to review Club V in Palermo, but I will say that the charming and attentive bartender mixes a mean, and properly made, martini. And I had great company over dinner. I leave you to infer whatever you wish beyond that.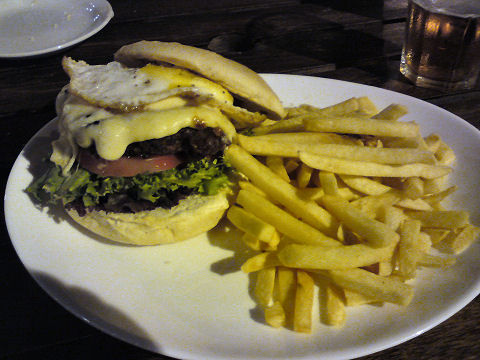 A burger with the works at Novecento in Las Cañitas. By candlelight outside when a few moments into dinner the power for the two block surrounding area went out. Good toppings, a bun that fell apart within seconds leaving me to use a fork and knife, and a burger that despite being ordered rare was so overcooked it was dry and crumbly, and soggy, greasy fries. Given how much I've liked brunches at Novecento on numerous visits, this was a big disappointment. Service was great.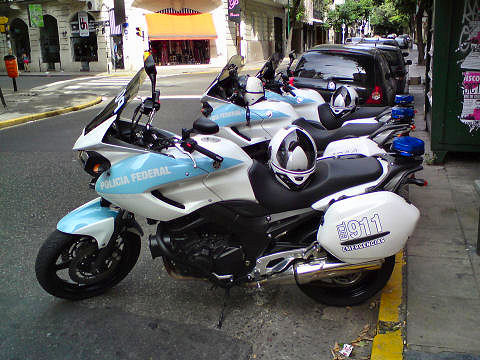 A line-up of federal police motorcycles while the associated officers were inside Los Maestros pizzeria across the street sharing a large pie and some beers. Yes, beers.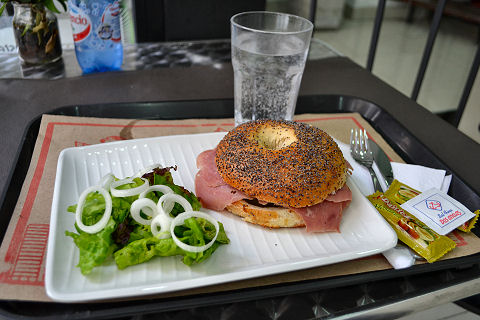 Continuing on my recent post checking out GlamOut's recommendations for pastrami sandwiches, I dropped in on Nsalad downtown. The menu offers the NY Bagel – with pastrami, mustard and pickles – a promising offering. Unfortunately, the bagel was nothing more than a soft bread roll with a hole poked through the middle, the pastrami was limp, insipid and cold pink strips of meat with absolutely no flavor – packaged lunchmeat from the '60s held out more promise – the pickles were a whopping two slices of dills with no crunch left, and the mustard was a sweet Savora mustard served in packets alongside the sandwich. The only thing that was worth eating on the plate was the lettuce leaf adorned with a few shreds of onion. For 27 pesos it would have been a decent price if it had been a decent plateful of food. [Closed.]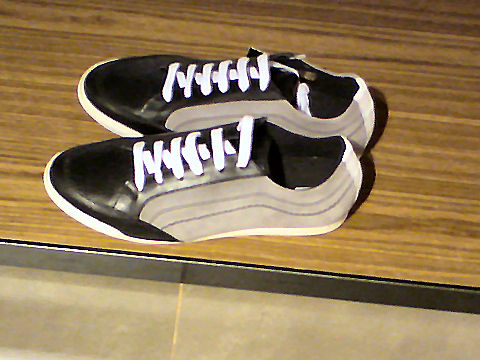 I liked these shoes when I saw them at Zara. Just the look. Generally I find the quality of the goods at the store a bit below par. And the shoes felt cheap when I picked them up. But, since they're likely a knockoff of someone else's design, I'll be keeping my eye out.