"Probably surprising to many westerners is the large of amount of ancient myth that surrounds these beautiful fish in the Orient and their elevated status there. Generally known here as the brightly colored fish that are common in public ponds and fountains, carp (koi is Japanese for carp) can be found in colors that include white, yellow, gold, a deep orange, and some are even calico-colored. Particularly beautiful specimens have been known to fetch prices in excess of half-a-million dollars from private collectors who specialize in their breeding and showing. However, the koi is more than just a colorful and collectible fish. It is also one of the most popular and beautiful of Japanese tattoo symbols – a beauty which belies its symbolic meaning. Although Chinese in origin, the carp is now widely celebrated in Japan, particularly for its manly qualities. It is said to climb waterfalls bravely, and, if caught, it lies upon the cutting board awaiting the knife without a quiver, not unlike a samurai (warrior) facing a sword. This theme dates back to ancient China, where a legend tells of how any koi that succeeded in climbing the falls at a point called Dragon Gate (on the Yellow River) would be transformed into a dragon. Based on that legend, it became a symbol of worldly aspiration and advancement. Eventually, the stoic fish came to be associated with so many masculine and positive qualities that it was appropriated for the annual Boys' Day Festival in Japan where even today colorful, streaming koi flags are traditionally displayed for each son in the family. In tattoo imagery, especially in combination with flowing water, it symbolizes much the same: courage, the ability to attain high goals, and overcoming life's difficulties."
There's a certain satisfying symmetry in that my new favorite sushi spot in Buenos Aires has the same name as my long-standing favorite sushi spot in New York City used to have (they had to change it due to some legal dispute and it's now called Kanoyama). I was all set not to like this place. First, the space used to be one of my favorite places to lunch here in Recoleta, Granda Bistro, which one day suddenly wasn't there, replaced by a trashed, empty space and a for rent sign. I even looked at it with the thought of opening a more "regular" little restaurant myself – but the day I was there someone else was looking at it and he apparently snapped it up before I'd even gotten back to my apartment as when I called the agent an hour or so later with a couple of questions she told me it was already rented. And then, another sushi bar began to take shape and all I could visualize was yet one more place with salmon, salmon and salmon, cheap cream cheese, and vague attempts at creativity. [Closed in mid-2014.]
Thank goodness, Koi Sushi Bar, Junín 1281, 4826-2317 is not one of those. I first popped in about two months ago and just had a quick bite and was impressed by both selection and quality. And since then, I've ordered delivery several times and very happily dined here at home. And then a few days ago talked Henry (who doesn't like sushi) into going, so finally, here's the long delayed review.
First off, it's a small spot – Granda had a whopping 24 seats or something and Koi has fewer, with the tables spaced further apart. Decor is austere, very classic Japanese sushi bar style, it's really quite nice all around. Service is immediately attentive and quite friendly, though I will say that on both visits, and on every single phoned in order, at least one mistake has been made either in what has been delivered to door or table, or in both cases of dining there, the waiter not remembering who at the table got what. Still, it's all worked out in the end.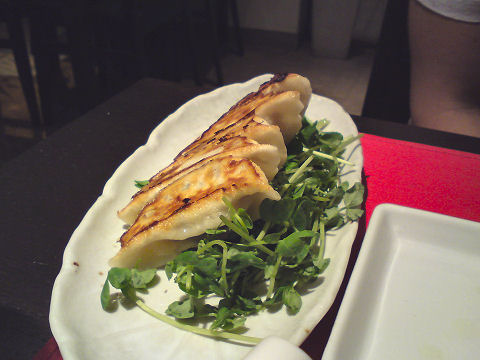 Really excellent gyoza, some of the best I've had here in Buenos Aires. The only negative… there aren't enough of them, especially for 30 pesos – then again, this is Recoleta and everything's getting pricier – yet, two blocks away, our favorite neighborhood Chinese place serves up their potstickers at 8 for only 24 pesos – half the price per dumpling and just as good.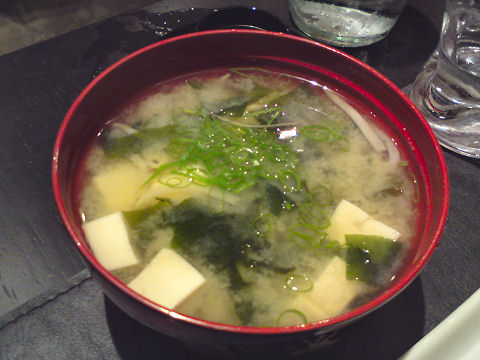 Delicious miso soup, chockful of greens and tofu. The flavor could be more intense for my tastes, but I'm a huge miso fan – Henry finds it to be just strong enough. (20 pesos)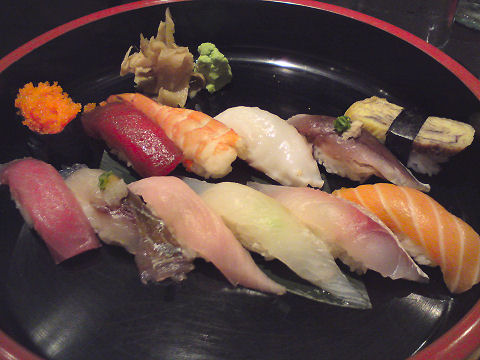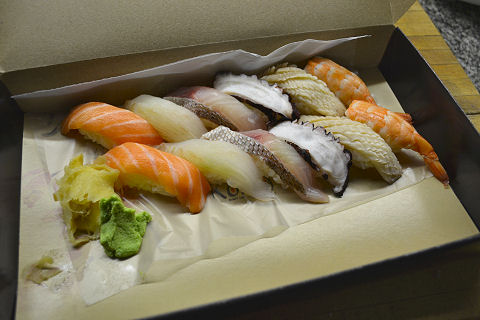 The nigiri moriawase, or selection of nigiri sushi is pretty much the best I've found in BA. Just looking at it it's not just salmon and maybe one white fish, but a selection of fish and shellfish of the day, plus a piece of tamago, the omelette, which I've rarely seen here. And the selection does vary with what's fresh. The second photo is a delivery order of the same, maybe 3-4 weeks apart in timing, and you can see there's quite a difference. (75 pesos)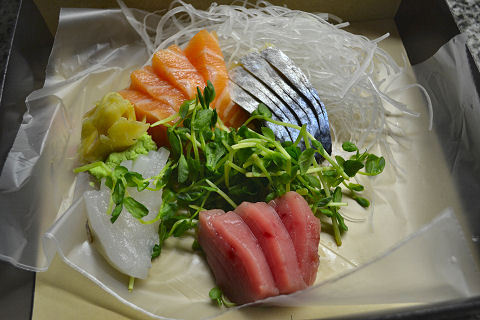 One of the mistakes I mentioned was on a delivery order when a sashimi moriawase showed up instead of the nigiri pieces. I called just to let them know, no request to do anything about it other than to acknowledge the mistake – fifteen minutes later the manager was at the door, rather than the delivery person, with apologies, a replacement nigiri box, keep the sashimi with their compliments, and, a couple of extra pieces to try…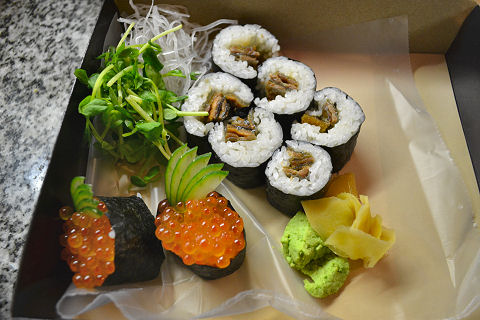 …a salmon skin roll and a couple of pieces of pristinely fresh ikura, salmon eggs. I have to admit I was completely shocked – I don't think that any restaurant here in BA that I've ever gotten delivery from has ever given anything extra, has delivered a replacement without it being a big issue, and without demanding the return of whatever item had been mis-delivered, and, all with the manager of the place handling it. Major brownie points and one hell of a sushi feast for me!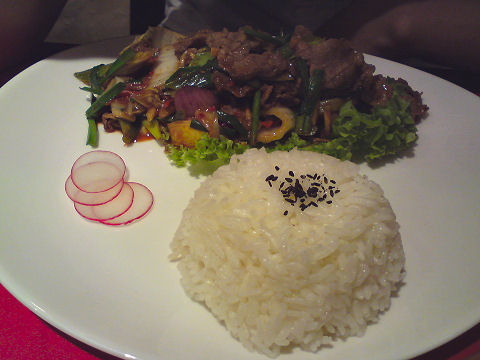 As I said, Henry's not a sushi fan – he's tried it numerous times but just can't get past the raw part. So, the gyoza above were his, and this buta kimchi, a sort of hybrid Japanese-Korean dish of thin strips of pork sauteed in a mildly spicy sauce and tossed with kimchi-style pickled vegetables. Really, really good, and spicy to boot! (52 pesos, extra bowl of rice – Henry likes his rice – 10 pesos)
I have to say, Koi has now topped my previous neighborhood favorite, both for dining in and ordering for delivery, Maki Sushi, and while it may not top a special evening out at somewhere like Yuki or Nihonbashi, even at its Recoleta prices (dinner for two ran us 233 pesos) it's around half the cost of going to one of them these days.