"If you would have walked through my dreams and memories who knows what treasures you might have found."

– Genen Gaines, poet, excerpt from You Might Have Loved Me
Apparently, all three Colombian restaurants that I had reviewed awhile back have closed (nothing to do with my reviews, I assure you, I didn't trash any of them) – the home cooking stylings of La Aromática, the hole in the wall ambiance of Antojito Colombiano and trendy, flash attempt at modern Colombian food at Gabo are no longer with us. There are a couple of new spots in town, and I thought it about time to start checking them out. It's what I do, no?
I've passed by Los Recuerdos, Uruguay 943, here in Recoleta, numerous times, and even stopped in once or twice for a quick coffee – good Colombian coffee, strong brewed, hard to beat. But, I hadn't had a meal, and so, I gathered the troops (three of us total, does that make a troop?) and headed there for lunch last week. The space is a long, narrow, cafe sort of setup, with a high counter running near the length of the room on one side – there's almost more space for the waitstaff to work behind the counter than there is for customers to sit in front of it. Tables are packed in, about as tightly as they can be, so you'll definitely be privy to your neighbors' conversations, should you care to be. A number of the customers on this visit (and in past stops for coffee) are Colombian, so there's certainly a cultural attraction, which boded well for the food.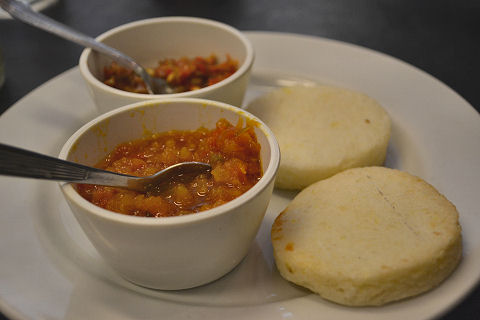 I got there first and was chatting on and off with the waitress about the food, and in particular interested in starting off with some classic arepas, the white corn biscuits of the cuisine. They offer a number of different toppings, and combinations, and also the bigger, sweet corn filled versions. She offered to bring a plate of the basic ones over when the first member of my cadre arrived. They're good, pretty straightforward – essentially they really are just a plain sort of biscuit used as a vehicle for the toppings – here, a dish of fresh hot sauce (mild for our tastes, but good), and one of hogao, a slow cooked mix of diced tomato, onion and garlic that is a staple of Colombian fare.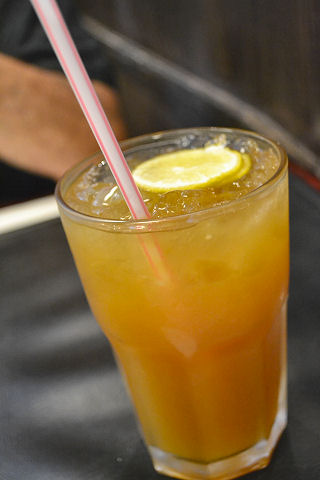 I noticed that most of the Colombian folk were drinking this brownish beverage, with great gusto, and there was a big tank of it up on the bar. She said it was limonada, lemonade, flavored with cinnamon and brown loaf sugar. It was delicious! Not overly sweet, which I appreciate in a lemonade – I like it still a bit tart, and most of the limonada here, usually at the Peruvian restaurants, is just too sugary for my tastes.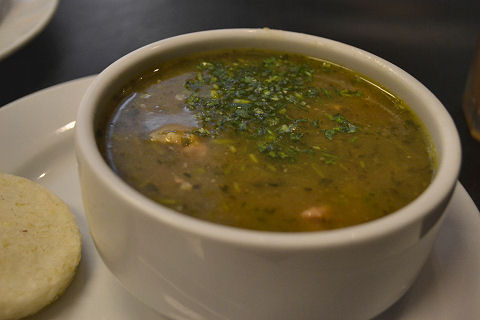 First off, you should know that many if not most of the really traditional dishes on the menu come with an arepa alongside, so before you order plates of them at the start, take a look to see if you're going to be inundated with them. Second, they have soup! A list of specialty daily soups, plus a separate soup of the day (which I'm not sure why it's different from the daily soups, but it is). Offered in both small bowl as here, and a large bowl that's apparently a meal in itself, as this was a hefty amount, this is steaming, tasty bowl of plantain soup in a chicken brown base, with shreds of chicken, some greens, plenty of plantain, and also potato. A bit of a starch bomb, but then, in my experience Colombian food tends to be starch heavy.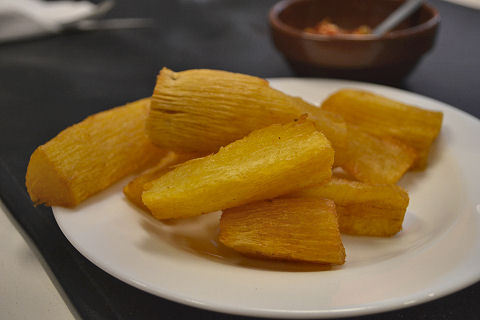 A plate of yuca frita, fried yuca root, to share. Mildly disappointing – first, way too oily – as a guess, first boiled and then deep fried in oil that wasn't hot enough, so they just soaked it up rather than getting really nice and crisp on the outside and staying tender inside. And, unseasoned. A bit of salt fixed that, but works better when added in the kitchen while they're still piping hot. I think I'd pass on this dish again.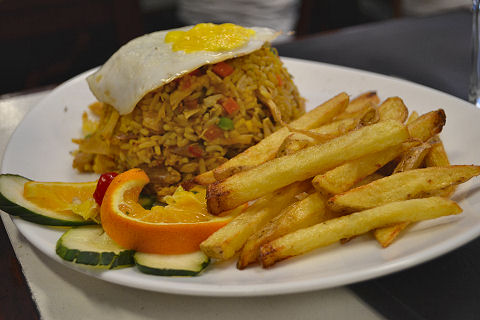 A classic, simple, arróz con pollo, rice with chicken. A bit Chinese fried rice in style, more so than I've seen this dish at other Colombian places, but very good – again, starchy – essentially a plate of rice and french fries with a bit of chicken and vegetables thrown in.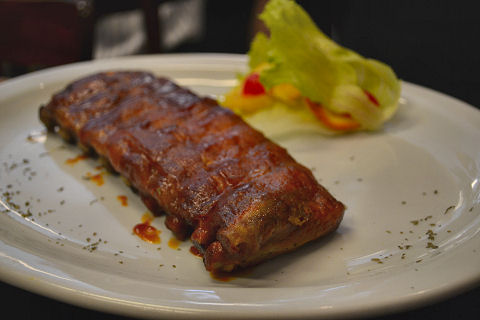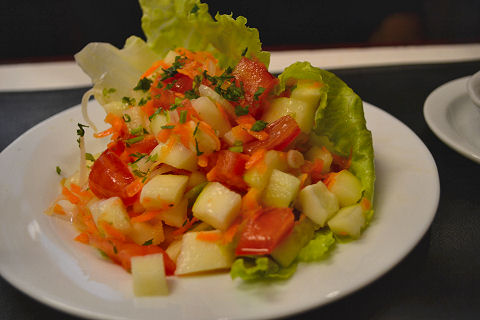 One of our party is on a relatively starch-less diet, so he wasn't going for the traditional dishes, all of which tended to be based around rice, beans, potatoes, yuca, plantains, and the like. They have a short "international" menu, which included a rack of baby back ribs. Clearly not their specialty. The ribs were probably oven cooked rather than grilled, and they weren't basted during the cooking process, just slathered with a sweet bbq sauce at the end, so they didn't really absorb the flavors. A completely uninteresting dish, but then, it's there as an afterthought for those not interested in the classic Colombian food, so I don't fault them all that much for it. He also didn't want the accompanying fries, so asked for a side salad – a nice change from the usual Argentine ensalada mixta of lettuce, tomato and onions, this was a really good mix of diced tomato, cucumber, and shredded carrot, all dressed in a citrus vinaigrette.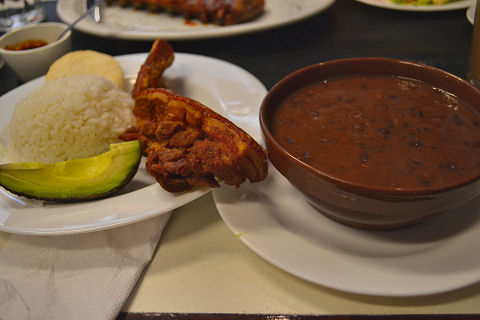 Much as part of me wanted to try the national dish of bandeja paisa, just to see their version, I saw a couple of them come out to neighboring tables and decided I couldn't face the platter, and it was a platter, of rice, beans, fried plantain, fried egg, chorizo, steak, chicharrón, and avocado. It was like the farmer's breakfasts I remember from local diners back in Michigan when I was growing up – a little of everything – I wonder how Argentines would face one of those with its pancake or waffle stack, 3 eggs any style, ham, bacon, and sausage, hash browns, and toast…. I decided instead to go for something that sounded a bit more manageable, though in the end I'm not 100% sure that it was that much less… yes it was… the cazuela de frijoles – a heaping bowl of black beans (could have used more spice, but the hogao and the hot sauce took care of that), a mound of rice, an avocado wedge, and whopping slab of chicharrón – deep fried pork belly. Couldn't eat all of the latter, but the rice and beans went down fine interspersed with bits of it.
Overall… very casual, cafe style ambiance, attentive and friendly service. Relatively inexpensive, though not cheap, although much of that depends on what you order – all of this food, plus a couple of bottles of water and a trio of coffees (and a $4/person cubierto charge) came in at 229 pesos. On the other hand, those bbq ribs were nearly 1/4 of that price, easily the most expensive item on the menu and about 20 pesos more than the other main courses, and, of course, we ordered some unneccesary extras like the yuca and the soup – the principales are more than enough for a meal. You could easily have a full lunch or dinner for under 60 pesos including tip if you order a traditional plate, something to drink and a coffee. The food, good, starchy, heavy, but, good. And something a bit different. Recommended. I may just go back and tackle a bandeja paisa one of these days.