"If I do live again I would like to be as a flower – no soul but perfectly beautiful. Perhaps for my sins I shall be made a red geranium!"

– Oscar Wilde, author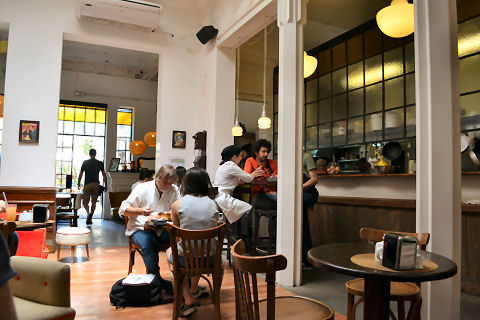 I've heard about this place a few times, mostly from folk recommending it as a brunch alternative. It's just been one of those spots that I hadn't gotten to. So, when GlamOut published a list of their hot-spots for hot-pastrami, it finally moved to the top of the list, and away we went to Villa Crespo and Malvón (geranium), Serrano 789, 4774-2563. The place has an air of a sort of Bay Area cafe from the 70s, a mix of charming, hippy-ish, and smart. It's quite attractive, with a casual dining room and a beautiful garden in the back. The waitstaff were smiling, seemed actually happy to see their customers, and quick about delivering menus, taking orders, and delivering food. I almost felt like I'd left Buenos Aires – a feeling helped along by most everyone in the room being either an expat or a tourist. It's a breakfast and lunch spot only, open from 9 am until 8 pm.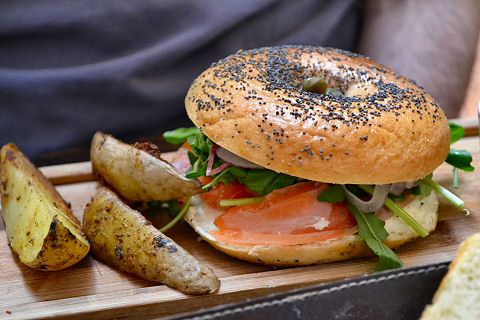 A couple of sandwiches immediately caught our eyes – the N.Y. Deli – homemade gravlax, cream cheese, capers, arugula, red onions and dill on a bagel, with "cajun potatoes" on the side. The bagel, good flavor but a completely soft crust like a standard bread roll, and the bottom a little doughy and flattened – like the bagels had been boiled too short a time and put down directly onto their baking sheet still damp. Tasty, but texturally a disappointment. Still, outside of that, the sandwich was the best of the type we've tried here in BA.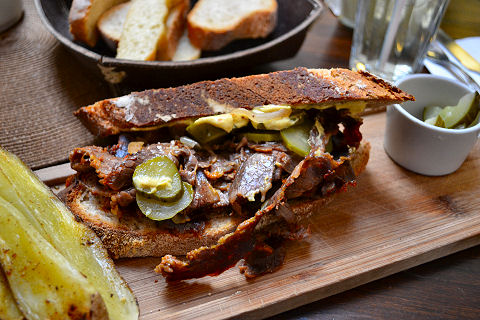 And, the Hot Pastrami – which actually says "warm" homemade pastrami in the description, on N.Y. deli rye, with more cajun potatoes and homemade pickles. The bread, again tasty, but no New York rye, the rye flavor faint, but at least present, and the bread a little too soft. The pastrami – really more of a really good brisket – that spicy pastrami edge just wasn't there. Really good bread and butter type pickles on the sandwich and dill pickles on the side, and a nice schmear of spicy brown mustard. A great sandwich, just not really pastrami – though, again, probably the closest and best I've found in BA.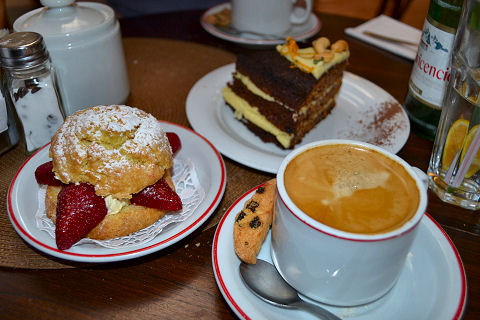 There's a really nice, homey display of desserts as you walk in the door, and a couple of them called out to us. Though full, we decided to at least sample them. The strawberry shortcake – more of a thick shortbread cookie – too dense and hard, to the point it had to be broken by picking it up, a spoon wouldn't cut through it, shortcake should be soft and crumbly, with just lightly sweetened whipped cream and fresh strawberries – telling that we ate the strawberries and cream and basically ignored the "cake". The carrot cake, just wayyyy too sweet, to the point that set our teeth on edge and masked the carrot flavor. On the other hand, the coffee was spectacular. Their regular blend coffee was good enough on its own, and there's an option for a special premium house blend for an upcharge of 3 pesos on any coffee order – worth the price twice over – easily the best cup of coffee we've had at any restaurant in this city.
Overall, great sandwiches and coffee. The desserts, for us anyway, a nice attempt, but just not quite right. Interestingly, given our mild disappointment in the two breads used on the sandwiches, the basket of fresh breads on the table were dead-on delicious, one of the best foccacias I've had in this city included. The brunch menu looks intriguing, if not overly brunchy – braised lamb, bbq ribs, bbq chicken, sweet and sour salad, tuna salad – though it does have a few things like a frittata, popovers and eggs Benedict that fit the bill – I was going to wait and go back and check it out before writing this up, but with as busy as we are at this season, brunch days look to be a long way off on my schedule. Just on the basis of ambiance, service and those sandwiches and coffee, I'd go back anytime. Recommended.