K-Pop fans make Justin Bieber fans today and Beatles fans of the 60s look like amateurs. You'd have to see a clip of something like Sydney's annual K-Pop Fest or Singapore's annual Asian Music Awards show (I'm sure there are Korean fests and shows, but they don't seem to get broadcast internationally) to get a real sense of just how insane they can get. With its strange mix of hip-hop and classic pop, English and Korean lyrics, high tech imagery and stylized and choreographed dance moves that would make a Bollywood producer envious, it's a unique musical art form. And, both the boys and the girls tend to be really cute. A couple of videos to get you in the mood for today's post and introduce the genre for those who've not experienced it….
Sorry, my blog, just the cute boys – check out videos of Girl Generation, 2NE1, After School or Big Bang for the premier girl groups (and there are plenty more boy bands). Korean BBQ fans are pretty much just as fanatical, and the opening of the first real one (outside of, perhaps, one hidden away somewhere in one of the two quasi-Korea towns here) in town has my fellow food bloggers running screaming for Belgrano, salivary glands at the ready. I wasn't far behind, though I've left my days of bbq-moshing in the past, still, when my friend Huy was in visiting from San Fran this last week or two and wanted to visit Chinatown, it was both of our first choices to head to for lunch.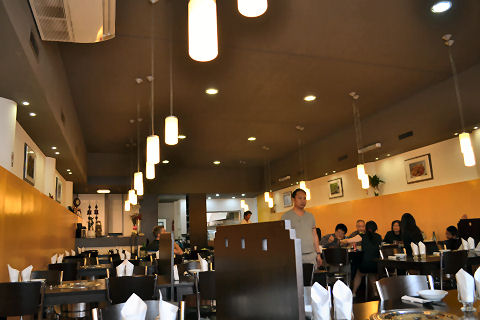 BBQ Town, Juramento 1656, 4783-2780 is smack in the middle of a block of cheap souvenir shops, taking over a space that I think used to be the only real dimsum spot (long closed) in Chinatown. Completely remodeled, it's sleek and shiny – as opposed to Shinee, like the first video above. It's also big, and with an interesting table setup – long tables for eight people, but with insertable dividers that can break those down to two adjoining tables for four – I like that you can split them, but I'm not sure I like the dividers, which feel like library carrels and a bit closed off from fellow diners. There's no menu. It's an "all you can eat" kind of setup, but no buffet – they just start bringing you stuff once you sit down and keep going until you stop – and you can ask for "refills" on any dishes that you like. (That's my friend Huy, by the way, walking back to the table.)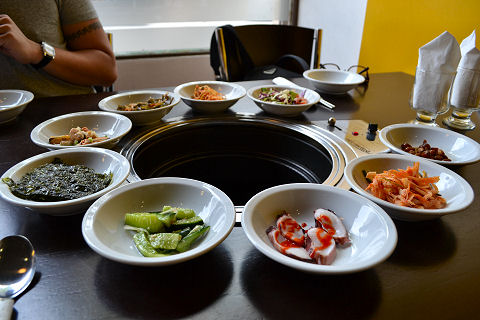 First up, the usual array of dishes of ban chan (see the discussion in the comments on this post) arrived first. A nice selection, our favorites were the just barely poached octopus with chili sauce (really mild though), and the chili tripe (also very mild). Disappointingly, not a spicy dish in the mix, and no kimchi. But then we saw a Korean family arrive and they got a much bigger array, including kimchi and other dishes. We flagged down our waiter and asked, and he sort of mumbled a bit (he's actually quite charming and speaks flawless English with a clipped British accent) about not thinking we'd want that stuff but then promised to get it for us. Despite asking again a bit later on, we never did get the spicy dishes.
More small dishes showed up, with decent dumplings, some really good grilled fish, tofu, and a few others. We continued to munch away happily.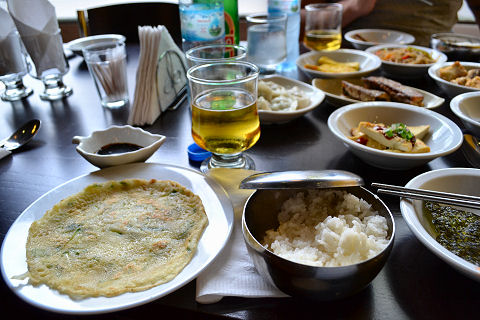 I should also note, we were happy to find something besides the ubiquitous selection of Quilmes and Stella Artois beers, with Tsing-tao on the menu (why not a good Korean beer? I know they have them in Koreatown, or at least used to, so they should be available). A single small pancake for wrapping things up arrived – a little surprising that we didn't get one apiece, but so be it. And, rice finally arrived on the table.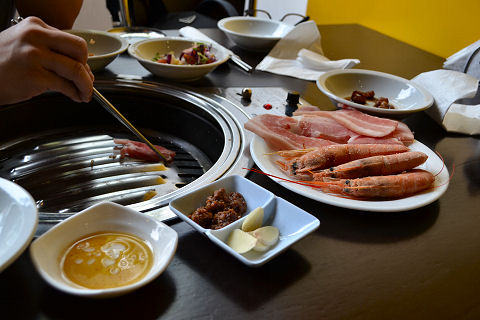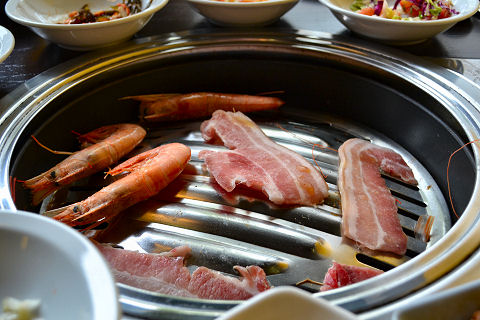 At about the same time the first of the items for grilling showed up. A bit earlier our waiter had brought a small basket of hot coals which he placed under the grill element and then turned on the gas, which I guess keeps the coals hot, but seems a strange mix to me – maybe it's always that way at Korean bbqs, I never noticed. Here we got frozen slices of pork belly and frozen shrimp. It's fine, by the way, that they're frozen, it's actually kind of common – you drop them straight onto the grill and cook them to your tastes. The pork belly was good. The shrimp were freezer burned and pretty tasteless.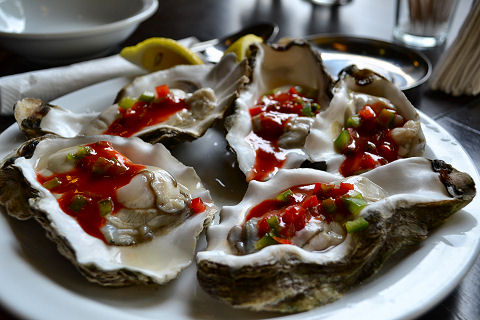 Really good, plump oysters drizzled with a slightly sweet chili sauce were brought to the table – I could have just sat there and eaten those. Delicious!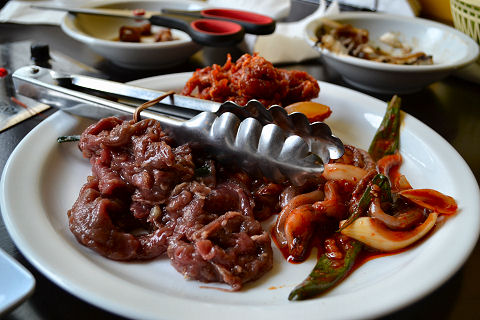 As we'd finished off the pork belly and shrimp, our next grilling selection arrived. Marinated shaved beef, differently marinated pork, and squid tentacles garnished the plate, and we tossed them all on to get them cooking. The octopus were the best, but all were good. A plate of lettuce leaves was on the side for wrapping, along with various dipping sauces. I think we'd have appreciated, at some point, a little info on what we were being served, but for the most part, service was wordless unless we asked questions.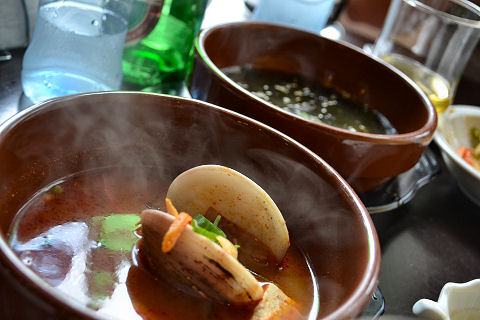 And finishing off the meal with two different soups, a really excellent seafood broth, and a good, but less spectacular, meat broth filled with greens.
Overall – the ambiance is "typical" – my experiences with Korean spots in New York anyway suggest a lot of crowded tables, too bright of lighting, and efficient but unenthusiastic service. A little more friendliness would have been welcome – though, Huy decided to go back that same evening, taking the rest of his friends who were traveling with him, along with some new Argentine friends, and the same waiter, recognizing him, was apparently much warmer and more welcoming. The food – something different for BA, which is a big plus, and most of it really quite good – a few missteps, the lack of real spiciness (and the waiter's not bringing the kimchi dishes after we asked, twice), the freezer-burned prawns were disappointments, but the rest of it more than made up for those. Very easy on the wallet – it's a flat 70 pesos a person, which while perhaps a bit higher than the typical tenedor libre here in BA was well worth it for the overall quality and the fact that it wasn't just a buffet of the usual suspects. I'd go back anytime, though I might stick a bottle of sriracha sauce in my shoulder bag…. Recommended.