There is a term in Zen Buddhism for the moment of awakening, generally after meditation, though sometimes in a flash after a precipitating experience, when one sees one's own true nature, one's self, and that term is kensh?. It seems an appropriate name for a restaurant that undertakes an alternative exploration of dining, and chef Máximo Cabrera's delving into the alchemy of vegetarian cuisine provides the perfect backdrop for Kensho, El Salvador 5783 in Palermo, 4778-0655, Aguirre 1620 in Chacarita. I first encountered his cooking at Bio, back in 2005, just shortly before he left and moved on to open up the first incarnation of Kensho as a closed door restaurant, a few months after we opened up Casa SaltShaker (though, I have been back to Bio and not been quite as enamored of it since he left, just thinking). He added in cooking classes, and then at some point decided to move to a more traditional storefront restaurant of the same name. Somehow or other I've not managed to make it there until this last week. My bad.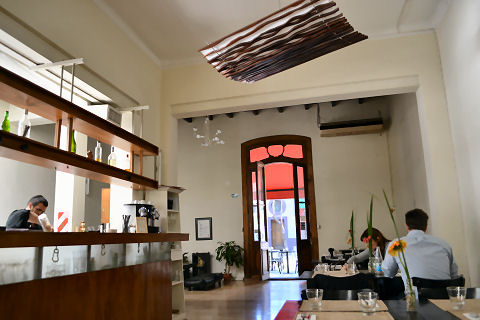 The space is very zen, austere with a softness. And there's a lot of space – a huge open kitchen dominates one side of the room, even that has enough space for the chef, a single cook (at lunchtime anyway) and a waiter to operate with room for another half dozen to spare. The rest of the room is populated with tables spaced far enough apart that you'd have to strain to hear a neighboring table's conversation, were you so inclined. The more typical restaurateur would have put two to three times the number of tables in a space this large, which is only emphasized by the high ceilings and minimalist decor.
Meeting up with an expat friend in from Chile for lunch, I arrived a bit early and sat down to soak in the ambiance and peruse. The menu is vegetarian, and divided into short sections of appetizers, pizzettas, bruschettas, sandwiches, wraps, salads, main courses, and desserts. I don't know whether the same menu is used at dinner time, though it could easily be. It has helpful symbols next to each dish indicating whether a dish contains gluten, and whether or not it is vegan. A minor note – every single item on the menu has the vegan symbol next to it, which may simply be happenstance of the current menu, but it seems an unnecessary clutter rather than just noting somewhere on the menu that everything fits a vegan diet.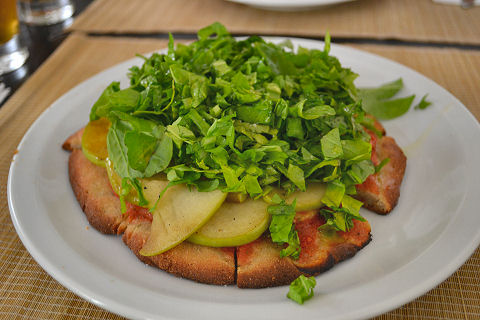 My friend was running a few minutes late, I was hungry, so I thought I'd get something ordered so that it would be on the table more or less when he arrived. The trio of pizzettas all sounded good, but especially that of pear, arugula, and cashew-cheese, so that one got underway. About ten minutes after ordering it, at about the moment my friend arrived, the waiter returned to say that they couldn't find any pears and did we mind if they made it with apples. While I'd have preferred the pears, we acquiesced, after all, (moment of snark) we wouldn't want someone to have to run the half a block to the closest
verdulería
for a pear or two. No matter, it was absolutely delicious with apple, in fact, I could go back in and just eat that pizza for lunch, any day. As you can see, it's absolutely heaped with toppings, and even had a zippy tomato sauce in the mix. By the way, sweet or unsweet iced tea available on the menu, we got a couple of glasses of the latter.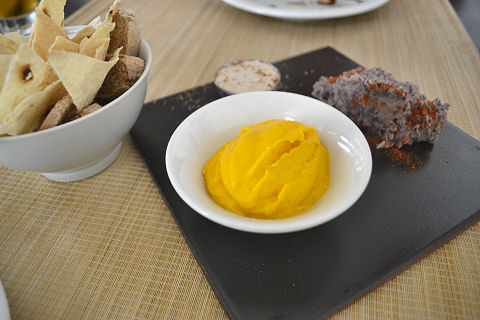 Okay, disappointment alert. Not because of quality or flavor, but, the waiter highly recommended plate,
trio de dips
, kind of made us feel like dips. Oh, the carrot "foam", the black bean "guacamole", and the "hummus" all sounded good. But what arrived was a smallish dish of a lightly whipped carrot puree, an ice cream scoop of mashed black beans (I'm not sure what made it "guacamole"), and a thimble sized cup-let of a runny puree of walnuts with rosewater didn't quite fit the advertised fare, and the side bowl of a few slices of brown bread (dried out), and some triangles of separated pita bread kind of all felt like something that should have just been put on the table as a complimentary bread basket – perhaps with just one of the dips. 35 pesos just felt like a rip-off.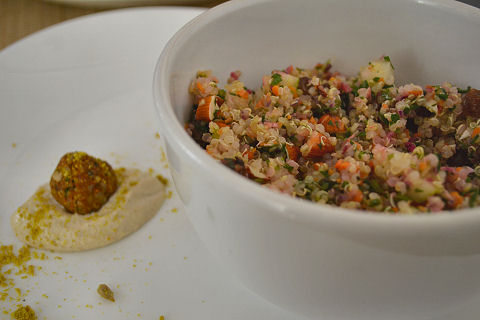 Thankfully, neither of our main courses did – and there was that pizzetta. A friend who has been a couple of times recently highly recommended the
Tabule Inca
, a quinua based tabouleh salad flavored with mint, walnuts and almonds, and chopped vegetables, and a nice lemony dressing. The single falafel in a smear of tahini seemed a little odd – not necessarily out of place concept-wise, but, why just one little falafel? Maybe three or four on the side, or perhaps even gracing the top of the tabouleh bowl. Overall, a delicious dish that I'd be happy to have again.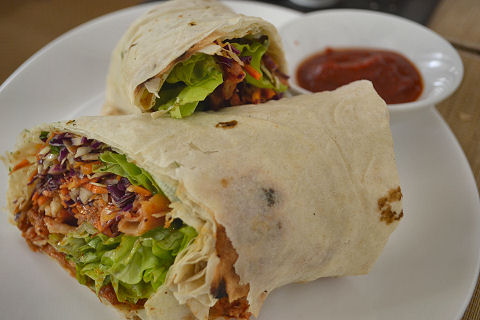 This was another case of not fitting the billing, but in this case one that worked out well. We decided on the
girgola gravlax
wrap – girgolas are oyster mushrooms. Gravlax, as regular readers know, is cured fish, salmon to be specific, but it's a method of curing in herbs and citrus buried under salt and sugar to draw out moisture. It's the Scandinavian version of lox. And those of you who've been with me awhile or are into the whole deli world know that there's a difference between lox and smoked salmon. Lox is cured. Smoked salmon is, well, smoked. So, raw oyster mushrooms brushed with liquid smoke, while they turn out to be tasty, weren't quite what we were expecting in the wrap – I had gustatory visions of an interesting cured mushroom (which I may just go ahead and play around with for the future myself). Overall, it was a good wrap, packed with salad and the mushrooms. I might have also preferred a different sauce from what seemed to be ketchup on the side (albeit a good one, likely homemade), but it was good as is. Still, I'd likely try something in its place on a future visit.
And, there will be future visits. After all, part of the concept of kensh? is that it is merely the start of a process of delving deeper, examination, and discovery. It is slightly pricey for vegetarian fare, what we had came in at 206 pesos before tip, but given the neighborhood and creativity, only slightly. Recommended.