"We'd put some zip to it, add some character, some identity."

– Roy Rogers, actor, singer, "King of the Cowboys"
I was tempted to add Roy to our pantheon of centenarians given that this last weekend would have been his 100th (he only made it to 86), but once I got past some sort of odd take on a roast beef sandwich there didn't seem to be much of anywhere to go. Or perhaps a do-over of last year's Guy Fawkes' Day celebration, but it wasn't one of my favorite dinners. In the end, I just simply started playing in the kitchen with some various flavors, with an eye towards increasing the overall spice level of our dishes… just a bit.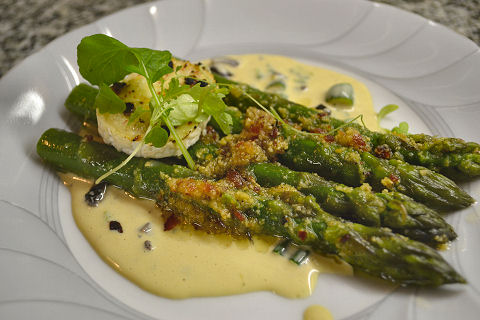 Asparagus / Egg Yolk / Goat Cheese / Bacon
Trapiche Extra Brut
I did keep circling back to the deviled eggs that I'd made for the Guy Fawkes dinner, I love deviled eggs. But I wanted to do something a bit different, and with asparagus beautifully ripe and in season, I knew there was going to be some in the dinner – eggs and asparagus work together well. I blanched and shocked the asparagus and then just before serving gave them a quick toss in some hot duck fat along with breadcrumbs and crumbled pancetta. The sauce was the deviled egg inspiration – all the flavors that would go into it – I used a sour cream base rather than mayo and whipped it with just slightly cooked egg yolk, green onions, black olives, lemon zest, mustard and red chilies. On top, a round of St. Maure goat cheese that I'd coated on one side with a mix of sugar, salt and crushed pink peppercorns and then torched to lightly caramelize the surface. And finally, it was time to harvest the "spicy greens mix" leaves from our garden – I'd picked up a packet of seeds on my last trip to NYC. My favorite dish of the evening.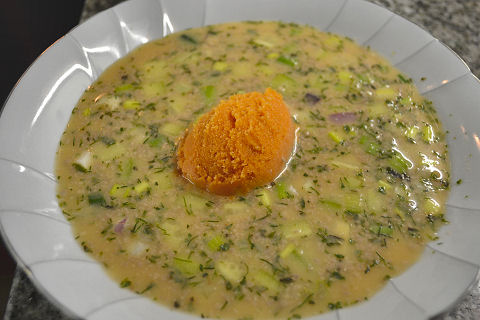 Yogurt / Herbs / Walnut / Piquillo Pepper
Carlos Pulenta "La Flor" Sauvignon Blanc 2010
It really is fresh herb season and every little market has a ton of different kinds. It was a perfect moment to bring back a favorite herb soup but with some new tweaks. The base soup is the same – a fairly intense brown chicken stock, though, after straining it I pureed the red bell peppers that had been simmered in the stock into it along with the toasted walnuts – both to add color and more flavor, and also to get the walnuts to be a finer texture. Cooled down, added yogurt, green onions, diced cucumber, and I took a little of the base stock and ran it through the blender again with the herbs (mint, dill, oregano, thyme) and garlic – chilled the whole thing down and adjusted the seasoning, along with a splash of rosewater. The scoop in the middle is to give some contrasting heat that worked really well – a piquillo and jalapeño sorbet – soy milk, mostly piquillo peppers with just a little jalapeño, splash of corn syrup, olive oil, salt and pepper – pureed and then frozen in the ice cream maker.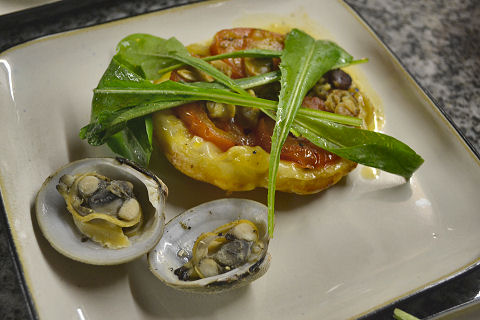 Clam / Hazelnut / Garlic / Tomato
Kaikén Malbec Rosé 2011
A long time ago I was playing around with a pappardelle recipe with clams and hazelnuts and herbs. Initially I thought I'd just go with that and bring it up to a new level, but, and I can't tell you why, as I was thinking about it I gradually moved to the idea of a tartlet of some sort, and in the end one of my savory tarte tatins. Caramelized slices of plum tomato in a base of butter, palm sugar, anchovy, salt, pepper, pepperoncino and szechuan peppercorns. Added cockles and put into the tatin dishes, topped with puff pastry, baked, flipped out, some leaves of radichetta lightly dressed with olive oil, salt and pepper scattered on the plate, and, a couple of clams on the side that were quickly poached in olive oil and water and then a grind of sea salt over them.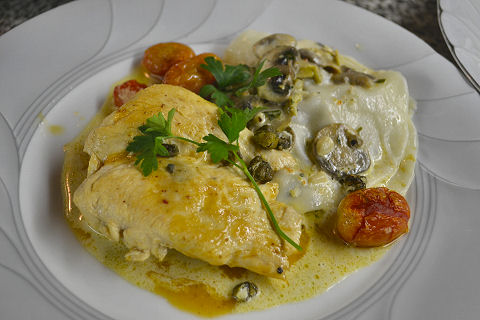 Chicken / Vinegar / Green Olive / Mushroom
Nieto-Senetiner "Don Nicanor" Blend (Cabernet Sauvignon – Malbec – Merlot) 2009
Once having decided on chicken as the main course – somewhere along the line having dropped the Roy Rogers' roast beef sandwich influence – I jumped back to our recent hit of the poulet au vinagre, though with butterflied and flattened chicken breast this time. Served up with a side of semolina pasta rounds interleaved with a garlic, green olive and mushroom cream sauce with just a touch of dried chilies (based on a favorite Umbrian recipe). Hmmm, actually maybe the pasta was my favorite part of the evening – all I know is that for three nights in a row my dinner was a plate of the asparagus and one of the pasta.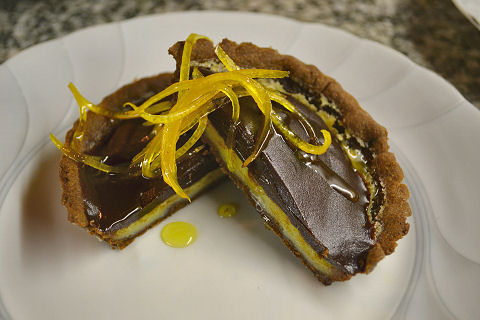 Dark Chocolate / Lemon / Egg / Cocoa
Uxmal "Bravio" 2000
And, finished off with my chocolate lemon tart, done as small tartlets this time. A cocoa based crust topped with a lemon filling, then after cooled, a dark chocolate ganache, and finally candied lemon zest.
Sorry Roy, it just wasn't your weekend here. On to more dinners and a slew of new restaurant reviews, plus another walking tour – I'm getting backlogged (always happens at this time of year – lots of work).