"The old days were slower. People buttered their bread without guilt and sat down to dinner en famille."

– Laurie Colwin, author
It's rare that Henry and I will take on an outside catering job. We're just not setup to transport anything in quantity. We've also found that people almost always think that their kitchens are better equipped than they really are. We once showed up to a house where the tenants claimed to have a huge, professionally equipped, fully stocked kitchen only to find a cubbyhole like a NYC studio kitchenette with a barely gasping along two-burner range, an oven that you could almost fit a muffin tin in, one frying pan, one saucepan, and one baking dish, virtually no utensils, and no countertop except the sideboard to the separate hand-sink – we were supposed to be cooking Thanksgiving dinner for 20. So, I'm always wary and usually insist on visiting the kitchen first, and second, limiting the number of people we'll cook for.
A group of four who wanted dinner in their rented vacation apartment in San Telmo fit the size requirement, and thankfully, the owner of the apartment responded with an inventory of what was available in the kitchen, plus a link to see the place (gorgeous, by the way, and apparently a great rate, so something for visitors to consider). So, preparation at home and then showed up an hour before dinner with everything needed, via taxi, to start putting the finishing touches on the dinner. Very nicely, our guests (or were we theirs?) had preset the table and started in on their pre-dinner cocktails, so it made for a smooth sailing start.
These are all dishes we've made before, so it's more just seeing the visuals of plating things on different plates and playing around with some tweaks.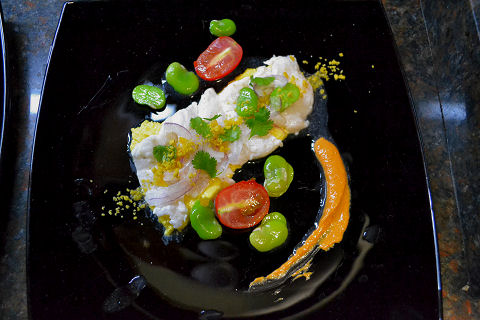 A lenguado, or sole, tiradito, a type of ceviche. The fish served over a corn puree and topped with a scattering of fava beans, red onion, cilantro, rocoto peppers, cherry tomatoes and crushed tortilla crumbs. A little swish of smoked cashew chipotle sauce for extra heat. I hate black plates, they show off imperfections like scratches and smudges way too much, and tend to be very reflective too.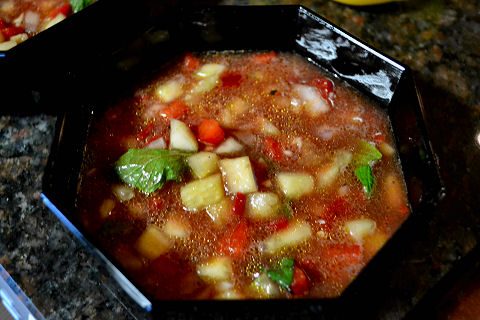 Classic gazpacho with watermelon filling in for tomato. Other than that all the usual suspects – cucumber, red onion, bell pepper, celery, garlic, vinegar, spices, and some mint for a nice finish.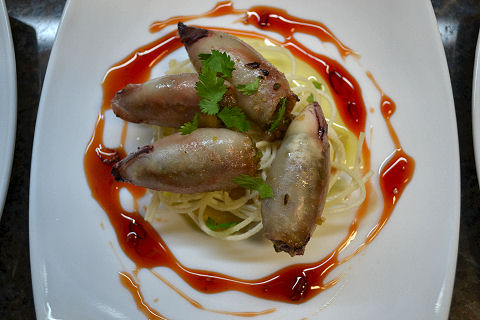 Roasted calamarette filled with a savory bakhlava filling, served over crispy rice noodles, confit of onions, and a drizzle of reduced pomegranate syrup with fish sauce and chilies.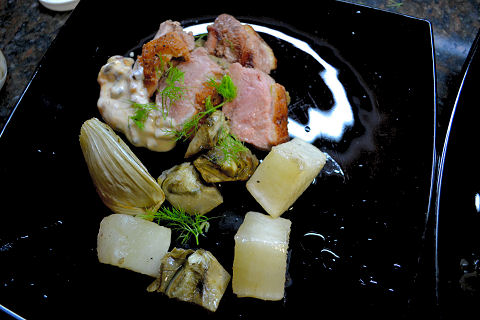 Seared magret of duck over a charred eggplant puree with mint and garlic. Roasted artichoke hearts, fennel and daikon in duck fat. Savory yogurt with black olives and sun-dried tomatoes.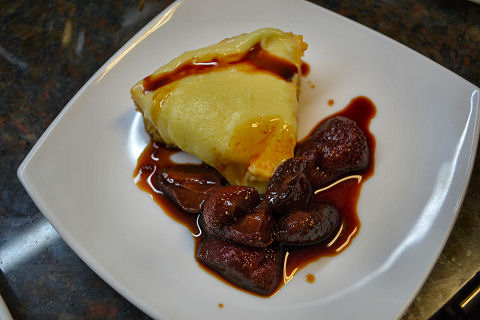 Lúcuma cheesecake with a lemon zest crust, white chocolate ganache topping, and a sauce of strawberries roasted with molasses.
And all for not much more than for the dinners here at Casa S.