"It wasn't the Beatles or Elvis Presley who first caused young women to lose their marbles. That honour belongs to Franz Liszt, a dashing Hungarian pianist with long, flowing hair who could make his audiences swoon before he had played a single note.

Liszt was the Justin Bieber of 1830s Europe; the Elvis Presley of the 1840s; the Mick Jagger of the 1850s and the Frank Sinatra of the 1860s and '70s. In fact, he remained a god of the musical world right until his death in 1886."

– John Terauds, Franz Liszt was the Justin Bieber of 1830s Europe, The Star
First, let's get you in the mood. Go ahead, let it play while you read.
How many times does the Franz Liszt bicentennial come around? Oh, right, just once. So it was this weekend, and, a momentary return of themed dinners – sort of – not really Hungarian, but with some influences in each dish.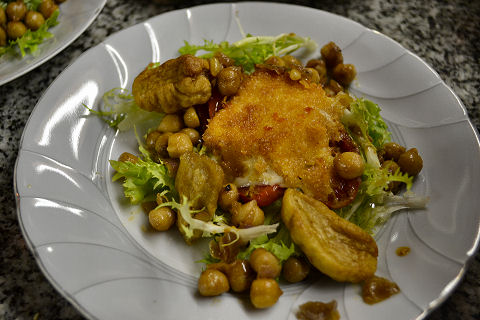 Frisée / Port Salut / Chickpea / Pretzel
Chandon Brut Rosado
Pretzels and Hungarian Trappist cheese – I actually considered starting the menu with a couple of homemade soft pretzels and some spicy, smoked mustard – a bit of online research and I found that there have actually been quite a few well known chefs who have thrown a pretzel or two into a tasting menu – but somehow it just seemed like a bit of a cheat as part of a dinner. So, instead, made the soft pretzel dough, rolled it out into long snakes and basically cut off slices and made soft pretzel "croutons". The Trappist cheese is, in essence, the same as Port Salut cheese – I dusted nuggets of the cheese in flour and smoked paprika, egg wash, and then breadcrumbs and fried them up. Served the two over a salad of frisée and smoked cherry tomatoes, plus a scoop of sauteed chickpeas with onion, cumin, pinenuts and sweet paprika. A light vinaigrette of orange and lemon juices with olive oil finished off the dish.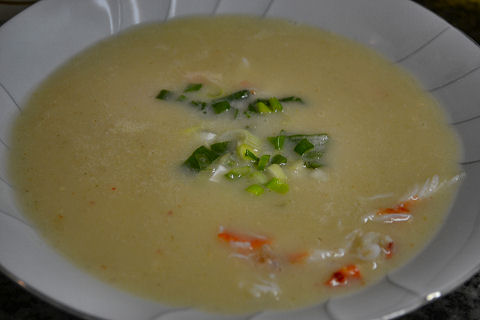 Apple / Potato / Sour Cream / Spider Crab
Algodon Wine Estates Semillon-Sauvignon Blanc 2010
A fairly traditional apple and potato soup, though a few spicing twists – a simple white chicken stock, strained, and then simmered with potatoes, apples, celery, ginger, merkén (Chilean smoked pepper – I couldn't use paprika in everything now, could I?) and sage. Pureed all that together with some sour cream, seasoned with salt and white pepper. Added in shredded spider crab meat (pre-cooked) at the last moment and garnished with green onions. I know crabmeat isn't exactly a traditional Hungarian ingredient, but I wasn't being traditional, you know?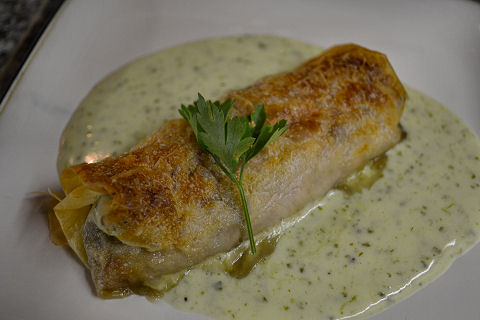 Smoked Turkey / Shiitake / Parsley / Strudel Dough
Estiba I Tempranillo Rosado 2009
What would a Hungarian influenced dinner be without some strudel in the mix somewhere? Filled with thin slices of smoked turkey breast, a shiitake mushroom duxelles, and mixed green and red cabbage sauteed with caraway. The sauce, a relatively basic bechamel, though the milk is infused with parsley stems, mace, white peppercorns and bay leaf beforehand, and then the sauce is blended with a good quantity of parsley leaves, a splash of cream and lemon juice, salt and white pepper. I really like that sauce… hmmm….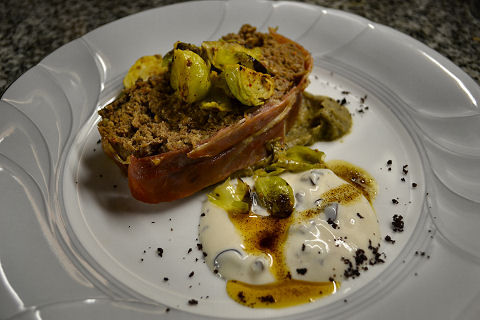 Lamb / Eggplant / Brussels Sprout / Black Olive
Nieto-Senetiner Cabernet Sauvignon-Shiraz Reserva 2009
A reprise of one of my new favorites, lamb and sun-dried tomato meatloaf, though plated differently from the first time – here with a charred eggplant puree flavored with mint and garlic; a black olive yogurt, brussels sprouts sauteed with smoked mustard, and a drizzle of smoked paprika oil. Hard to say which version I like better – I just love the meatloaf.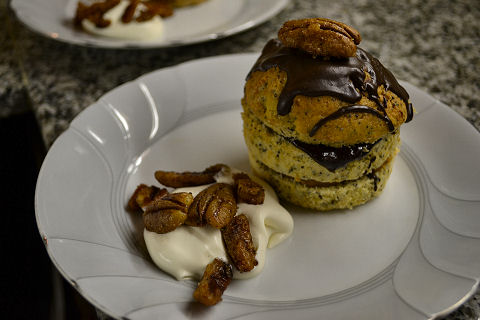 Poppyseed / Chocolate / Dulce de Leche / Pecan
Quara Torrontés Dulce Natural 2011
I've made poppyseed torte numerous times before, each with a different twist from the original recipe. This time, split in three layers, the first filled with dulce de leche, the second with dark chocolate ganache. Then topped with semi-sweet chocolate glaze and served up with whipped cream and spiced, candied pecans (sugar, cayenne, cinnamon, salt, black pepper).
And that's how we celebrate Biebermania Lisztomania here at Casa S.