"I abhor averages. I like the individual case. A man may have six meals one day and none the next, making an average of three meals per day, but that is not a good way to live."

– Louis D. Brandeis, U.S. Supreme Court Justice
Many moons ago I worked at a restaurant in New York called American Renaissance, and in the lower level of the building we had a bar called The Vodka Bar. It was just a name, we didn't have any more vodkas than the typical bar did, but, it got people in the door to enjoy cocktails, wine, and a menu of "bar food" that was pretty upscale. Hell, you could order from the spectacular menu in the main dining room and enjoy as well, and many people did. So one night a critic, who was writing the $25 and Under column in the NY Times at the time, came in for a bite and a drink at the bar. We all knew who he was, it wasn't his first time in either, and with no thought that he might be writing up our bar for the column (I don't think you could dine for under $25 unless you just had an appetizer), I welcomed him by name. And, was treated to a 30-second blistering lecture about daring to do so because I should have known that that immediately meant he couldn't review us and had to view the entire experience with suspicion. Did I mention that he was pre-inimitable at the time? Give me a break. In every restaurant I ever worked in in New York we would greet reviewers if we recognized them, by name, there was no big mystery about who they were – the whole "it's a big secret game that everybody plays" is nonsense and just for press.
But it came to mind the other night at dinner when I and a friend had been invited by a restaurant owner Federico to come check out his new place. Now, obviously with the invitation it was known who we were and why we were there, and certainly no qualms about being greeted (though, actually, the waitress who seated us completely forgot to tell the owner that we were there until partway into the meal). But, things actually went a bit far the other direction – once he knew we were there, every time something was set down on our table, Federico was at tableside within a minute or so to ask if we liked it. Oh, and by the way, another local reviewer was at the table next to us on the same kind of invite and was getting the same treatment. Chill-ax, as they say. First, just too much of it, and second, it's an unfair question to a reviewer who's being treated to dinner (or anyone else for that matter, being treated to or not), and only results in, for the most part, us just saying the ubiquitous and uninformative "things are fine".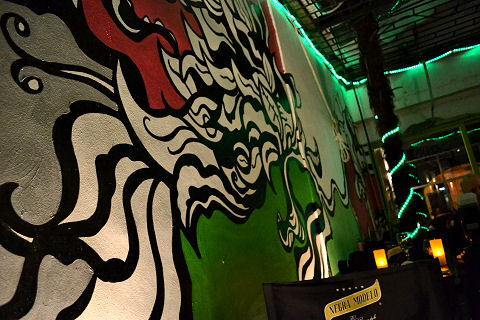 So, on to the review. The place,
Wasabi's Sushi and Lounge
, Thames 1810, Palermo, 4832-9346. The space is interesting – it's divided in three parts. You enter into what only arguably might be called the lounge area – there's nothing really loungy about it (and Federico informed us that he didn't want the Lounge part of the name but his partners out-voted him) – a relatively minimalist space with plain white walls and a couple of Banksy reproductions on the walls. Then a step or two up into the open kitchen area which also has several tables surrounding it, and native Brazilian decor. And, finally, the deck, which has a retractable roof (that was closed the night we were there) and appears to have been decorated during an acid trip in the '60s. Still, it's all quite comfortable and we settled in quickly to check out the menu. 
[Closed]
While we were looking it over, our waitress brought a trio of little dishes (all tables get them, it wasn't just us). Pickled cucumbers, some fried (a bit too long before) wonton skins with broken up cream cheese, and two little balls of, well, pureed canned tuna. Not a promising beginning. Our waitress seemed confused when I asked if we were to order from the menu or did the owner want to pick something – that was before I realized she hadn't registered who we were or why we were there, nor told him – and told us just to order whatever we wanted. Asking her for recommendations turned out to be useless as she "doesn't eat sushi" and only recommended the fried prawns with honey mustard. Not.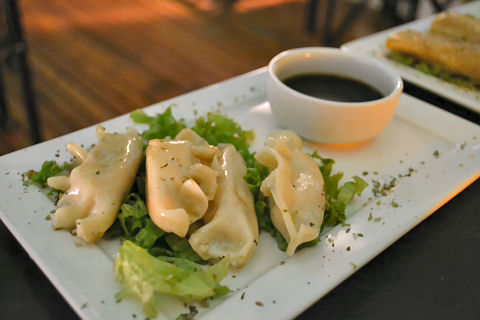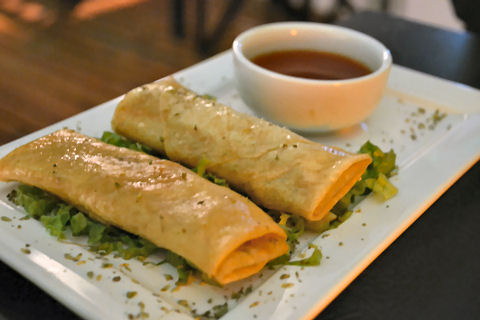 So, we ordered up a few things that sounded interesting, along with a beer for my friend and a house special gin and tonic for me. The beer and some water arrived quickly. Then Federico made his first appearance, our waitress having figured out that she ought to mention us to him. He approved of what we'd ordered though asked if I'd mind if he showed off a bit at the bar and made me a different cocktail that he thought I'd like more than the gin and tonic. I acquiesced, after all we were guests. The two appetizers arrived. The potstickers, (empanaditas chinas) were strange… the filling was delicious, no problem there, but the dough had an odd texture to it that was borderline gummy. The springrolls were literally dripping with oil, completely soaking the lettuce and plate below them and turning the underside of the rolls into a soft mess. When Federico returned to the table he could tell we weren't thrilled and before we could say why, asked if we found them too greasy. He then asserted that he likes the springrolls greasy and so that's why they make them that way, and the potstickers are boiled first and then quickly fried in a pan – well that would explain it, generally one fries them first on one side and then steams them to finish cooking the dough on the other. But, they're the way he likes them.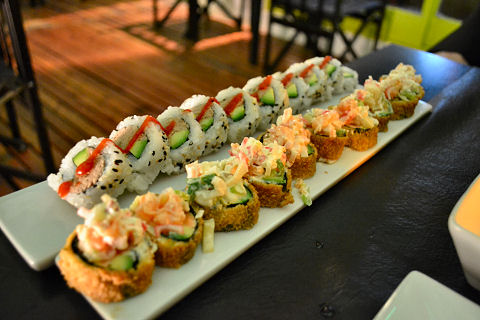 Our first two specialty rolls showed up, looking quite pretty, though not exactly what we'd ordered. The first, closest in the photo, is their Sushiman Roll, and was the best thing we had – a mix of fresh and smoked salmon and avocado rolled up in nori and then light breaded and fried. It said it was topped with "tartar" which turned out to be a bit of shreds of fish in a creamy sauce. All in all though it was actually pretty good. The second roll, we wanted to try a spicy one – they have two options, canned tuna or fresh tuna. We opted for the latter, no surprise, but got the canned. And, surprisingly it wasn't half bad, the tuna being paired with fresh avocado gave it some creaminess, and the sriracha sauce over the top was a nice kick.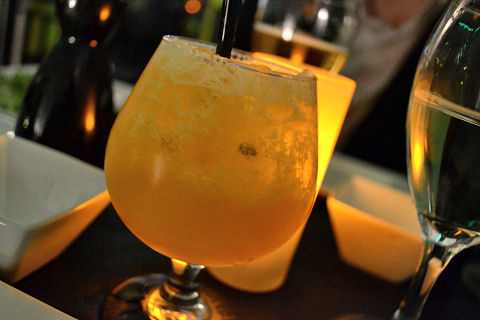 About the time we were almost done with these, Federico returned with my cocktail… a Mai Tai. Umm, no. Sorry. We both sipped it, and I'm sure as Mai Tai's go it was fine, but there's just such a world of difference between a refreshing, light gin drink and a syrupy rum drink that I just wasn't interested in drinking it. He did notice that we'd gotten the wrong spicy roll and set out to fix that.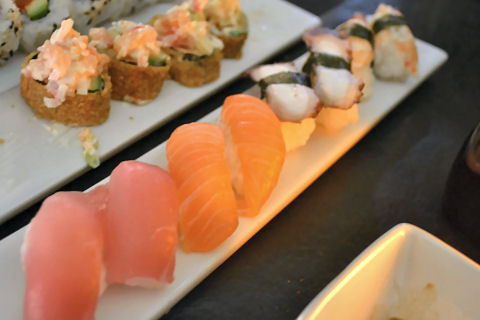 Around the same time a selection of nigiri sushi arrived. Now, in the same strange way that virtually all Argentine run sushi bars here operate, nigiri sushi is not available by the piece. It's only available, generally, in plates of somewhere between 6 and 10 of THE SAME type, and there are rarely combination plates available that are only nigiri (or if so, they're just a selection of salmon prepared three or four different ways). I've never figured that out, but it's only at the real Japanese run spots like
Yuki
,
Nihonbashi
or
Comedor Nikkai
that you can get nigiri sushi served by the piece and I don't understand why. At Wasabi's it's a six piece plate. But, we asked (and I think this is what clued in our waitress to tell the owner we were there) if we could get two pieces each of salmon, red tuna, white tuna, and octopus. We didn't get the white tuna, but shrimp instead. One of the things I like about nigiri sushi is that you really taste the fish, without all the various accompaniments that come in many rolls. The fish here, unfortunately, just tasted kind of washed out and had a borderline mushy texture, as if it had been long frozen, or more likely, frozen and thawed more than once. It didn't taste off, just neutral. Still, not exciting.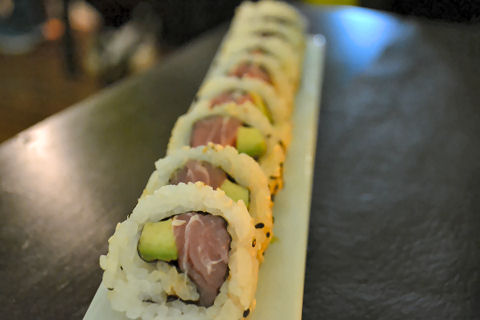 Which, unfortunately, didn't bode well for the spicy tuna roll, which arrived a bit after everything else had been cleared from our table, along with a small sampler (not pictured) of another house specialty roll, the Pleasure roll, an interesting, if slightly too sweet combo of hearts of palm, egg, avocado, cream cheese (they had to slip that in somewhere), wrapped in salmon, topped with fried sweet potato, and dressed in a passionfruit syrup. The spicy tuna roll was spiked, I think, with shichimi, which is more authentic, and actually had a nice burn, but with the insipid (there, I said it) tuna, that was really all we could taste.
So this all sounds pretty awful, no? But it's one of those strange things of living overseas in a place that isn't known for this particular cuisine. Oh, there are plenty of Argentine sushi bars around, and more opening every day it seems. What to our palates back in NYC would have been completely unacceptable – the near salmon-only-ness of the local sushi, the constant use of cream cheese in virtually every type of sushi roll, and the dousing with sweet sauces – becomes commonplace and, well, acceptable. And on that scale, Wasabi's isn't bad, it's actually, perhaps, slightly above average. Though, other than for reviews, I'll stick with the places that offer up a selection of top quality fish and especially those that realize cream cheese is for bagels.