"My years of cuisine have structured me, given me an appetite for a job well done and an enthusiasm for other people, too. My attempts at excellence have led me into much turbulence, doubt, and anxiety; but they have also brought me peace. They have taught me how to speak out, how to love and be loved. Despite all the naysayers, the errors and the catastrophes, to have gotten through these years and earned a modicum of sincere and loyal recognition gives me huge satisfaction, both for myself and for all those on my team who have stayed by my side over the years."

– Pierre Gagnaire, Chef, Preface to Reinventing French Cuisine
What cheek! What hubris! What chutzpah! To take on the cuisine of one of the world's foremost chefs and reinvent it? I'm not talking about Gagnaire in his brilliant book, which I finished just a week or two ago, taking on his forerunners in the world of French cuisine, I'm talking about me, taking on him, and doing the same. Except I'm not, not really. His dishes are elaborate creations, some of them with more components on a single plate than I typically have in an entire five course dinner. I did, however, dot the book with scraps of paper as I took notes on dishes and, more often, individual components, that intrigued me. It was fun playing with them and coming up with new ideas from there, and those ideas formed the basis for this last weekend's dinners – a trio of nights of some truly fun groups and great conversations. An unexpected side benefit of the new format we're playing with here at Casa S, I've got more time between courses to spend at tableside joining in the conversation – I'm not quite sure where that time is coming from, but it's suddenly there, perhaps because there's only one table to pay attention to? Maybe it's simply because I'm feeling less stressed in the kitchen about what I'm putting together?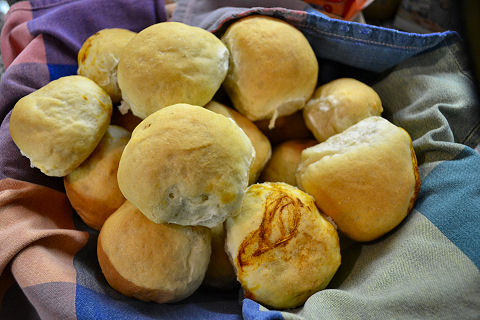 A warm basket of olive oil rolls with swirls of smoked, hot paprika running through them just seemed to fit the overall feel of the menu and evening.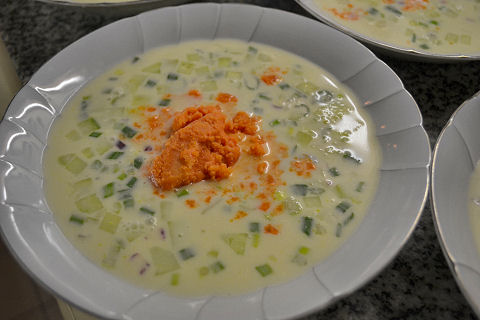 Cucumber / Green Onion / Tomato / Chili
Not all of the dishes were derived from ideas in the book, in fact, just a trio of ideas came to into play, and this wasn't one of them. But I was looking for a rich and refreshing chilled soup to start the evening and thought I'd rework one of my past white gazpacho recipes. I didn't stray far from that original as it worked quite well – a light chicken and vegetable stock rather than the whey as the base, toasting the almonds to bring out their flavor a bit more, and the granité got a tweak with a bit more chili and a touch of sugar syrup to give it more balance.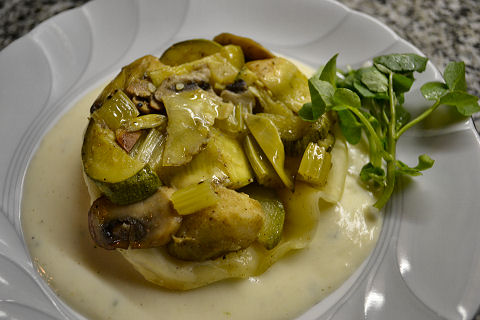 Zucchini / Artichoke / Mushroom / Celery
The "Vegetables and Tastes of Summer" menu from 1992 listed a Marmalade of Cèpes and Artichoke with Coriander, Cinnamon, and Lemon Balm; Tempura of Fresh Zucchini and Celery Leaves. No details were given, no photo, no recipe – one of my disappointments in the book was that for each menu presented, often 8-9 courses, he only goes on to give recipes and photos for one or two, and sometimes for just some of the components of those dishes – the things he was particularly proud of. So, faced with mushrooms and artichokes that have some sort of sweetness to them, and then zucchini and celery, I mulled the idea over and decided to bring back one of my favorite preparations, the vegetable tarte tatin.
I caramelized the four vegetables in a mix of butter, anchovy, brown sugar, black pepper, coriander, cinnamon and salt; and then spooned the mixture into cazuelas, topped them with rounds of empanada dough rolled out to just fit, and then popped them into the oven to puff and brown. Flipped out onto the plate they were delicious on their own, but I wanted another element – something a little creamy and a little sharp, to contrast – and so a simple bechamel sauce blended with goats' milk Brie, a touch more cinnamon and coriander in place of the more usual nutmeg, and fresh thyme leaves found its way onto the plate.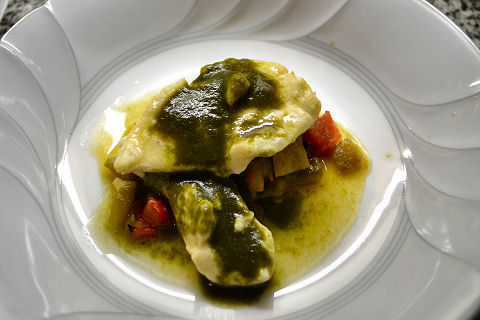 Sole / Bell Pepper / Spinach / Cardamom
This comes the closest to simply duplicating the original dish presented, a Cardine and Sweet Pepper with Cardamom, Raw Spinach Juice. To be honest, I found the original dish to be intriguing in flavors, but lacking in punch, just too subdued, I wanted more out of it. Cardine is a fish, the sand dab, and the closest thing we have here in Argentina is the lenguado, a type of sole. I blackened a mix of red, green and yellow bell peppers (he used only red), then let them steam in a bag. Once cooled, I removed the blackened skin, the seeds and veins, and diced them up. I made a simple fish stock and added chopped garlic and cardamom to it and then simmered the diced peppers in the stock for about ten minutes to both infuse the peppers with those flavors and the stock in turn with the pepper essence. Then I strained them and set the components aside. Pureed a good quantity of spinach with just enough water – in the original he creates a juice with all the pulp strained out, and I found the flavor of the spinach to be lost with the others – it added a note to the dish, but not enough – so instead of straining through a cloth, I used a very fine strainer that left some of the pulp in the mix, and then I seasoned it up with a bit of the reserved stock and some salt and pepper. To finish the dish, I brought the stock to a simmer, laid the fish fillets out in a baking pan and poured the hot broth over them, popped them into the oven until just cooked. Meanwhile I reheated the pepper dice and the mixed spinach juice and broth. The peppers into the bottom of the bowl, the fish atop, and then a couple of spoonfuls of the spinach mix.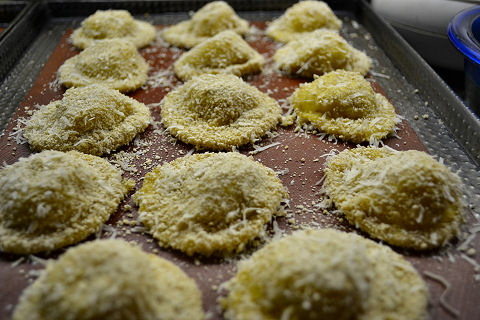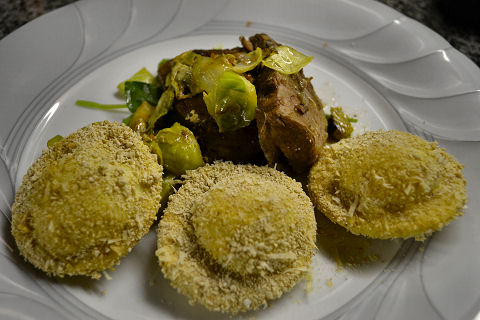 Beef Shortrib / Stout / Garlic / Arugula
You don't even want to know the entire dish that this was derived from, suffice it to say it involved liver, sweetbreads, kidneys, marrow, grapefruits, hay, and more. This is one where a particular component stood out, a garlic ravioli paired with arugula juice (he does like his vegetable juices). Beyond the filling of garlic and potato, I went a completely different route, deciding I wanted something with a bit of a crunch to it on the plate, so I returned to a technique I've used before of making "toasted" ravioli. First off, roasted up a bunch of heads of garlic and boiled up some potatoes. I mashed the potatoes with the garlic – fairly intense as I used a full head of garlic for roughly each cup and a half of mashed potato. A bit of butter, milk, salt and pepper to complete the puree but still keep it stiff. That became the filling for semolina ravioli. Then each of the ravioli got dipped in egg wash and then into a mix of breadcrumbs and grated parmigiano. And, then, into the oven to lightly brown.
The rest of the dish I built around the ravioli. I wanted a soft, fork tender meat, and decided to use the braised shortribs that I made for our Cantinflas dinner recently, just through the braising process, without the habanero molasses glaze (though in retrospect that would likely have worked with the ravioli, though not with the other vegetable components, and probably not with the progression of this dinner – still, something to look at for a future pair-up). Underneath the meat, simple wilted arugula tossed with hot olive oil, salt and pepper. And scattered over the plate, quartered brussels sprouts lightly charred in a very hot pan with olive oil and butter, and then finished with a spoonful of Dijon mustard, salt and pepper. A generous drizzle of good olive oil over all of it in place of a sauce, and that was the finished plate.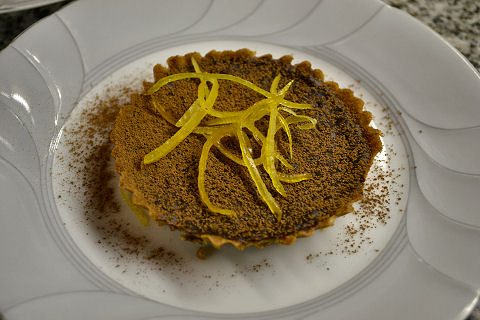 Coffee / Dark Chocolate / Mace / Cocoa
Looking at the preceding four courses I knew I wanted to go with a bitter chocolate dessert of some sort. For the crust, an espresso shortbread. The filling, a twist on a Joël Robuchon recipe that is basically a dark chocolate ganache, mixed with mace and beaten eggs, and then baked in the tart shells. Dusted the top with a mix of unsweetened cocoa and mace, and finally, a tangle of candied lemon zest.