"The freedom to move forward to new opportunities and to produce results comes from living in the present not the past."

– Brian Koslow, entrepreneur and author
We're continuing our little walk down memory lane and re-creating favorite bits of menus from the past. Last time we left off with fall of 1996. Looking at the December menu, it was a fun-filled Chanukah one, and I thought, let me hold this one aside and use it later this year when the holiday rolls around. So, on to January of 1997… but wait, I've already re-plated that one back in September 2008. Which brings us to the trio of February, March and April of 1997.
The first was a slightly bizarre (weren't they all?) amalgam of that February in history, going back to 1397 on to 1897, one course to a century, and each course oriented around some event that happened in the world of art, literature, and politics. The second was a spoof on the the PBS series Reading Rainbow, entitled Eating Rainbow, with each of six courses based on one of the colors of the arco iris. And finally, April rolled around with what likely was the only vegetarian menu I ever did for the group during those early years, with a Spring Vegetable Menu.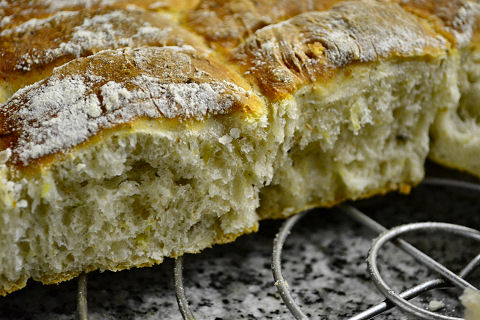 First, the bread for the evening, a whole wheat, zucchini, parmesan and black pepper bread. There were a bunch of zucchini hanging out in the refrigerator just crying out to be used. Outside of the addition of the grated vegetable and cheese, and the seasoning, it's a basic whole wheat and egg bread recipe.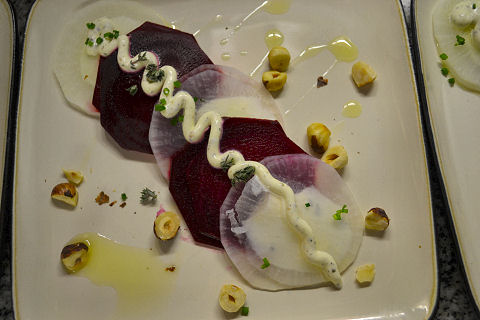 It's a far cry from February's Cornish root vegetable pasties and green peppercorn cream served with a 1995 Hamilton Russell Vineyards Chardonnay to this dish. The original dish was inspired from the three elements noted above – in the art world (and I have no recollection, nor is it obvious to me why this was part of the inspiration for the dish), the birth in February 1497 of Hans Holbein the Younger, famous for his paintings of Henry VIII and family; in the literature world, a quote from John Heywood's A Mery Play – "Here is good drink, and here is good pie." – that's where we got the turnovers, or pasties, from, and, specifically Cornish ones as the political world element was the Cornwall Rebellion. The wine, a South African one, was likewise inspired by a political element with 500 years having passed since Vasco de Gama rounded the Cape of Good Horn.
On to the dish and a few elements remain. I was originally going to make actual ravioli using root vegetables, or even perhaps staying closer to the original and making empanadas of some sort, but, I got inspired by something I was reading and decided on faux ravioli, using thin sliced, blanched and shocked daikon and beet as the ravioli casings. The former I filled with a mix of feta cheese and thyme lightened with a little yogurt, and the latter with mascarpone and chives. The drizzle atop, sour cream with a good amount of crushed green peppercorn, echoing the original dish. Scattered about, a drizzle of good olive oil, toasted and chopped hazelnuts, pink sea salt, and more chives and thyme. A good, light, refreshing salad of sorts to start the evening.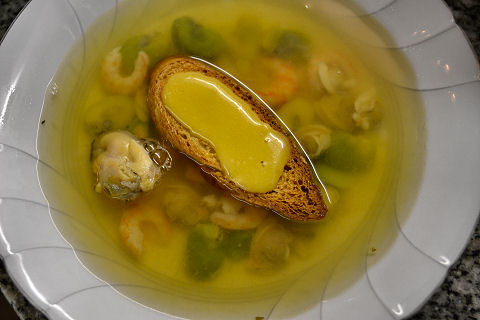 The same menu offered up an Asian broth with a medley of smoked shellfishes and fishes served with Hidalgo Manzanilla Fina. Again, the art element, the birth of Pisanello, painter of Portrait of a Princess of the House of Este apparently led my mind to the Far East with the name of the House and the idea of an Asian broth. The literary part inspired the wine, with a quote from Chaucer's The Pardoner's Tale – "And namely, fro the white wyn of Lepe, … This wyn of Spaigne crepeth subtilly." The smoked shellfish and fish came from that month's Union of Kalmar between Sweden, Denmark and Norway.
This simply inspired me to bring back and slightly alter a favorite soup we've done a couple of times here before, our red miso bouillabaisse – I decided against presenting the shellfish in their shells, sticking with just shellfish and not fish, and sauteing the former – mussels, cockles and shrimp – with smoked salt. Also, instead of chopped tomato, bringing in those beautiful fresh fava beans that I showed you how to prepare this week.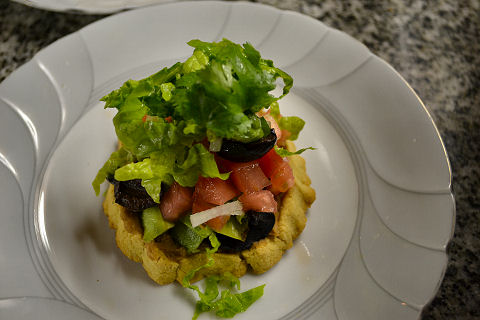 April's vegetable menu contributed but one dish this time around, what was originally a Red Bean Mousse Tart with Creminis and Blueberries, served with Domaine des Aubuisièrees Vouvray Sec, 1992. Reworking it from a tart to a Mexican sope was an easy shift, I've been playing around with different corn masa preparations and it was a good moment to try one out that I was happy with. The masa is a mix of corn tortilla flour, shortening, salt, egg and water, formed into sope shapes and then oven-baked rather than the usual fried version. The cup is filled with refried red beans flavored with smoked cashews and chipotle peppers en adobo, atop that, some "portobello bacon" – slices of the mushrooms marinated in olive oil, soy, honey, liquid smoke and some of the remaining smoked apple butter that I made recently, then sauteed over very high heat until they caramelize and just start to crisp around the edges. Some chopped avocado, tomato, onion, lettuce and cilantro completes the dish. Good but my least favorite of the evening – it would be nice as a snack, but I'm not sure in the end that it fit either the tasting menu setting, nor in line with the other dishes of the evening.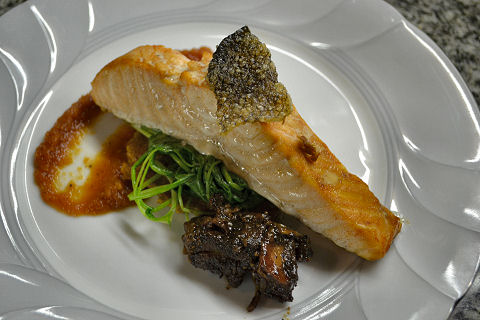 March's Eating Rainbow also only contributed a single dish, originally Salmon with Carrot-Orange Glaze, 1975 Egon Müller Scharzhofberger Riesling Kabinett for the second, and orange-colored course. This dish was pretty much the hands-down favorite of the evenings this weekend, with the soup coming in next. Quite a few elements on the plate: The schmear at the back left, homemade ketchup, yes, ketchup – though doesn't taste anything like the commercial bottled stuff – a recipe I've worked on for awhile and that is a favorite part of our veggie burger class (you may be asking why?… it's because one of my favorite ways to prepare carrots is glazed in ketchup and garam masala… hold that thought). Just barely seen beneath the salmon, a carrot pancake – grated carrots, chopped green onions, egg, flour, salt and a good dose of freshly made garam masala. Atop that some wilted arugula – after making the pancakes I just turned the heat off under the frying pan, tossed the arugula into the oil-butter mix, a little salt, and capped it with a lid for five minutes.
The salmon shows up in three forms – first, the pink salmon slice, marinated in a mix of triple sec, soy sauce, and hot paprika for a few hours, then baked in the oven until just cooked through. Above it, a chip of crispy fried salmon skin, lightly salted. And in front of it, the nuggets nestled there, salmón blanco, or "white salmon", which is only distantly related, cut in cubes and slowly cooked down in a mix of mirin, soy sauce and ginger until all the liquid was evaporated and the fish nuggets were nicely glazed. And to finish the dish off, the remaining salmon marinade reduced down to a glaze and poured over the top.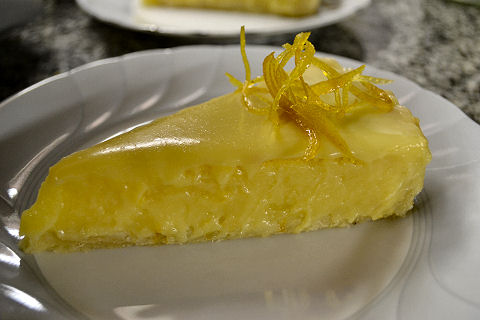 And finally, back to our February menu and the Lemon curd served with a 1988 Pol Roger Brut champagne – Henri Matisse, known for his use of color in paintings of simple, daily life; "Who will have some lemonade? You know our rules: total abstinence." "No use, dear. They've all had champagne." – Bernard Shaw, Candida; Turkey declares war on Greece (I'm guessing I used that as an inspiration for the "curd"). I returned here to our chocolate-lemon tart, a perennial favorite, but decided to emphasize the yellow in layers, a monochromatic presentation perhaps, but one that works I think. From the bottom up, an almond flour crust, the lemon "curd" filling, white chocolate ganache, and, the garnish, which we covered yesterday, candied lemon peel.