"The still must tease with the promise of a story the viewer of it itches to be told."

– Cindy Sherman, photographer
Another of my mini-roundups of places that I've checked out recently but that may (or may not) require another visit or two for a full review.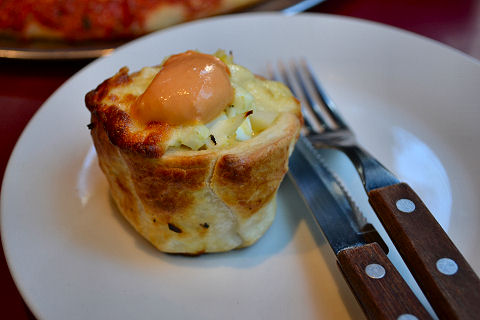 A
canastita
, or "little basket", at
Pizza Golden
, Reconquista at R. Rojas, the base of what has turned into downtown's outdoor pedestrian food court. Basically an empanada dough filled with, in this case, leeks and hearts of palm and topped with salsa golf. A very tasty little bite.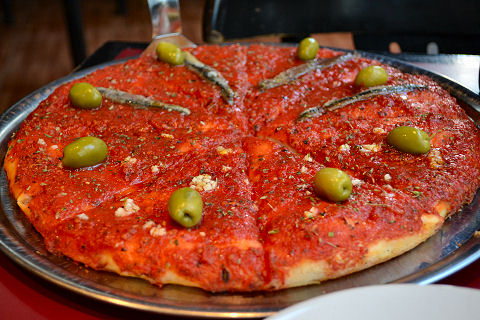 Although Argentine pizza is famous for its
mounds of cheese
, there are some classics of the genre that come without. Because sometimes, you're just not up for all that. Anchovy pizza is often
sans
mozzarella, and I'm a big anchovy fan. The
pizzeiro
(various spellings) is another, topped with zesty tomato sauce, raw garlic and chili flakes. This pie is half and half of those two. And, it was pretty darned good, though not enough so that I'm going to run back to this spot.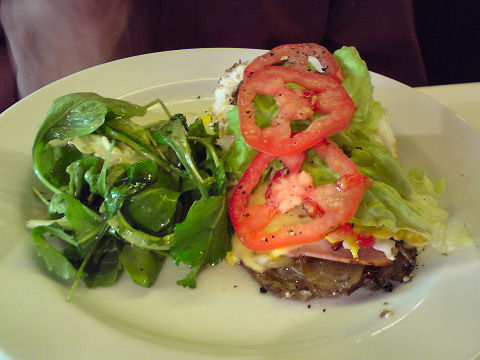 In the space that used to be one of the
hotspots of molecular gastronomy
, friend Aldo Graziani, one of the city's best sommeliers, has opened up
Aldo's
in the Moreno Hotel, Moreno 372 in Monserrat. Part wine shop and part restaurant, it's decked out in vivid
Miami Vice
turquoise and pink with wines and related paraphernalia covering every square meter of surface area. The menu's intriguing, with a mix of casual and sophisticated, and it's far gentler on the wallet than the previous spot was. Here, my lunch companion tucked into the house version of the
chivito uruguayo
, without the sandwich bread (his request, not the house style). Delicious!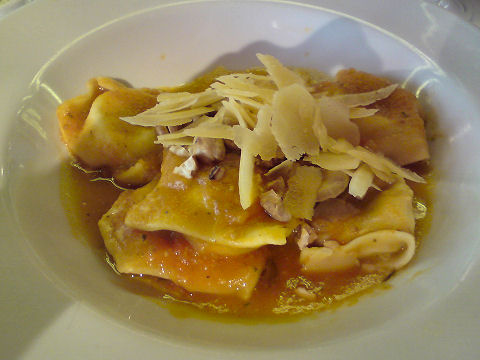 I tucked into the mouthwatering mascarpone ravioli with toasted cashews, shaved cheese, and a light, buttery pumpkin sauce. This place is definitely on my hit list for a return and full write-up.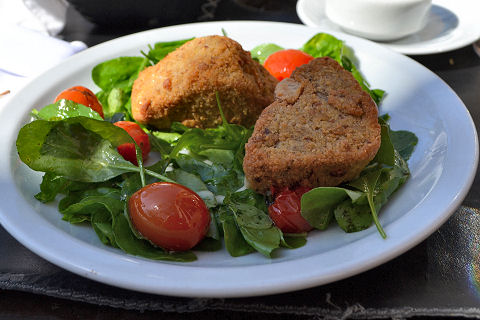 Wandering in Palermo brings out my appetite, and spotting a sidewalk table at
Meridiano 58
, J.L. Borges 1689, corner of El Salvador, drew me to it like a magnet. Friendly service, cute place, a menu that's an interesting mix of half vegetarian and half not (several fish options and a couple of parrilla type options). Here, a fried brie salad with roasted cherry tomatoes that was dead-on.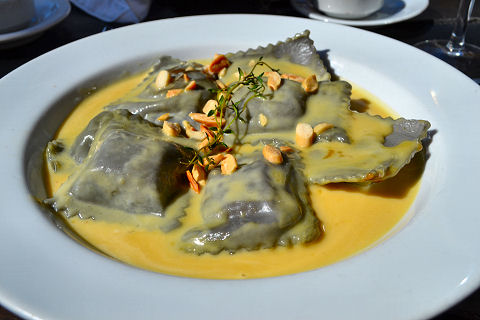 I let myself be talked into (okay, it wasn't hard) a plate of salmon ravioli, the pasta dough tinged with squid ink, and served up with toasted almonds and fresh thyme in a delightful, if slightly sweeter than I'd prefer, citrus sauce of orange, lime and butter. Another spot slated for a return visit.
Now, into the streets with me, I have a street-food project in the offing….