"… Although your dominion is small, however, your State is one of the most honored of all history"

– Abraham Lincoln, President of the United States
When I spotted that this weekend was Republic Day in San Marino I thought that would be a great theme – especially with a sort of round number like 1,710 years since it became a sovereign republic. It seemed it had been awhile since our one past dinner featuring the cuisine of this small republic, though when I actually looked, it's only been since this February! Memory lapses and all that. As you know I'm pretty fond of Italianate food of pretty much any sort, and while officially sovereign and separate from Italy, San Marino's cuisine is fairly similar to that of Emilia-Romagna which surrounds it. And, amidst the various recent more creative endeavors in the kitchen, sometimes it's nice to get back to the tried and true, so I went with, while perhaps slightly reinterpreted, pretty much classic dishes of the republic and its immediate surrounds… sort of.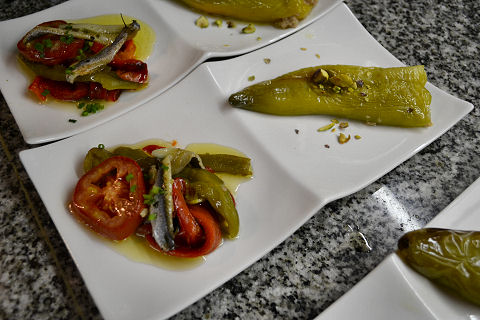 Our bread this week, black pepper and thyme grissini, which I forgot to take a picture of. We started off with a Duo di Peperoni – the last not being the sausage that us American folk like to put on pizza, but the Italian name for peppers. I began with the idea to make a spuma di mortadella, a classic from the general region. It's essentially a whipped puree of mortadella, ricotta, parmigiana, cream, salt, pepper and nutmeg. Typically it's served cold or room temp atop bruschetta or as a dip. I decided to stuff it into Italian frying peppers, or ajíes vinagres as they're called here, and then baked them in the oven. The spuma gets a bit too liquid, and if I were to do it again I'd refigure on a way to cork the peppers up, or stand them up so it doesn't leak out, which required spooning it back in at the last minute. Some toasted pistachios scattered around finished it off. On the left, a dish from across Italy but one that I thought would pair well as a complement, peperoni en bagna cauda – roasted red and green bell peppers tossed with anchovies (in this case boquerones) and roasted tomato slices, and then over that spoonfuls of bagna cauda – a low heat cooked mixture of butter, olive oil, sliced garlic and crushed salt-cured anchovies. Sometimes it's the simple things that key into people's palates and this was one of the two favorite dishes of the dinners.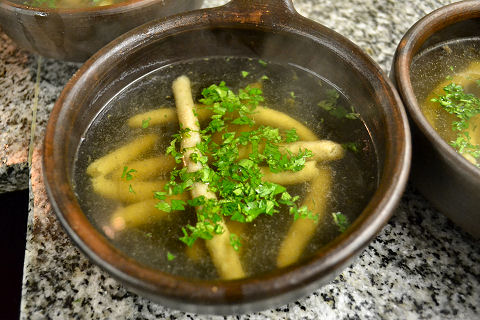 Last time the soup was the hit of the evening and so I thought I'd reprise it. Details on the link above, but passarelli (or passatelli) are basically a cross between a pasta and a dumpling, made of breadcrumbs, grated cheese, lemon, nutmeg and egg. The broth could have been a bit more intense this time, but I still like the dish a lot.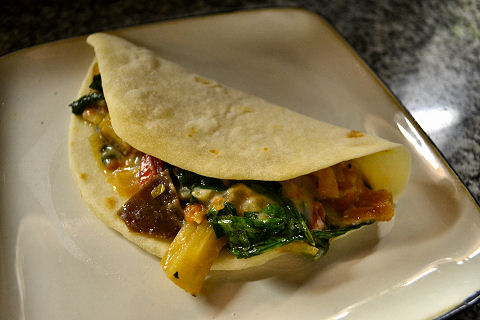 Piadas, piadinas, piedas, piedinas… it's all the same, and a true classic from the area. It's a pizza dough, but one lightly flavored with lemon, and instead of yeast is typically slightly leavened with baking powder. It's an Italian soft taco. For the filling a sauteed mix of spicy peperoncino, onion, celery, fennel, eggplant and tomato, finished with wilted arugula, mint, balsamic vinegar and goat cheese. My personal favorite of the evening.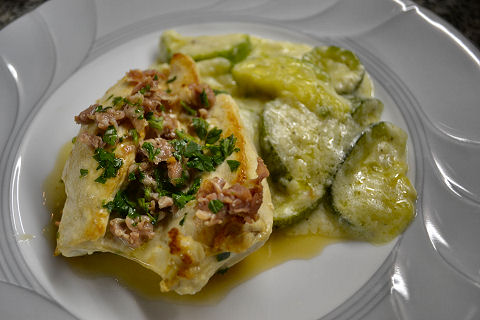 The other dish that split the favorite votes this weekend, the main course of Pollo alla parmigiana with Tortino di zucchine. The former, chicken breast sauteed in butter until golden brown, then topped with chopped prosciutto, parsley, grated cheese (I used a local version of Sbrinz, which is the Swiss version of Parmigiana, but gives a different flavor, and just to mix up the grated cheeses a bit), and marsala, all just warmed through until the cheese just melts and served with the pan juices spooned over the top. To accompany, sauteed zucchini that are then placed in a baking pan with a salsa besciamella – or bechamel sauce, that is finished with more Sbrinz, egg yolk, pepper and nutmeg – and then all baked until lightly browned on top.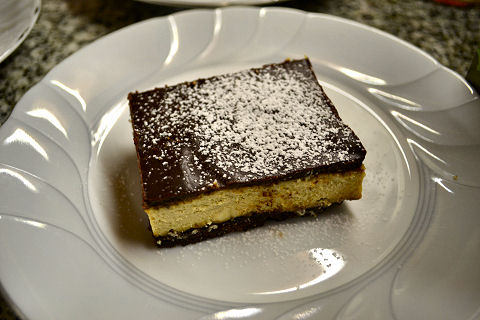 And a semi-reprise of the Torta Titano from that earlier dinner. My homemade cream cheese came out very soft and would have run all over the place had I just made it the way I did the last time, so I added a couple of eggs to it and poured it over the crust and then baked it just to set like a cheesecake. The rest of the layers remain the same – a cocoa crust, nutella and toasted hazelnuts, the cream cheese layer flavored with espresso and sugar, and then topped with dark chocolate ganache.
All in all, a successful San Marino dinner. Likely it will be awhile until the next one.